A tempest brews over fertile land; the earth as rich and bitter as dark chocolate, freshly plowed.
I'm late! My goal is to write these blog posts over the weekend and post the week's forecast on Sunday night/Monday morning. However, this week I ended up writing the day's forecast the day of, and then posting the daily updates on the Lilith Rebellion Instagram account. Honestly I find that inspiration usually strikes the day of a transit and I end up editing and adding to the week's blog post after publishing it anyway. Oh well, I'll try to apply some Saturnian energy here and stick to my goal. Here we go…
The week begins with a solemn, stabilizing, grounding moment to help you catch your breath (Moon in Capricorn, Sun trine Saturn), which may feel more like a moment of harsh and heavy reckoning, depending on the nature of your Venus Retrograde story. The body may be sore and the spirit may be weary, and yet there are work and responsibilities to attend to.
The earthy, grounded energy continues throughout the week as the Sun slips into Taurus on Wednesday, briefly uniting with retrograding Mercury for an illuminating moment of breakthrough and clarity. Wednesday's Last Quarter Moon prepares us for another cycle of growth which will be seeded in our lives next week with the new moon.
Thank goodness for all the earthy goodness this week because the cosmos gets a little gnarly on Thursday and Friday. On Thursday, Pluto, the god of the underworld, stations retrograde. This can create heightened vulnerability and prompt us to respond with a reactive power grab or a protective defensive stance.
However, with four planets in retrograde motion this week (Pluto, Saturn, Jupiter and Mercury), it is also a reflective, receptive time, ripe with hidden magic and opportunities for healing and growth.
Three personal planets change signs this week! That's a lot of cosmic shifting. In addition to the Sun entering Taurus, Mercury enters Aries and Mars enters Gemini at the end of the week, creating a somewhat volatile, fire-air mutual reception with the two planets (the messenger and the warrior) in each other's signs. Venus and Saturn enter into this fray on Friday with their third and final challenging square.
TGIF! The weekend looks nice and relaxing with the Moon in Pisces and the Sun in Taurus, and no major cosmic storm until the following Friday!
Check out the Cosmic Forecast for…
Monday, April 17th
Sun (in Aries) trine Saturn (in Sagittarius)
Moon in Capricorn, sextile Neptune (in Pisces)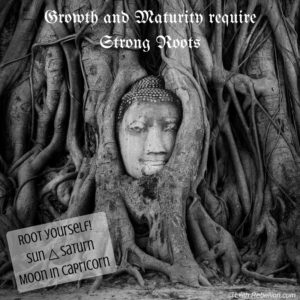 We emerge from Venus' retrograde underworld journey, blinking our bleary eyes in the bright sunlight, disoriented. What next? What now? We stumble slightly, tripping over our own feet as we adjust to the forward motion once again.
Saturn reaches out a reassuring hand to catch our elbow before we tumble. Saturn trines the Sun today, providing a steady, stabilizing energy to lean into as we attempt to make sense of the fragments of gems and precious stones we unearthed in Venus' retrograde depths.
Today and tomorrow the moon moves through Capricorn, ruled by Saturn. Therefore, both key players of the geocentric cosmos are benefiting from Saturn's grounding presence.
Weary from April's exhausting retrograde excursions? Today is a day to steady yourself. As the planets shift backward and forward this month, it is easy to feel as though life is dizzying chaos.
Today is a day to slowly, deliberately, with intention, send down roots so that you may grow, mature, and make the most of all the retrogrades have to offer you. Take responsibility. Delineate appropriate boundaries. Today there may be duties, work, semblances of your day to day reality that you must accept. Apply yourself and focus on the tasks at hand. You have support from the universe to do so. Begin polishing those precious retrograde gems. With careful effort, they will someday become a piece of jewelry adorning your neck.
Later in the day the Moon sextiles Neptune. Buddha's stone face appears to twitch, slightly. Consider this a mysterious wink from the gods. You may not perceive the larger story at this time, but you will.
Tuesday, April 18th
Moon conjunct Pluto (@ 19° Capricorn – triggering the Jupiter/Uranus/Pluto t-square)
Mercury Retrograde trine the North Node (in Virgo)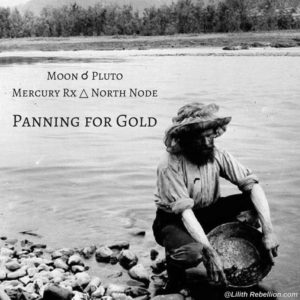 Gold panners extract gold through a time-consuming process that involves gently shaking a pan full of water and a handful of suspicious mineral and rock, in order to gradually separate the worthless dross from that coveted, shimmering substance.
Gold is heavy. When held in water, it will sink quickly to the bottom, while the other waste materials dance with gravity on the surface.
Today is a day to be patient, to be still. To listen to your inner voice, the pure gold of your psyche. Sift through the dust stirred up by all the cosmic activity of this month. Tune in to that authentic channel that perhaps has been buried under the noise of recent astrological traffic.
Today the Moon conjuncts Pluto in Capricorn, triggering the year's mighty aspect – the Jupiter/Uranus/Pluto t-square. Freedom and drastic change, fueled by a conflicting desire for power, control, and for deep soul surrender and transformation.
On Thursday, Pluto, the god of Hades and ruler of Scorpio, goes retrograde. This Moon – Pluto fusion is the whispering warning of a messenger speaking from the shadows, foretelling of Pluto's yearly descent into your personal, underworld land. The ominous gravity of the Moon conjunct Pluto will pull you closer to your deepest core.
Mercury, still retrograde, still in its magical receptive mode, also trines the North Node of destiny today. Listen. Listen. Hold steadfast your concentration as you gently shake the pan to bring clarity to the murky waters. Your intuition is speaking to you today.
Wednesday, April 19th
Moon square Sun – Last Quarter Moon (in Capricorn)
Moon enters Aquarius
Sun enters Taurus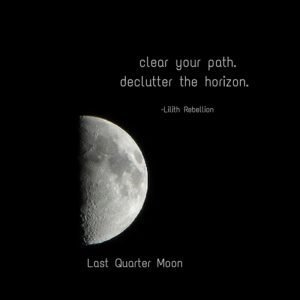 Early Wednesday morning (ADT) the Moon hits its Last Quarter point in its 29.5 day cycle. This lunation cycle began on March 27th with an Aries New Moon and it will end with the next New Moon in a week's time, on April 26th. Today the Lunar mother is 3/4s of the way through her monthly journey.
We often describe the Full Moon as a time of release, and this is true to a point. The Full Moon is the celebration. It is the bountiful harvest. It is the orgasmic climax. It is the mountain peak. Compared to the human lifespan, the Full Moon is the busy adult, thoroughly engaged in their career and raising a family. Life is active and full. Oftentimes, especially if the Full Moon is entangled in a web of challenging cosmic configurations, we need to a reminder, a prompting, to let ourselves simply be, as we take in the view from the top of the mountain. Living in the present moment does not always come easily. Take a moment to appreciate where you are. We may need to consciously tell ourselves to stop ruminating on past decisions (the climb up the mountain), and to let go of worrying about the future (the downhill travel that lies ahead). And so, yes, with the Full Moon sometimes a "release" is called for so we can wholly step into the Full Moon present moment, and embrace whatever it holds.
However, arguably the Last Quarter Moon is the lunar phase that most strongly symbolizes "release" and the need to let go. If the First Quarter Moon is the adolescent and the dramatic teenager, and the Full Moon the busy adult at mid-life, then the Last Quarter Moon is the older person who has recently hit retirement age and is realizing that they are fast approaching their final chapter.
At the Last Quarter Moon there is deep change occurring. The light of the moon is waning. Its energy is fading. This particular life cycle is nearing completion. At both quarter moons, the Moon is squaring the Sun – an aspect of tension. There is often resistance at this time, as there often is when one prepares to retire. Can we let go? What are we resisting? Why are we resisting? Are we afraid? Every beginning has an ending, but every beginning and every ending are held within an infinite cosmic orbit that repeats itself continuously. Birth, death and rebirth. This is life.
No one knows this better than Pluto, the god of Hades. Pluto stations retrograde tomorrow in Capricorn and there is a beautifully unobstructed New Moon in Taurus coming up next week. Let go and release so that you can best take advantage of these upcoming transits.
Today it is important to uncover any rigidity and resistance in our bodies, in our words, in our thoughts, in our environments, in our life trajectories. This is especially important given that the Last Quarter Moon was exact in Capricorn this morning; a zodiac energy that is infamous for its tense rigidity and resistance/persistence. What direction is the resistance coming from? What is its source? What bad habits are persisting in your life? Reflect on what has happened in your life since the New Moon on March 27th. What content of this month's lunation cycle are you trying to hang on to? What elements of your Venus retrograde story are you still clinging to?
Let go.
You've left the majestic mountain peak; now you are climbing down the mountain side.
Allow your mind, body, and spirit to become supple and flexible under this Last Quarter Moon. An hour after the Last Quarter Moon is exact, the Moon slips into Aquarius. Aquarius is known for its future-oriented perspective and its grand vision for humanity and the collective.
You are not alone in your downward climb. Under the influence of an Aquarius Moon you link arms with other travelers as you navigate the downward incline. Up ahead you see the next mountain, the next lunation cycle.
Clear your path. Declutter your horizon. Another story is unfolding.
I'll conclude with a quote from the wonderful Dana Gerhardt who has written a wonderful series on the lunation cycle at Astrodienst:
"Our perception needs cleansing at the Last Quarter. Our field is clogged with residue from our growth cycle… the Last Quarter is a time for letting go, for bringing your life in line with what you deeply know to be true… it's wise to submit our inflexibility to a healthy self-interrogation. Are we holding on to a compelling truth – or to a habit that no longer serves? Are we responding to a visionary call, firm as seeds, or merely resisting change?"
I would not have normally written so much about the Last Quarter Moon, except that this one really resonates for me. If you are a human who has a regular bleeding cycle (or you know a human who does), I would really encourage you to check out this amazing video by The Body Astrologer (follow the instructions to get access to the video):
I have always wondered about the meaning of different bleed times as they correlate with various lunar phases and this video was so helpful. I have tracked my menstrual cycle for over a year now, so I had many dates that I could compare with lunar phases after watching this. It was uncanny how my bleed times seemed to line up so well with the moon phase that most represented that time in my life.
My last four periods have occurred during the Waning Crescent Moon (December- March). As she describes in the video, this has been a time for me to turn inward. To withdraw. To focus on the invisible and internal rather than the visible, tangible, and external. To spend time in the darkness while I prepare for rebirth.
This month my period began early, perfectly in sync with the Last Quarter Moon today. Release. Let go.
The Venus Retrograde story was an intense one for me. Venus stationed with Chiron only one degree from my Sun and Mercury in the 8th House – hitting me deep at my core. The timing of my bleed time makes perfect, synchronistic sense for me this month.
---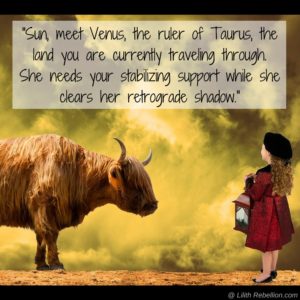 The Sun leaves fiery Aries to enter earthy Taurus today. The sun will spend about 30 days in this sensuous Venus-ruled land until May 20th, when it will make its yearly entrance into Gemini. It's so interesting how well this aligns with Venus' retrograde shadow period which ends on May 18th.
Venus is young and vulnerable today. Her rebirth was only just five days ago. The Sun's strong stabilizing presence through the lush fields of Taurus is a gift to help us with sorting through and organizing all the gems collected underground during Venus' retrograde.
Venus stationed direct on April 15th. After six weeks of its backward retrograde travel, Venus is now retracing her steps – otherwise known as her retrograde shadow. She is moving forward, yes, but through familiar terrain that she previously just traversed going the other direction. She will "clear her retrograde shadow" on May 18th when she reaches 13° Aries. This is where her retrograde journey first began on March 4th.
A retrograde shadow period is a time for integrating everything you have learned about yourself and others. It is a time for incorporating all the new life experiences and insights you have collected during the retrograde, into your forward-moving life trajectory.
Planetary retrogrades are rich in learning and healing opportunities. During a retrograde phase we have a tendency to be more passive and receptive in the area of life the planet influences, rather than being pro-active. We re-discover, re-assess, and re-align. Insights come more naturally to us at this time.
However, because of this backward motion, we may indeed be more tuned into a spiritual energy, but we can often feel as though we are in murky waters. Thrown off by the directional shift, we can easily feel disoriented and confused. This is where retrogrades get their bad rap. Don't fight it. Venus has gone direct, but Jupiter, Mercury, Saturn (and now Pluto tomorrow) are still retrograde. Take your retrograde medicine. If you work with the retrogrades, allowing yourself to go with the flow and travel the planetary underworld with your sixth senses open, you will harvest invaluable gems.
Astrologers often warn people not to make important decisions during a planetary retrograde (decisions that are associated with that planet's domain), because we are in a hazy, magical zone. When our rational, logical, cognitive minds try to process the information we are receiving from our intuitive senses, and navigate the emotions we are experiencing during a retrograde period, we are liable to make mistakes and poor decisions. Things are not always as they seem. Wait until the retrograde ends. Clarity comes when you emerge into the sunlight again.
This is where we are now. Blinking in the sunlight trying to make sense of Venus' retrograde that ended last week. In some way we all will be revisiting life material we worked with over the past six weeks. It's perfect timing for the Sun to enter Taurus! As a fixed sign, Taurus is the earthiest earth sign. This ever-so-chilled-out sign is patient, gentle, and deliciously slow-moving. This is slow sensuous living at its finest. Of all the zodiac signs, it is Taurus that knows best how to enjoy all the sweet pleasures of the Earth that our senses can absorb.
In the midst of the retrograde storm, let the energy of Taurus ground you. Whatever wounds were activated during Venus' retrograde underworld trip (March 4th – April 15th), wherever Chiron, the wounded healer, administered his stinging balm, now let the sunshine do the rest.
Don't rush. Don't panic. Any retrograde mess will get sorted out. Taurus energy is unshakable and determined. As solid bull plods forward, the tangled web of retrograde gems begins to unravel and sparkle in the sunlight.
Thursday, April 20th
Sun conjunct Mercury Retrograde (@ 0° Taurus)
Pluto stations Retrograde (in Capricorn)
Mercury enters Aries
Sun conjunct Mercury Retrograde: I am writing this Thursday morning. Last night I could not turn my mind off and the latent magic of the late night hours drew me further into a deeper contemplation. It was around 2:30 am that I began reflecting on Mercury's current retrograde journey. I have been so distracted by Venus' backward trek in my life, that I had neglected to pay attention to what gems Mercury has been unearthing. Suddenly one of these gems burst into my consciousness. I double checked the dates – a perfect match. Noteworthy Mercurial moments in my life over the past several weeks had aligned themselves perfectly with the path markers along Mercury's retrograde journey.
I smiled, and carefully pocketed this insight. I have some suspicions about what other personal gems Mercury retrograde may be unearthing during its underworld excavations, but I need to allow more of the story to unfold.
It was only this morning that I realized at 2:53 am (ADT) Mercury formed its retrograde conjunction with the Sun at 0° Taurus. This would have been around the time I was making these Mercurial connections and harvesting retrograde gems. Such appropriate timing!
When the Sun meets Mercury during its underworld travel, the explosive blasts of its fiery power uncover deeply buried retrograde gems for our inspection. The Sun's beams illuminate. This is a moment of clarity. This is the mid-point in Mercury's three-week backward trek. This is a Mercury Rx landmark. Take note! Think back to the weekend of April 9th, when Mercury first turned around. Reflect on the past week and a half. Take out a highlighter pen and identify Mercury-related content in your life within this time frame that is somehow associated with communicating, information processing, writing, speaking, conversing, socializing, learning, siblings, and short-distance travel.
Be on the look out for Mercurial insights that arrive by way of another person – through conversation, a card, a text message, an email, a phone call. Since I began tracking Mercury transits earlier this year, I have observed that usually someone else "plays the role" of Mercury during a transit to my chart. This is fitting for a planet that was named after the Roman's' messenger god!
Look for the insights, not the tech issues. Sure, maybe Mercury Rx has caused some technology screw-ups, but usually this is just an unfortunate by-product of us trying to resist Mercury's slower retrograde pace. The Romans did consider Mercury to be a trickster god however, so anticipate information coming your direction in unusual unexpected ways.
Mercury goes Direct on Wednesday, May 3rd. Pay attention to Mercurial themes in your life over this time and particularly around the time the planet turns direct. Retrogrades are full of quiet magic that we may overlook if we are not paying attention. Journaling is an excellent way to track the transits and the unfolding stories of the cosmos in your life.
---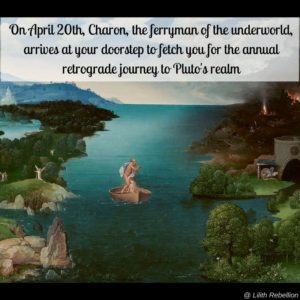 Pluto goes Retrograde: Charon, the ferryman of Hades, the deepest darkest underworld, arrives at your doorstep Thursday morning (ADT) on April 20th. His boat awaits you. Pluto, the god of Hades, is turning retrograde today and has sent his ferryman to collect the passengers for the annual visit to his dark shadow realms. According to Greek mythology coins were put in the mouths of the dead to pay Charon for their souls' ferry trip down the river Styx, which divided Earth from the underworld realm; the living from the dead.
Today, you may feel the subtle discomfort of coins in your mouth and experience a cold, metallic taste of anticipation. Shivering yet? Let me reassure you, this is not a rare event. In fact, you've made this journey as many years as you have been alive. Pluto spends about half of every year in retrograde, backward motion. Pluto being an outer planet, this will likely not be a dramatic retrograde for you, but it is worth noting the major landmarks in the journey (as well as what house Pluto is in if you track your transits through your natal chart).
The first landmark is today. Before a planet turns around so to speak, it must first "stop" (what astrologers call the planet's "stationary" moment). Imagine you are the passenger in a car that is driving forward at a steady, consistent pace. Suddenly, the driver slams on the brakes, jerking you forward against the pull of your seat-belt. The driver then shifts into reverse. Assuming there are no cars behind you, you will gradually become accustomed to this backward motion until the driver slams on the brakes again to go forward.
Today is the slamming the brakes day. Notice how you are feeling today and tomorrow. What key themes are emerging in your life around this time? There is often a deep sense of vulnerability that accompanies a Pluto transit. Pluto likes to remind us that we are ultimately not in control. We are not the invincible humans we like to pretend we are. The god of death, disease, and everything that goes bump in the night, asks for our humble surrender. There is great freedom in surrender.
Today, acknowledge the beautiful messy vulnerability that comes with being a human being in an uncertain, strange universe that is so vast and so mysterious; a universe that persistently confounds our attempts to understand it and to conquer it.
Pluto's special gift is his ability to purge our lives of all that is decaying and rotting. Let him scrape away all those defenses; all that is no longer serving you and is holding you back. On September 28th, he will send you forward once again and you will be reborn into the land of the living.
Track your transits. Make note of major themes emerging today and tomorrow so you can make comparisons with what occurs in your life around September 28th when Pluto goes direct. The other major landmark in Pluto's Rx journey will occur on August 4th, when Jupiter squares Pluto for the third and final time.
Friday, April 21st
Mars enters Gemini (in mutual reception with Mercury Rx which entered Aries yesterday)
Venus (@ 27°Pisces) square Saturn (@ 27° Sagittarius)
Moon enters Pisces
As Pluto continues to dredge up retrograde mud with its heavy turnaround, today Mars the warrior charges full force into Gemini, the communicative air sign that is known for its constant, curious, agitated movement. Interestingly, just yesterday Mercury Rx entered backward into Aries. Mars rules Aries and Mercury rules Gemini. When planets are in each other's signs this is called "mutual reception" and it emphasizes the energy of the combination. Together this hot-headed fire-air combo is capable of stirring up a whole lot of dust. A tempest, a tornado, a forest fire, or perhaps simply an eventful windy day. Time will tell how you experience this cosmic storm.
I'm not really comfortable with this energy fusion especially given that Mercury, the planet of communication, is in retrograde motion right now. Retrograde periods are best when they are receptive, passive, intuitive. They are slower times that ask for careful reflection. This does not jive with the energy of Mars and Aries – the warrior energy that waits for nothing.
Mars/Aries naturally acts on impulse; sometimes as an admirable act of courage, sometimes as an act of rash and imprudent recklessness.
Together this combo could equate to aggressive communication. Today in particular, this could show up as challenging relationship conversations due to Venus squaring Saturn. Arguments? Conflicts and confrontations? Overreacting? Harmful gossip? Sensitive information being exposed accidentally? Irritating miscommunications?
On the other hand, this energy combination could arm you with the courage to move beyond your doubts and fears to communicate something important or to ask somebody something. It could also fortify you to receive difficult news. Since Venus is completing her third and final challenging square to Saturn today, perhaps the fearless strength of Mars/Aries will come in handy. Check out where Aries and Gemini are in your natal chart to find out what two houses will be particularly affected by this fast-moving fire-air energy. Mars will be in Gemini until June 4th, and Mercury Rx will be in Aries until May 15th, so you have some time to tame this wind and fire storm.  Watch that you do not overreact to information. Take a moment to re-read what you have written before pressing the almighty "send" button. The Sun moving through Taurus, should help to stabilize this intense energy.
Communication issues aside, the motto for Mars in Gemini would be: Stay curious. Be spontaneous. Explore. Invest your energy into multiple diverse and interesting projects. Keep up-to-date on whatever news feeds interest you. Inhale new knowledge and then send this energy back out into the world in the form of action.
---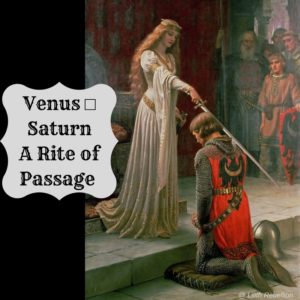 The challenging Venus-Saturn square has been lingering for a while now; exerting particular intensity throughout all of April. The first square occurred on January 27th when Venus was moving forward. The second occurred on April 8th during Venus' retrograde, and now today Venus makes its third and final square with Saturn. When you think back to the two previous Venus-Saturn dates, can you see a pattern in your life? Is there a story unfolding here?
Saturn is the wise and stern respected elder. He wants us to grow and develop into strong individuals, capable of withstanding the storms of life. I perceive the three Venus-Saturn squares as representing a Rite of Passage; a transition from a familiar way of being in the world, to a new, more mature position in life. Rites of passage are often marked by recognized and witnessed rituals and ceremonies. In the Middle Ages, the conferring of knighthood on someone was an important Rite of Passage. Modern Rites of Passage include graduation, receiving a driver's license, getting married, buying your first home, etc. These are all markers of maturity (of moving from one stage of life to another) that are recognized by the broader society.
The first Venus-Saturn square (Jan. 27th) was the first Rite of Passage phase. This phase is the "separation". This is a withdrawal, detachment, and moving away from ones' familiar comfort zone. For me, this was a moment where I verbalized a truth about myself and admitted a desire that I was trying to ignore.
The second Venus-Saturn square (April 8th) represents the transitional "liminal" phase in a Rite of Passage. Here there is confusion, uncertainty, and ambiguity. One is held in limbo between one's old way of being in the world, and the new position they are growing into. This occurred during the final days of Venus' retrograde. For me, I received a message that made me uncertain of how I fit into someone else's life.
Finally, the third Venus-Saturn square occurring today, represents the final phase of a Rite of Passage – the phase of "incorporation" and maturity. You have made it through the three phases. Today may feel heavy, as all aspects do when Saturn is involved, but take a moment to reflect on the growth and progress you have made. Take a moment to grieve the loss of whatever needs to be let go of. The Moon enters Pisces later today to assist you with the task of letting go. Now turn around. Step into your future. You may be asked to commit or re-commit to something or someone today.
Here are some additional reflections on this aspect from astrologer Kelly Surtees (I have edited it slightly since what she refers to as the first square, I perceive as the second square):
[The second Venus square during the retrograde on April 8th] asked each of us to recognise a difficult truth, and reflect on what adjustments it might suggest. On Friday April 21, Venus makes the [third] square to Saturn. Around this time, that which has been stripped away now reveals the space – including time and energy – for new growth.

What you ended, reduced or reshaped during the [second] Venus square Saturn aspect has become the foundation for your future. It's because you cut back or resisted pressure then that you have the resources to explore a new offering now. – Kelly Surtees
After we get past today, the waters of the cosmos are finally calm for a short while, with a sweet and peaceful Taurus new moon coming up on Wednesday. It's smooth sailing until next Friday when Venus enters Aries and Mercury conjuncts Uranus, which could send some cosmic lightening bolts of fire flying! That's not to say that there isn't major celestial activity being activated in your personal natal chart – there very well could be! However, I am personally relieved when I only have to worry about transits to my natal chart  alone, and I don't have to worry about the added aggravation of worldwide transits.
Sunday, April 23rd
Moon conjuncts Venus in Pisces, and then enters Aries
Hey! How are you?
Sure there are four planets in retrograde right now, but the cosmos is pretty chill currently. The Venus-Saturn square is separating, the sun is plodding along in the grounded and pleasure-loving energy of Taurus and the moon is swimming in the beautiful romantic waters of Pisces. The cosmos nods its head in mutual agreement. Life is good.
Meanwhile, the Moon taps Venus on the shoulder as she whizzes past. "Proud of you with how you dealt with all that recent retrograde intensity," the moon calls out over her shoulder. "Hey why don' t you pour yourself a glass of wine and go make out with someone! Relax! Enjoy yourself!"
Have yourself a luscious weekend! Relish in the romantic, sensual pleasures of Taurus and Pisces today, whatever that means to you.
The Moon is currently in its dark balsamic waning phase as it prepares for its rebirth on Wednesday with the New Moon. This will be such a lovely New Moon in Taurus. Take some time over the next few days to turn inward and prepare your soul for another lunar cycle. Reflect on your values – who and what are important to you. Reflect on how you can take steps to act in accordance with your values in the coming month to create a better alignment between your inner and outer worlds. The dark waning phase of the moon is a magical time and Pisces has connections to another world. During the balsamic moon in Pisces, pay attention to your dreams and intuition 🙂