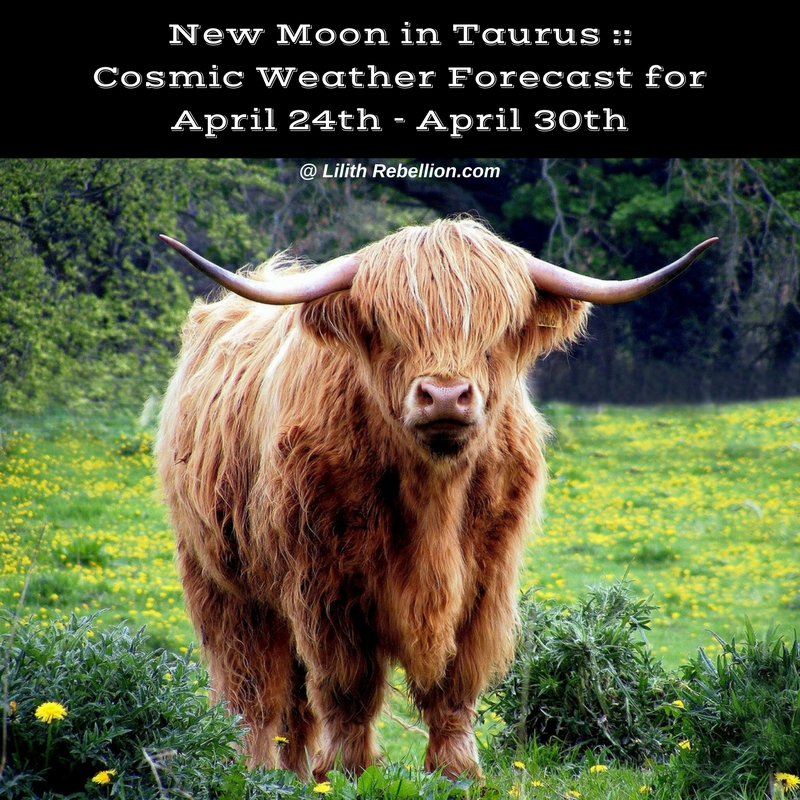 We begin the week with a stable trine between two retrograding planets; Mercury, the planet of communication, details, and information-processing, and Saturn, the planet of hard work, responsibilities, commitments and goals. Connected through a trine, this supportive aspect prompts us to review, re-evaluate, and perhaps redesign our goals and commitments. If we have some loose ends or deadlines to address today, motivation and self-discipline are at our disposal.
Monday and Tuesday, the dark balsamic moon maneuvers around the unexpected, ushering us forward through intuitive glimpses, meditative moments and restful reflection, toward the glorious and unobstructed New Moon rebirth in Taurus on Wednesday.
The earth is fecund; the air is ripe with promise and potential. Sow seeds of intention far and wide today. Ruled by Venus, bejeweled by the riches and wisdom from her retrograde journey, this New Moon drips with hope and honey.
By Friday, Taurus' slow and leisurely stroll through a lush field has turned into a furious, frantic charge.
As the Moon shifts into Gemini to conjunct Mars the warrior, Mercury in retrograde fuses with Uranus the revolutionary in Aries, and Venus leaves Pisces to unite with them in fire. Expect the unexpected. Words are flying fast and furious on Friday. Everyone believes that they have claim to the Truth. Plans are changing. Secrets are surfacing. Are we rebels with or without a cause? Are we creating conflict to defend our egos, or is it our moment to speak truth to power? Do the means justify the ends?
We finish the weekend with a painful conversation between Chiron, our greatest wound, and Saturn, our greatest teacher. Their tense 90° aspect goes exact on Sunday, but this energy will be felt on Saturday as the Moon activates this angle on route into the deeply nourishing waters of Cancer.
Take responsibility. Take care of yourself. Take care of each other.
---
The fearless girl statue has a conflicted history, and one that I don't entirely agree with, but its symbolism spoke to me in light of this week's forecast…
Check out the Cosmic Forecast for…
Monday, April 24th
Mars (in Gemini) squaring the Moon's nodes (North node in Virgo, South node in Pisces) 
Moon (in Aries – as of Sunday evening)
Mercury Rx (in Aries) trine Saturn Rx (in Sagittarius)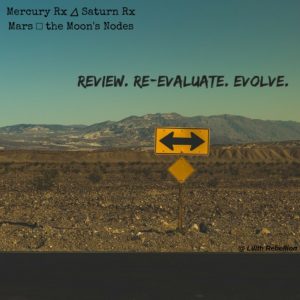 Saturn is focused on long-term goals and achievements while Mercury would rather immerse itself in organizing the details. Early Monday morning (ADT) Mercury Rx trined Saturn Rx, bringing together the energy of the two planets and connecting the big picture vision with the everyday tasks. Today's trine makes clear the final destination, and the steps required to get there. Because the two planets are in retrograde motion, this aspect places emphasis on the past. This is an ideal time to review and re-evaluate your goals and commitments.
How can you break a larger goal into its parts to make it more achievable? What steps do you need to take to fulfill a commitment you made at an earlier date?
Yesterday, action-oriented Mars in Gemini squared the Moon's South and North nodes and this transit still holds strong into today. This T-square aspect further emphasizes the themes of Mercury Rx trine Saturn Rx by placing us at the intersection between the past and future, between our familiar comfort zone and the call to grow and evolve.
Is it time to make new goals and define new boundaries in regards to your life's responsibilities? Life is fluid. We are constantly changing. Yesterday's priorities may not be today's priorities. In which direction are you going to invest your energy?
Without even considering current transits, I spent yesterday reviewing lists of goals that I had made many months earlier, re-prioritizing them, and breaking them down into achievable tasks. The energy is there for you to use!
With the New Moon around the corner this is a great time to tie up loose ends and envision the future (but not necessarily to actually launch new projects since we are still under the influence of the dark balsamic moon). If you have found yourself under a deadline today or yesterday, Saturn and Mercury have got your back. If you found yourself swimming in distractions during the weekend under the influence of the Pisces' moon, as of Sunday night, Aries now claims possession of our lunar satellite. With Saturn and Mercury keeping you focused, the moon in Aries providing a healthy dose of motivation, and the Sun in Taurus humbly offering its patient, steady persistence, today is a day to tackle that to-do list!
Moon conjunct Uranus, and then conjunct Mercury Rx (in Aries)
Moon enters Taurus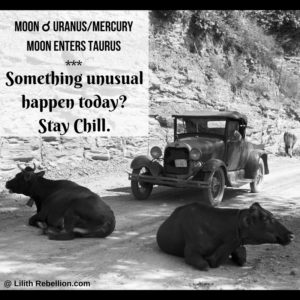 On Tuesday, as the Moon conjuncts Uranus in Aries, the unpredictable planet of change, you may encounter a surprise of some sort; an unusual little blip in your day. Or you may experience a fleeting restlessness, a desire to take unexpected or rebellious action, some racing thoughts, or perhaps a sudden moment of insight and emotional clarity.
This may be only a whisper of Friday's upcoming communication/ information surprise extravaganza. Mercury in retrograde is currently coming into a close conjunction with Uranus, the revolutionary planet of the cosmos (their conjunction is within 1 degree today). But more on that later. The surprise is still in the oven…
This Moon's conjunction with Uranus and Mercury Rx is sandwiched between lots of grounded earthy energy. The fast-moving moon transitions into Taurus Tuesday night (ADT), so there is only a small window of time for this aspect to tag you on its way to Wednesday's sweet and peaceful New Moon.
Since we are currently still blanketed by the darkness of a balsamic Moon phase, try to calm your mind and slow your pace. To do otherwise would be to act out of sync with the our wise lunar leader. Your body, mind, and spirit will thank you later. When the energy of Aries and the live-wire Uranus-Mercury energy threaten to drive you into frantic activity, take a moment to breath deep and meditate.
Wednesday, April 26th
New Moon @ 6° Taurus at 9:16 am (ADT) (Moon conjunct Sun)
Early Wednesday morning the Moon passes in front of the Sun. As their energies fuse, the old Moon exhales its last breath, swallowed up by the sun… and then a moment later it is reborn. Another lunation cycle begins anew with this Taurus New Moon.
This is a New Moon to sink into, a New Moon for your soul to delight in, a New Moon energy for your cells to absorb and soak up like sponges.
The Moon is in its exaltation in Taurus. In tender Taurus, the Moon finds its sweet spot. In easy-going, grounded, and pleasure-loving Taurus, the Moon is just right.
The path is clear. The cosmos has managed to halt celestial traffic jams so this rebirth can take place. This New Moon is free from challenging aspects with other planets. In fact, it makes no major aspects at all. This is an ideal New Moon for setting intentions, for sending out prayers, for seeding hopes, for creating plans, for nourishing dreams.
Taurus is practical and determined. Taurus is the most loyal and reliable sidekick one can have. Taurus' stubborn staying power will take your hopes and dreams forward, well into the future. Taurus is unshakable and steadfast in claiming its desires. Taurus never wavers once it sets its eyes on a goal.
Venus is the ruler of this New Moon and she is currently in the last degree of Pisces, still clearing her retrograde shadow. Stepping out onto the shore, just beginning to emerge from the waters of Pisces, she offers another opportunity to release and surrender any barnacles of retrograde confusion or distress that may be stubbornly clinging to you.
What have you learned from the Venus retrograde period (March 4th-April 15th)? What did you learn about your priorities and the life you want to live? What, and who, are most important to you? Are there any adjustments to be made? Are you living a life in accordance with your values? This is an ideal time to apply the lessons you have gleaned from Venus' recent underworld journey.
At this New Moon, ground yourself deeply in an embodied sense of self worth and re-align with your values. All the planetary action this month, all the exhausting shifting of directions, have tilled the fertile field you now stand before today. The hard labour of April's retrograde efforts has served to remove the weeds and loosen the soil so that you may seed during the New Moon with the promise of an abundant harvest.
Write a New Moon letter to yourself. Enclose your New Moon seeds, your New Moon intentions, within an envelope to be opened during the Full Moon in Taurus in about six months time (November 4th, 2017).
Once seeds have been sown, celebrate. Design a ritual for yourself. Honour this New Moon energy. Among all the zodiac signs it is Taurus that best knows how to enjoy the Earth's pleasures and beauty. So seek out your bodily pleasures. Spend time with a loved one. Savour the succulent fruit of the Earth. Connect with nature. Eat delicious food. Spoil all five of your senses.
As a lover of all that is beautiful and pleasurable, Taurus is strongly associated with the performing and visual arts. Welcome the rebirth of the moon with song, dance, with paint brush and easel, or make a timely visit to your local art gallery.
As Jupiter continues to retrograde through Libra, the sign of harmony and balance, may we all find a moment of New Moon calm, clarity, and creativity in the midst of a turbulent world.
Friday, April 28th
Moon in conjunct Mars in Gemini (in mutual reception with Mercury in Aries)
Venus enters Aries (passing through Zero Degrees Aries – a point of illumination and power)
Mercury Rx conjunct Uranus (in Aries)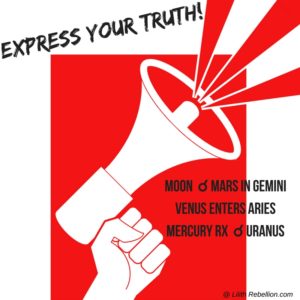 In astrology it has been said that if the same theme emerges in a chart analysis three or more times, it is manifesting strongly out in the world. Today we have four transits that strongly reinforce today's theme of surprising truths being assertively, passionately and unexpectedly expressed. This forecast is strongest for today, but you can apply this forecast to the coming two weeks since most of today's relevant transits will continue to hold their potent positions for this time.
Mars is still in Gemini, in mutual reception with Mercury, which is retrograding through Aries, the sign that Mars rules. This fire-air energy creates a fierce storm of communication and information-exchange. Are you engaging in petty verbal wars today, or are you using this energy to hold your ground and bravely state and express your truth? In particular, you may find yourself in a battle of words with siblings, since both Gemini and Mercury are associated with your close kin.
Pause before you speak, think before you send. Mercury is retrograde. Deeply enmeshed in impulsive energy, you are liable to let unwanted messages escape.
The emotional Moon has received its cue and has joined in the fray. It leaves Taurus to enter communicative Gemini, where it sidles up into a close conjunction with the passionate warrior, Mars. Mars' short fuse may propel us toward raging reactions, or intense bouts of tears if we are careless with the matches we light today. Watch your words.
Mercury, our tricky little messenger planet, has been steadily flirting with the sky's risk-taking rebel as it has traveled backward through fiery Aries over the last couple weeks. Today Mercury's union with Uranus is exact. Truth brazenly bursts out, born from this heated fusion.
Uranus is bold. Forthright. Revolutionary. Reactionary. It delivers truth, and nothing but the truth. Even if it hurts. Even if it is uncomfortable. Even if it isn't well-received.
But the question is, whose truth?
We live in a world of multiple "truths". One person's truth may not be another person's truth. This may be a battle of truths. A battle of words. A battle of perspectives. Jupiter in Libra may weep and call for peace. Will her cries go ignored from the deep depths of her retrograde journey?
Will today bring proclamations of aggression from above? Or a bold uprising of the people speaking truth to power?
Uranus, the modern ruler of Aquarius, is the energy of freedom, of the future, of the inherent possibilities made manifest when the collective collaborates together for the highest good. Uranus at its highest expression, is the humanitarian, the champion of the people.
Today will you pick up the sword, the shield, or the peace offering? Will you wield your truth to gain the upper hand? Or will you use your truth to courageously act on behalf of others?
Aries is not the most diplomatic sign to say the least, but our lovely, relational Venus has left the waters of Pisces to join us here today. She's a little out of her element in the sign of her detriment, but she boldly calls on us to become better versions of ourselves, to live according to higher values, and she propels us to passionately pursue what (and who) we desire.
On route into Aries today, Venus passes through the Aries Point (AP) – zero degree Aries. This is the birthplace of the zodiac. This is its point of origin. The Aries Point is like a geyser – violently ejecting pressurized water from the earth, reaching sky high. Here the energy is powerful, fresh, invigorating, and illuminating. This is an energy that sends us out into the public, out into society, to be seen and heard as we walk out our truth.
Can you see the common themes among today's transits?
Surprises. Unexpected information coming to light. Assertive communication. New ways of thinking. Change of plans. Bold new truths. Brave new frontiers.
Uranus' role in our lives, in the world, is to be disruptive. To shake up status quo and break down traditional structures in order to pave the way for change. To breath new life into old and stale ways of being in the world. When you hear someone saying that they want to "reinvent themselves", they are likely undergoing an Uranus transit.
If you have been feeling "stuck" in some area of your life, this is an ideal time to break free. Today's transits (and onward throughout the next two weeks) deliver a dazzling surge of inspiration and ideas along with a blast of power, energy, and motivation. Act on your truth; express your authentic self in the world.
This can be a wonderful opportunity – as long as we orientate ourselves toward a better vision of the future. If we act on this Uranus-Aries energy impulsively and rashly in the moment, we risk becoming reactionary rebels without a cause. Rebels for the sake of being rebels. The means do not necessarily justify the ends. Orientate yourself toward Uranus' bright vision of the future, its egalitarian and humanitarian goals, and wisely use the information and insights that Mercury retrograde reveals.
There is a high probability of change coming this Friday (and over the next couple of weeks). Be ready to role with change. To work with change. Be flexible. Be spontaneous. When we resist Uranus energy, anxiety and stress sets in. Be ready to adapt quickly.
This energy is at peak intensity today, but will follow us for about the next two weeks while Mercury Rx remains within a one degree conjunction with Uranus, Venus continues to transit Aries, and Mars continues its trek through Gemini. After Mercury turns Direct on May 3rd, it will fuse with Uranus again on May 10th for another intense fast-moving bout of this energy.
Sink into your body when you get too overwhelmed by your head. Be cautious, be careful, but don't overthink and worry too much. This energy is there to be used, productively.
Saturday, April 29th
Moon (in Gemini) opposite Saturn Rx (in Sagittarius), squared Chiron (in Pisces)
Moon enters Cancer and squares Venus (in Aries)
Shockwaves may still be rippling from Friday's Mercury-Uranus conjunction in Aries, but today the Moon asks us to catch our breath, to nurture and protect each other, to ground ourselves in an embodied sense of belonging.
Be at home in the world today.
Greek philosopher Heraclitus once stated that the only constant in life is change, and that "no man ever steps in the same river twice, for it's not the same river and he's not the same man."
Flow with the rivers of change today. Change is inevitable. But we can choose how we will respond to change.
Can we move with the rivers of change while still feeling grounded, stable and secure in who we are and where we find ourselves in this world? This is a paradox worth pursuing.
There is a lot of high-voltage change energy in the cosmos this week and in the coming weeks. Perhaps you are making changes in your life that other people don't agree with or are skeptical of. Listen to your intuition. Express your truth. Push through your insecurities.
Saturday evening (ADT), on its route into the watery, nurturing, emotional sign of Cancer, the Moon will briefly square Chiron, the wounded healer, oppose Saturn Rx, the stern teacher and taskmaster, and square Venus, the planet of values, love, and relationships. There may be a lingering sense of despair, loneliness, or discouragement. Our woundedness, especially in the realm of relationships, may feel starkly exposed and raw tonight.
Speaking as someone who has a natal Saturn-Moon opposition, don't let your woundedness and vulnerabilities prompt you to erect higher walls and defenses around your heart. Yes, be wise and prudent with who you trust, but don't close yourself off to others. Avoid Cancer's defensive, passive-aggressive tendencies, and instead take advantage of her sweet, nurturing energy Saturday night and through to Monday. This may be a weekend for some gentle self-care ❤
Saturn Rx (in Sagittarius) squares Chiron (in Pisces)
The fast-moving Moon often seems to activate an aspect between two slower moving planets just before it reaches its exact degree. It's as if the Moon were the scout that races ahead to survey the landscape to let our hearts know what is coming.
Saturday evening (ADT) the Moon activated the Saturn-Chiron square, and today the Saturn-Chiron square hits its exact 90 degree angle. Deep hurts and fears may continue to surface today as Saturn triggers the energy of Chiron, the wounded healer of the cosmos.
Saturn sternly asks us to address our wounds. "It's for your own good", he says, as he refuses to let us turn our eyes away. Today we take responsibility for our own healing. Today, the world collectively experiences the depth of its brokenness. Who will fix this world? Who will fix us?
We will. We must.
When we experience Saturn negatively and try to resist this energy, we experience his presence as fear, guilt, oppression, avoidance, despair, and depression. When we lean into the lessons of Saturn, we rise to the occasion and take responsibility for our healing, and for our personal growth and development.
Taking responsibility and doing the healing work required of us is not easy. It is not easy to grow into our potential. It's hard work. But when we tap into our core, our soul, our authentic self, we find that we are more resilient than we thought we were.
Find your inner strength today.
What needs to be voiced? What needs to be forgiven? What action needs to happen?
Saturn appreciates tangible, concrete action. He appreciates when we get real with ourselves, and with each other.
When we refuse to admit our own woundedness, we can fall into detrimental behavioral patterns or be tempted to scapegoat and blame others for our pain.
Stand up. Break free. Take care of yourself. Take care of each other.