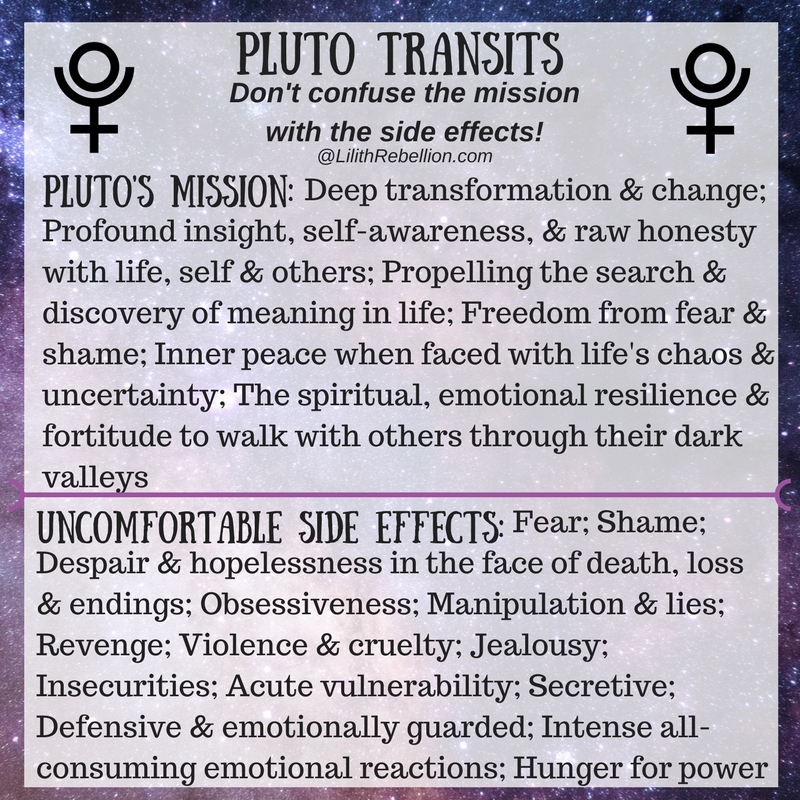 I will preface this post by stating that my life experiences and study of astrology have led me to believe in a purposeful Universe that is continuously working toward positive growth and ultimately good outcomes (granted, in a very mysterious big picture kinda way). That's a simplistic sentence for which I can point to no hard proof, but I am stating my biases regardless 🙂 This belief shapes my worldview, my philosophy on life and astrology, and my writing. Someone with a different worldview would perceive the planetary archetypes/energies differently.
Yesterday as Venus squared Pluto, I saw a lot of online warnings about Pluto's side effects, as I call them. This happens during any Pluto transit, or Scorpio / 8th House related transit – since Pluto is the landlord of the 8th House and the modern ruler of Scorpio, they all share similar energies.
I think it is important not to confuse Pluto's mission with its (often uncomfortable) side effects! The side effects occur when our psyches, emotions, bodies, and soul react to Pluto's movements across the sky (or Pluto/Scorpio/8th House in our natal charts) – especially when Pluto is making a more challenging aspect to another planet (such as a conjunction, square or opposition). But let's not get stuck with the side effects and ignore Pluto's intended medicinal action!
Stay with me while I personify our dear planet of Hades.
Pluto wants you to be fearless. To reach fearlessness, you must face your fears. Facing fears often involves experiencing them – you have to touch them to conquer them.
Pluto wants you to transform and change. But transformation and change is scary because it involves letting go of what is familiar to us. Thus some of the side effects kick in as we try to maintain control in our lives – a hunger for power, manipulating others, obsessions and possessiveness. The challenge is to see a Pluto transit as an invitation to transform and move beyond the resistance which produces the side effects.
Steven Forrest writes that "Pluto forces us to stare into the ultimate meaninglessness of our existence… and to face the elemental futility of life."
I've been doing a lot of abyss-gazing into the gaping hole of absurdity these days, and it can be a painful and dark, soul-wrenching experience.
Humans need meaning in life like they need oxygen. When we are forced to face existential questions of meaning (questions which often emerge following loss in our lives), we have access to the potential gifts of insight, self-awareness, and a deeper sense of meaning and purpose than we have ever known before. There are few things more valuable than that. But the side effects? Despair and hopelessness are common risks on route to these gifts.
Pluto wants you to acquire an inner peace that will not be shaken – no matter how volatile, unpredictable and chaotic the world becomes.
Pluto wants you to confront the shame and secrets you carry and bring them to the light where they will wither, freeing you from their chains and ushering in a much deeper sense of self-compassion and self-worth.
But as always, there are no shortcuts. These precious gifts must be earned. On route to inner peace and self-acceptance we encounter Pluto's uncomfortable side effects again. We may feel acutely vulnerable, ashamed and anxious; aware of our mortality, faults, and weaknesses.
I'm not denying the uncomfortable side effects, or their association with Pluto's transits, but I believe it is beneficial to remember that the side effects are not the point. They are not the end-goal. Perhaps struggling with some of these side effects may be a necessary part of the journey toward the destination, but keeping your focus on Pluto's ultimate mission will prevent you from being completely overtaken by the medicine's side effects.
And once you come through Pluto's underworld? You are like the Phoenix; the highest expression of the Scorpio archetype. No longer crawling on the ground like the Scorpion, you have walked through Pluto's fires. You have died and been reborn with wings. Newly armed with spiritual and emotional resilience, you now have the fortitude to walk with others through their own dark journeys.
Sounds dramatic? I'm speaking in mythic terms and what we experienced yesterday was a fleeting Venus-Pluto transit that will dissipate quickly. However, Pluto remains in orbit, Scorpio still claims 30 degrees of the zodiac wheel, and the 8th House finds its niche in each one of our birth charts. Pluto's invitation to transform is always a constant call. It's just that some days this call is more piercingly sharp than other days.
As Pluto challenged Venus on Thursday – our planet of love, relationships, beauty,  pleasure, art, self-worth, and finances, currently moving through the sign of Aries, asking us to courageously pursue our heart's desires – did you feel any side effects? I did. Fear, doubts and insecurities, vulnerability, withdrawal, discouragement, and intense emotional reactions were all present for me yesterday.
Transiting Saturn (opposite transiting Mars) is also forming an exact square to my natal Sun and Mercury cazimi today. Saturn too,  has its gifts and its trials; its mission and its side effects. I'm wading through the swamp, scanning the murky waters for submerged jewels as my toes sink into the slime and the warm glow of the opposite shoreline beckons in the distance.
Stay the course loves, the astro weather is pretty rough until after Monday. Moderate and bear with the side effects while plumbing the depths of these transits for their gold. Remember that all transits are temporary and we all get to share in the experience of global transits together 🙂