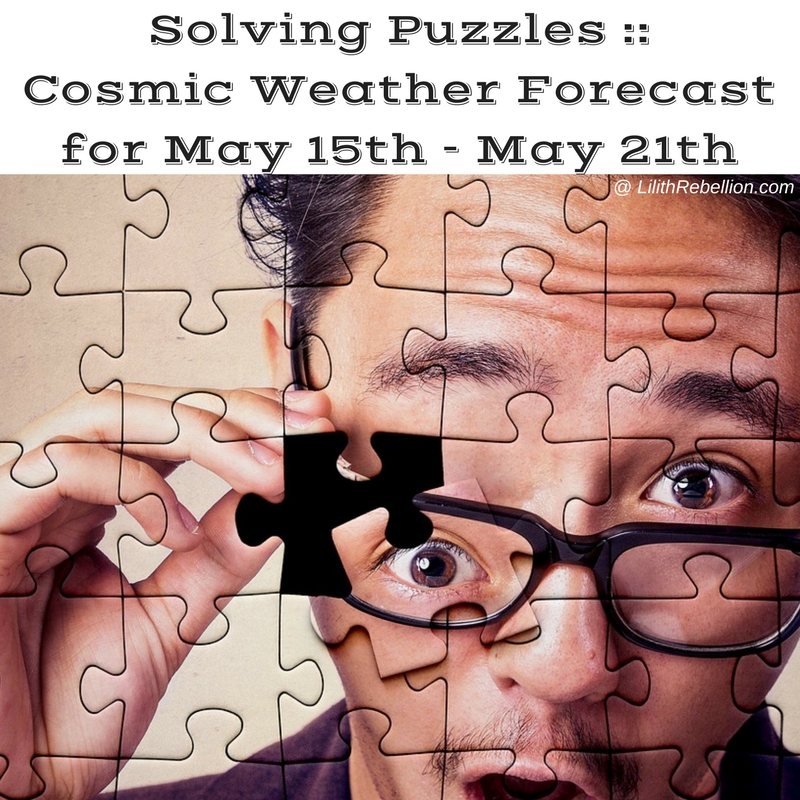 Some words and phrases that come to mind when reflecting on the cosmic weather of the coming week include…
Solving puzzles. Tying up loose ends. Identifying "You Are Here" on a public map. Plotting out a change of course. Processing. Sorting. Addressing doubts and uncertainties. Clearing the air. Re-orientating yourself toward a new direction. Finally seeing the big picture. Assembling the necessary tools and resources to make change happen. Preparing for the big launch.
Venus was retrograde March 4 to April 15. Mercury was retrograde April 9 to May 3. After their Rx periods, they have taken a couple weeks to travel back to the point where their retrograde first started. This week both planets will clear their retrograde shadows. Venus clears her shadow on Thursday and Mercury clears its shadow on Sunday.
So much has changed. So much has shifted. Your personal retrograde stories are wrapping up. As this week unfolds, their lessons will be illuminated in your life as these Rx developments and insights finish taking up residence in your consciousness. The puzzle pieces are coming together.
The Big Bang of the week occurs on Friday when the rambunctious, over-the-top Jupiter blows his trumpets loudly to congratulate and celebrate Venus (the planet of love and self-worth) on her completing her Rx journey. How interesting that the day after Venus clears her shadow she is greeted and welcomed back by a noisy opposition to Jupiter? This will be a transit that will be hard to miss.
Further emphasizing the tone and themes of the week, Mercury shakes the embers of Aries from its boots, and then steps into Taurus' green pastures on Tuesday. On Saturday, the Sun leaves stable Taurus to enter curious Gemini. Mercury and the Sun are both very influential cosmic forces in our day-to-day lives, so we will feel these shifts as they tie up loose ends in one zodiac sign, to enter the next.
We have the Last-Quarter Moon on Thursday, again reminding us to resolve what needs to be resolved in this lunation cycle so we can let go, and move toward the next chapter that begins with a Gemini New Moon next week.
Slow-moving Saturn and Uranus have been trining each other for a while now, but on Friday their trine is exact. Together with the Moon's North Node, this pairing is urging you to invest the work into making all those great ideas a reality. Now you can see the big picture and you are developing a plan.
For daily cosmic weather updates follow Lilith Rebellion on Instagram and Facebook, and to receive a weekly cosmic weather overview by email, subscribe to Lilith Rebellion email updates.
Check out the Cosmic Forecast for…
Monday, May 15th
Mercury at 29° Aries – the critical "Anaretic" degree
Moon conjunct Pluto (in Capricorn)
Next Sunday Mercury will clear its retrograde shadow and arrive at the point in the zodiac that it was at before it started traversing backward (@ 4° 51 Taurus). Currently it is still in Aries, edging closer and closer to the dividing line between Aries and Taurus.
Each zodiac sign is 30° (0° -> 29°). The last degree in a sign, the 29th degree, is referred to as the Anaretic degree in astrology. This is a critical degree. There is a sense of urgency associated with the Anaretic degree. The planet needs to complete whatever set of tasks it has been working on in one sign, before it enters the other.
Tomorrow Mercury will enter Taurus and thus today it is striding through the 29° of Aries with a restless, anxious energy that may be experienced as either desperation or over-eagerness. I would suspect that the urgency of the Anaretic degree is amplified in this case because…
1) Mercury is still in fiery, impulsive Aries – a sign that is all about taking immediate action and tends to be impatient to begin with;
2) Mercury is just about to clear it's retrograde (Rx) shadow and so it is vigorously hard at work trying to get you to install the last of its harvested Rx insights permanently within your psyche under a tight deadline;
3) whatever house in your natal chart that Mercury has been hanging out in over the course of its retrograde journey (April 9 to May 3) and the following week – during which it fused multiple times with Uranus, the planet of breakthroughs – has been getting A LOT of action!!! There's bound to be a lot of stuff to wrap up, incorporate, resolve, tie up loose ends, get closure on, move forward with, apply to your life, etc.
Are you feeling under pressure to make a decision? To take certain action? Are you feeling a sense of urgency to communicate something to someone? Or are you waiting for news to arrive?
You may have a bad case of Anaretic. Plus, the Moon in Capricorn is getting a bone-rattling shake through and through as it fuses with Pluto through conjunction late in the day. Take a deep exhale.  Prepare to take deliberate and carefully-considered action in whatever way you feel called to.
Hold tight. Tomorrow Mercury will be taking a chill pill as it enters Taurus.
Mercury enters Taurus
Moon enters Aquarius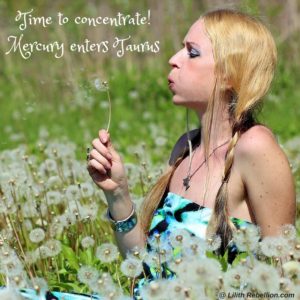 Today Mercury leaves Aries to enter Taurus, calling on us to be deliberate and intentional with our words and our decisions. Taurus is associated with our values. Mercury in Taurus wants to see congruence between our personal values and what we communicate – say what you mean and mean what you say. The Moon, moving in to Aquarius today, also supports this theme.
Mercury is the closest planet to the Sun. These two celestial bodies are never more than 28° apart. This means, from an astrological perspective, Mercury and the Sun are always in the same zodiac sign, or in neighboring zodiac signs. Whereas the Sun symbolizes our ego, our purpose-seeking drive to manifest our potential, Mercury symbolizes the way our minds work and the way we communicate and process the world around us.
From now until Saturday when the Sun will enter Gemini, the Sun and Mercury will both be strolling through Taurus, thus bringing Taurus energy strongly to the forefront.
This is a good time to work steadily toward your goals and lay the groundwork for all those brilliant ideas the last few weeks have unleashed. Do you have what you need to do this? This energy supports the strategic accumulation of resources and tools necessary for you to move forward.
With the Sun and Mercury moving through Taurus, you may find yourself feeling more patient and focused than usual. A layer of calm is blanketing the earth – temporarily at least. Your conversations with others are both leisurely and matter-a-fact. There is a plethora of solid, grounded advice available from those around you. Decisions are made carefully, slowly, with a thorough evaluation of pros and cons.
If you are in a learning environment, hands-on teaching will suit you best right now. Mercury placements indicate how we learn, and Taurus is all about the tangible, practical, with an emphasis on processing information through our senses (sight, smell, taste, touch, sound).
Do you sing? Mercury in Taurus in a natal chart often indicates a beautiful, melodious voice. This is not, ahem, my natal placement, but! Regardless of your natal Mercury placement, if you feel the urge to sing – go for it! Mercury in Taurus supports this effort even if your neighbors don't.
Singing "the hills are alive with the sound of music…" while twirling your way through greenery would be very apt for this earth-loving Mercury + Sun in Taurus combo. If this cannot be arranged, watching the Julie Andrews YouTube video for this 1959 classic will suffice…
If not singing, seek out another way you can communicate through your body this week. Dance? Yoga? Theatre? Sex?
Taurus has its shadow side as well of course, which can be summarized as "stubbornness". Enjoy the stable consistency of Taurus this week while avoiding inflexibility – especially in your communications and decision-making.
Venus clears her retrograde shadow at 13° Aries
Sun (in Taurus) sextile Chiron (in Pisces)
Moon (in Aquarius) square Sun (in Taurus) – Last Quarter Moon
Today it's official! Venus has cleared her retrograde shadow at 13°09 Aries . The Sun also sextiles Chiron the wounded healer today, sending reassuring vibes and reminding you of how much progress you have made.
By now you should have a good handle on what this Venus Rx period meant for you (for extra clues check what house(s) in your natal chart Venus traveled backward through). The story has been written and the editing has taken place.
Venus is associated with our core values and passions (what we prioritize and see as most important in our lives), self-worth, money, relationships, love, sex, showing and receiving affection, pleasure, art, and beauty (including physical appearance).
Therefore, in respect to the above themes, a Venus Retrograde (Rx) period asks us to review, reassess, rethink, reorientate, refresh, redo, and rework  (+ other words with the Re– prefix). Given the sensitivity of Venus' associations, this process can sometimes be painful and I know that the past Venus Rx was indeed painful for a lot of people – myself included – although simultaneously illuminating and healing.
Sometimes the personal "story" of a retrograde period is not fully revealed until Venus clears her Rx shadow by returning to the point at which her retrograde first began.
I find it helpful to review what was happening at my life at the dates in a retrograde period in order to piece together what this cosmic narrative meant for me personally. If you'd like to do the same, below are some of the key dates and time periods to think about while keeping Venus' primary associations in mind (this will be easier if you journal regularly).
January 21st: Venus conjunct Chiron, the wounded healer (moving direct) – A deep wound may have been triggered, hinting at the eventual healing to come.
January 27th: Venus squared Saturn for the 1st time (moving direct) – You are prodded out of your comfort zone. Your vulnerabilities in relation to Venus-related matters are brought to light. Compare the events and life content of this day to the other two times that Venus squares Saturn (April 8th and April 21st).
Feb. 3rd: Venus entered Aries (moving direct) – Bolstered by Aries' fire, you perhaps tried to carry on your merry way and force your way forward – attempting to put aside the discomfort provoked by Saturn and Chiron. Compare the events and life content of this day to April 2nd and April 28th (the two other times that Venus crosses Zero degree Aries).
March 4th: Venus stationed RETROGRADE @ 13°09 Aries – Your personal Venus Rx themes become more obvious around this time as the retrograde journey begins.
March 18th: Mercury conjunct Venus Rx – A moment of encouragement and insight on the journey.
March 25th: Sun conjunct Venus Rx – Your Venus Rx story is illuminated by the Sun's beams, providing some major clues.
Sunday, April 2nd: Venus crossed the Aries Point (0° Aries) and entered back into Pisces – There is a call to open up and surrender to whatever process is at work in you. An urge to escape your reality may also be present.
Saturday, April 8th: Venus Rx squared Saturn the 2nd time – Major reality check. Difficult decisions. Growing pains.
April 11th: Venus-ruled Full Moon in Libra – There is no way to stop this Rx train. This is a sense of inevitability as your Venus-related life content is exposed for healing and repair.
April 13th – 17th: Venus conjunct Chiron – Possibly intense and likely painful – similar to tweezers digging into flesh to pull out a splinter.
April 15th: Venus stationed DIRECT @ 26° 55 Pisces (conjunct Chiron) – You may be aware that some sort deep shift or change has occurred in your life.
April 21st: Venus Direct squared Saturn for the 3rd and final time – Commit to the changes. Commit to new growth. Another difficult decision may have been required at this point.
April 26th: New Moon in Venus-ruled Taurus (with Venus Direct in Pisces) – This New Moon launches Venus' post-retrograde period and another 28-day lunation growth cycle. What seeds were you planting in the fertile ground freshly plowed by her retrograde motion?
April 28th: Venus Direct re-entered Aries – This occurs at the same time as a Uranus-Mercury conjunction. In association with your Venus story, perhaps you have a breakthrough, a moment of powerful insight, or receive meaningful and surprising information.
May 18th: Venus clears her Retrograde Shadow at 13° Aries – You made it. Congratulations!
What did you learn about your priorities and the life you want to live? What, and who, are most important to you? What adjustments did you make to live a life in accordance with your values? How has your self-worth been affected by your Venus Rx story? Did finances, relationships, sexual pleasure, or artistic inclinations play into your Venus Rx story at all?
---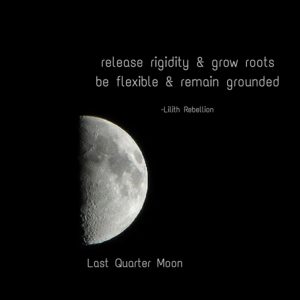 It is timely today, that as Venus clears her retrograde shadow, we enter the Last Quarter Moon phase. We are now 3/4s through the lunation cycle that began with the New Moon in Taurus April 26th.
Quarter Moons often lead us to a critical intersection in our lives and present an important decision to be made, and this Last Quarter Moon is no exception – especially since it occurs as the Sun squares the Moon's Nodal axis with the Moon directly on top of the South Node.
The Sun is holding two packages out to you today. The package to the South is already opened. You can see it. You are familiar with it. It's the easy and comfortable path. The package to the North is still wrapped up. You cannot see what gifts it might contain, you can only guess.
You can only choose one package. Will it be the one that's already opened – visible, familiar, and worn out? Or will you choose the unknown, wrapped gift – the choice that intimidates you, but simultaneously excites you with the possibilities of fulfillment at the same time?
The Moon on the South Node in Aquarius, transiting the gift that is already opened, makes the struggle more emotional and potentially difficult. The Moon is our internal self that craves emotional safety, and yet, symbolizing our soul, it also seeks inner growth. Progressive Aquarius encourages the Moon to let go of the past as Venus simultaneously clears her retrograde shadow in Aries today and calls on us to be courageous; to boldly choose the North Node gift and step out into the unknown.
A 90° square aspect in astrology challenges us to integrate two conflicting energies in a balanced way. Nodes aside, with this Last Quarter Moon we have the Moon in Aquarius squaring the Sun in Taurus. This Last Quarter Moon phase may also be asking you: Where are you out of balance in your life? What can you release from this lunation cycle to prepare for the New Moon next week?
There have been some major shifts and developments in our lives since April 26th (and throughout the earlier Venus Rx period). Are you feeling stressed, ungrounded, and erratically running around tackling multiple new projects while neglecting your emotional and physical needs?  If so, perhaps you are overdoing Aquarius. Release this high-strung way of being in the world, and press pause. Lean in to Taurus. Ground yourself and take some time to reflect on the events of this moon cycle while you make whatever important decisions you are confronted with today.
Alternatively do you find yourself resisting change and refusing to consider good opportunities because they will invite too much uncertainty into your life? Are you hiding from your call to evolve and stubbornly burying yourself deep in your comfort zone? Perhaps you are doing too much Taurus (easy to do when both the Sun and Mercury are hanging out there). Balance yourself by loosening your grip on security and stability, and welcoming some fresh unpredictable and spontaneous action into your life. In the context of this dynamic integrative T-Square (North Node opposite South Node & Moon square Sun), the risk-taking energy of Aquarius is there to support you moving toward the opposite North Node in Leo.
Embrace the paradox and work with this Last Quarter Moon – which is also excellent preparation for the Saturn-Uranus trine early tomorrow that carries similar themes:
Release rigidity and grow roots. Stay flexible and remain grounded.
Moon enters Pisces
Saturn (in Sagittarius) trine Uranus (in Aries)
Venus (in Aries) opposite Jupiter (in Libra) (@ 11:11 am ADT!)
One of the major aspects of the year is the Saturn-Uranus-North Node Grand Fire Trine. In an astro chart a Grand Trine is present when you can draw a large triangle with equilateral sides, across and within the zodiac wheel with 120 degrees at each of the three corners.
Because Saturn, Uranus and the North Node move relatively slowly (especially when you add in their retrogrades), their "triangle" shape holds its form for a while, spreading its influence broadly throughout 2017 – with a few punctuation points when the angle becomes an exact 120°. We are coming up to one such punctuation point on Friday when the Saturn-Uranus trine aspect becomes "exact" at 26°, 23 minutes in Sagittarius and Aries respectively.
When searching for a photo to symbolize the current Grand Fire Trine, I came across the "fire triangle" diagram, which I thought was a useful analogy for illustrating the Trine configuration.
Here's what Wikipedia has to say about the non-astrological fire triangle:
"The fire triangle illustrates the three elements a fire needs to ignite: heat, fuel, and an oxidizing agent (usually oxygen). A fire naturally occurs when the elements are present and combined in the right mixture…"
When we view the cosmic Grand Fire Trine through this lens, Uranus in Aries is the heat; sending sparks flying, this electrifying planet in the sign of the warrior is more than willing to heat things up in new and original ways. Saturn in Sagittarius is the fuel. Saturn wants to sustain the effort. Saturn is less concerned about the size of the blaze than about the need to keep it stoked over time so it doesn't go out. The North Node in Leo is the oxidizing agent. The North Node is like the wind which beckons the flames higher and higher and draws us out of our comfort zones toward new frontiers.
In astrology trines are supportive, beneficial aspects. The downfall of this aspect is that sometimes the energy flows too well, too easily. Trines do not have the creative friction that a square or opposition has to propel the energy forward. Trines can indicate strengths, abilities, and opportunities that we may take for granted because the energy gets stuck in a circling loop.
Personally I think the risk of that is reduced in this case because of the energies involved. Fire signs love to initiate and take action. Uranus thrives on taking risks. The North Node's job is literally to tug at our soul, calling it forward to evolve, and Saturn is willing to invest the hard work to make the thing happen and sustain it.
So take advantage of this Grand Trine! Make it work magic for you. Go ahead and build that fire.
Here are "punctuation" dates to watch for and capitalize on:
**Note – Saturn, Uranus and the North Node form an exact trine aspect when they are at the exact same degree in their respective fire sign. However, they still exert the influence of a trine even when they are a few degrees off being exact**
Dec 24, 2016: This was the 1st exact Saturn-Uranus trine at 20°34′ in Sagittarius and Aries. Look for similar themes on May 19th and Nov. 11th when this aspect occurs again.
May 19th: This Friday we have the 2nd exact Saturn Rx-Uranus trine at 26°23′ in Sagittarius and Aries (with the Leo North Node at 28°).
June 6th: Uranus in Aries trines the North Node in Leo at 27°14′ (with Saturn Rx in Sagittarius at 25°).
Oct 9th: Saturn Direct trines the North Node at 22 °24′ in Sagittarius and Leo (with Uranus Rx in Aries at 26°).
Nov. 11th: Saturn Direct trines Uranus Rx for the 3rd and final time at 25°38′ in Sagittarius and Aries.
---
What fun! While Uranus spouts off brilliant, wild ideas at light-speed, Saturn, ever productive and responsible, spreads his net to capture this delightful zaniness flying through the sky, and then siphons them into his sturdy funnel.
Slowly and surely, ensuring only the highest quality, these beautiful sparkling brainchildren of Uranus are compressed and molded into something solid. Something firm. Something that you can hold on to and say -"Look, I made this!"
This is reflective of the dynamic in the sky right now. Today, Saturn and Uranus perfect their supportive trine. A highly unlikely pair, this balanced collaboration brings together the best of both worlds – Uranus' intuitive visionary ideas and Saturn's focus on reality and results.
Normally Saturn's pretty stodgy and pessimistic. At another time, when presented with a creative, innovative, ground-breaking Uranus-inspired new idea,  Saturn would typically shake his head and roll his eyes in the most sophisticated way possible, while sternly scolding: "Get your head out of the clouds! That will never work. Be realistic. Stop wasting your time and do something practical – something tried and true."
And now Saturn and Uranus are collaborating?! Say whaaaa?
Uranus shrieks: "I want liberation! I want a breakthrough! I want to be released from these burdens of the past, from the chains of tradition that hold me down, so that I can fly free!"
Saturn, unusually obliging these days, sighs heavily: "Well, you're not going to grow wings anytime soon, so lets get started on building you a hand glider."
Personally, I'm pretty pumped about this partnership, and you should be too. Let's transform some crazy dreams into a beautiful reality, shall we?
Saturn and Uranus perfect their current trine formation three times. The first trine occurred  on December 24th, 2016. The second trine is happening today (with Saturn retrograde), and the third and final trine will occur on November 11th when Saturn (direct) trines Uranus retrograde.
What has been developing in your life since December 24th, which reflects this innovative and productive dynamic? Where in your life have you been prompted to take some creative risks that miraculously seem to be gaining a foundation and growing roots? As always, check your natal chart to find house placements for this aspect if you can!
A Personal Example: 
Uranus is in my 9th House and Saturn is in my 4th. Since the first Saturn-Uranus trine in December I have started to think very seriously (Saturn) about offering professional astrology services (Uranus) – something I would have previously dismissed as impractical and foolish after finishing three degrees with the expectation of a stable and predictable career trajectory (I have a natal Saturn-Moon opposition with my Moon in the 10th House of career and public image, which means I have a tendency to be an ambitious workaholic who veers toward accepted and widely-respected professions often to the detriment of my heart's desires).
The 9th House has to do with spiritual beliefs, philosophy, writing, publishing, higher learning and teaching. Around the time that Uranus first entered my 9th House, I renewed my interest in astrology and started studying it intensively (i.e. astrology is associated with Uranus and the 9th House is associated with learning). In the last few months I can honestly say that astrology has transformed into a type of spiritual belief system and spiritual practice for me (very 9th house).
I have been trying to reclaim my creative writing voice (Uranus) from academia's template, and one of the ways I have been doing this is by committing (Saturn) to writing these weekly cosmic forecasts and publishing them online (9th House). This commitment to writing and to astrology was particularly emphasized during the Mercury retrograde in my 9th House where insights and redirection were born through the Mercury-Uranus fusion. I absolutely love teaching people astrology (again, Uranus in the 9th House) and empowering them to read their own charts, and thus many of my astro posts have a teaching element to them.
I'm currently on the final stretch of my 2.5 year long Saturn return in Sagittarius through my 4th House, which has called on me to dig deep into my personal and family history to rebuild the foundations of my psyche, my emotions and internal world (all 4th House themes), and to free my 10th House Moon previously held hostage by Saturn. Now as Saturn in the 4th is trining Uranus in the 9th, I'm funneling the insights and reflections of the difficult past two years into my astro writing and into a book I'm working on – and I am newly committed (Saturn) to directing my studying toward eventual professional astrology practice (Saturn + Uranus). And… since this powerful aspect is exact today with Venus exacting its opposition to Jupiter in my 2nd house, I'm stating these intentions publicly (9th house)!
I've analyzed the Saturn-Uranus transit for a few other people as well, and similarly, it makes picture perfect sense!
---
Thursday, Venus stepped out of her retrograde shadow and on Friday Jupiter greets her through opposition, waving wildly and cheering:
"WELCOME BACK VENUS!!! YOU MADE IT!!!"
Sorry for the all-caps screaming, but Jupiter is prone to yelling enthusiastically with his big jovial voice.
Jupiter expands and amplifies whatever it touches, and today Venus is the lucky recipient of Jupiter's beneficence.
This is BIG PASSIONATE LOVE energy. This is a flashmob dancing marriage proposal. This is a teenager waking up the neighbors at 2 am because he is loudly serenading his loved one on the lawn outside her window with a guitar. This is a free-access pass to all the art galleries around the country. This is a smoking hot tango dance in front of a crowd of thousands. This is an all-you-can-eat buffet featuring only the finest gourmet foods and an open bar.  This is winning a week at a resort, decked out in extravagant decadence.
Play your passions wisely, loves.
Venus, our planet of love, pleasure and beauty, is bold and ravenous in Aries.
Jupiter, our king of optimism, expansion, and adventure, longs for good company and partnership in Libra – those with whom he can share his grandiosity.
Watch out for over-indulgence, an under-estimation of impact, and an over-estimation of capacity. Be wary of hasty and reckless declarations.
But. Enjoy yourself.
The Moon enters the romantic sign of Pisces today, urging you to surrender to Love, to behold the magnificent magical beauty in our mysterious universe.
The Sun begins to move through the final Anaretic degree of pleasure-loving, Venus-ruled Taurus Friday evening (ADT), thus amping up your deliciously carnal desires even more. As always with the Anaretic degree, there is a growing sense of urgency before a planet leaves a zodiac sign to enter another.
"Love! Experience pleasure! Chase your passions and desires! NOW!" ~ commands the cosmos.
Effective for a couple days before and after Friday, this aspect could indicate some blissful romantic moments in the works or carefree happy adventures with friends. It could also speak to new opportunities to surround yourself with sensory pleasures, beauty, and art.
Since Venus is also associated with our core values, self-worth, and what we prioritize in life, this Venus-Jupiter aspect could also call on you to own your power and manifest your desires. It could rejuvenate your enthusiasm and zest for life. It could catalyze a new creative project. It could bring about great success. Now is the time to take fierce assertive strides toward your life's passions (…while keeping a wise eye focused on the practicality of your decisions perhaps).
Happy weekend ❤
Saturday, May 20th
Sun enters Gemini
True BML (in Sagittarius) opposite Mars (in Gemini)
Every zodiac sign has a few derogatory cliche stereotypes that cling to them, and for Gemini, one of these stereotypes is that of the "flirt". A Gemini Sun (or Moon, Venus), has a reputation for being the zodiac's notorious flirt.
But let's reframe this word… while there will always be flirting that is deceptive and superficial, there is also flirting that demonstrates sincere interest and curiosity. And no sign is more curious than the inquisitive Gemini.
Gemini flirts with life, with the world, with all the fascinating experiences that exist. Gemini in the world, is like a child in a deluxe toy store. So little time, so much to learn! Blissfully drunk on the world's complexity and variety, a Gemini quickly amasses an internal library of information so vast that the psyche is always renovating in order to accommodate additions to the Gemini's impressive collection.
When the Sun begins its annual journey through this airy sign, we all have the opportunity to join the curious and playful four-legged dance of the Gemini twins. It is a time to explore new perspectives and try them on for size. Whereas Gemini's neighbor Taurus appreciates consistency, open-minded Gemini loves to play with new ideas. Flexible and adaptable, Gemini encourages us to broaden our intellectual horizons, hold up our analytical magnifying glass to new information, and shift our beliefs when necessary.
Go and flirt passionately with life. Sign up for a course. Research something you've always wanted to learn more about, but never had the chance. Have random conversations with strangers. Every person contains a wealth of history and knowledge. Why do they do what they do? Why do they believe what they believe? What makes their inner clockwork tick? Gemini is fascinated by the mechanisms that sets world in motion.
Gemini children are the ones who always ask, "… but why?" in response to mundane statements like "the sky is blue."
If we don't ask questions, if we aren't willing to risk uncertainty and not-knowing, we will never grow. Present some big questions to the universe over the course of the next 30 days. See what answers arrive in response.
With its strong affinity to Words, Gemini season is an ideal time to learn a new language, to start writing a book, to practice public speaking, to take part in a debate, to start reading that novel on your bedside table.
There are a few zodiac signs that seem to be more stigmatized than others and Gemini is one of them. Highly distractable, poor follow-through, a tendency to gossip and demonstrate "two-faced" deception, are some of Gemini's challenges, along with an inclination to detach from emotions in favour of a more analytical approach (which conversely can be quite helpful sometimes, says someone with a Gemini Moon). But every zodiac sign has their shadow – as well as their strengths! That is why astrology can be so useful – it can help us become more self-aware to avoid the pitfalls and shadows of our birth charts.
I was born with the Moon in Gemini and obeying word count limits has always been a struggle for me in school… and on Instagram! It is nearly impossible for me to write an Instagram post within the allotted space than doesn't continue into the comments. My soul seeks fulfillment through a deluge of words and information overload. Learning that more quantity doesn't necessarily mean higher quality when it comes to "information" will likely be a life-long lesson 🙂
With the Sun moving into Gemini we all have the opportunity to capitalize on the gifts of Gemini while learning from its shadow. Since Mercury is just beginning its journey through earthy Taurus, there is currently a grounding endurance available to counter-balance the Gemini air.
Sunday, May 21st
Mercury clears its retrograde shadow @  4° 51 Taurus
Moon enters Aries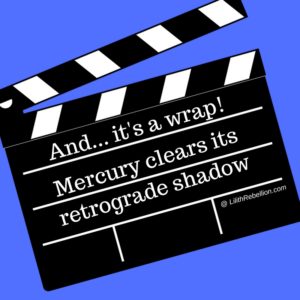 Attention! To those who thought Mercury retrograde was done with a long time ago – Mercury just cleared its retrograde shadow. Mercury was retrograde from April 9th – May 3rd, and since then, it has been steadily making its way back up to the point where its retrograde first began; at 4° 51 Taurus. This period between May 3rd and today, May 21st, is referred to as the retrograde shadow. This is when our psyches and life trajectories are busy integrating all the insights and new information garnered from the Mercury's backward journey. Now that Mercury has cleared its shadow, your personal Mercury Rx story should be obvious to you.
Mercury, the messenger planet, is ruler of written and verbal communication, receiving news / delivering news, information-processing, social media, learning, short-distance travel, commerce and bartering, exchanges, and siblings.
As I did for my previous post this week to mark Venus clearing her retrograde shadow, I'll list the following landmarks in Mercury's journey that may help you to outline your personal Mercury retrograde narrative. This Mercury retrograde was a very intense, fast-moving, exciting and overwhelming retrograde, largely due to Mercury spending the crucial potion of its Rx journey hanging out within a degree of Uranus. Together, this explosively creative duo brought big changes and surprises into our lives.
March 26th: Mercury (direct) conjunct Uranus in Aries for the 1st time – What Mercurial themes showed up in your life on this day? Compare this life content and events to April 28th and May 10th, when Mercury made two other conjunctions with Uranus.
April 3rd: Mercury trined the North Node in Virgo – You may have received an important insight or news of something significant that was going to happen in the future. Compare the events of this day with May 14th, when Mercury trined the North node a second time.
April 9th: Mercury stationed RETROGRADE (Rx) – Some major Rx story clues always begin to show up around the time that that the retrograde beings, although at this point the Mercury Rx is overlapping with the Venus Rx, so it may be difficult to separate them.
April 20th: Mercury Rx conjunct the Sun and re-enters Aries – The Sun's beams illuminate your Mercury Rx story. Look closely at the day's events for some blatant clues.
April 28th: Mercury Rx conjunct Uranus in Aries for the 2nd time – Again, the sizzling dynamic between these two brings unexpected change or surprising news into your life. This may have been a time of exhaustion and stress as your body struggled to stay up to speed with the changes.
May 3rd: Mercury  stationed DIRECT – For most people I know, major stuff happened around on this day or the day afterward. Big decisions were made. Major news was received. New initiatives were launched. Breakthrough type events, occurring with a magical dose of synchronicity.
May 10th: Mercury Direct conjunct Uranus for the 3rd and final time – Boom. The final combustion. The winds of change have swept you off your feet. You're likely firmly re-orientating some area of your life in a new direction.
May 14th: Mercury Direct trined the North Node in Leo – This final North Node blessing sends confirmation that you are on the right path using the Mercurial tools at its disposal.
May 21st: Mercury clears its retrograde shadow! (this occurred late on the 20th for some of you)
What did Mercury teach you? What opportunities opened up in regard to written and verbal communication and self-expression? Did anything significant happen between you and your siblings? Did you receive important long-awaited or unexpected news? Did you make unanticipated contact with someone important from your past? What Mercury-associated changes have occurred in your life since April 9th? As always, check your natal chart to find out what houses Mercury traversed during its backward journey for clues.
The Moon moves into Aries today, giving you the blazing emotional courage to take action on any new Mercurial insights if needed.