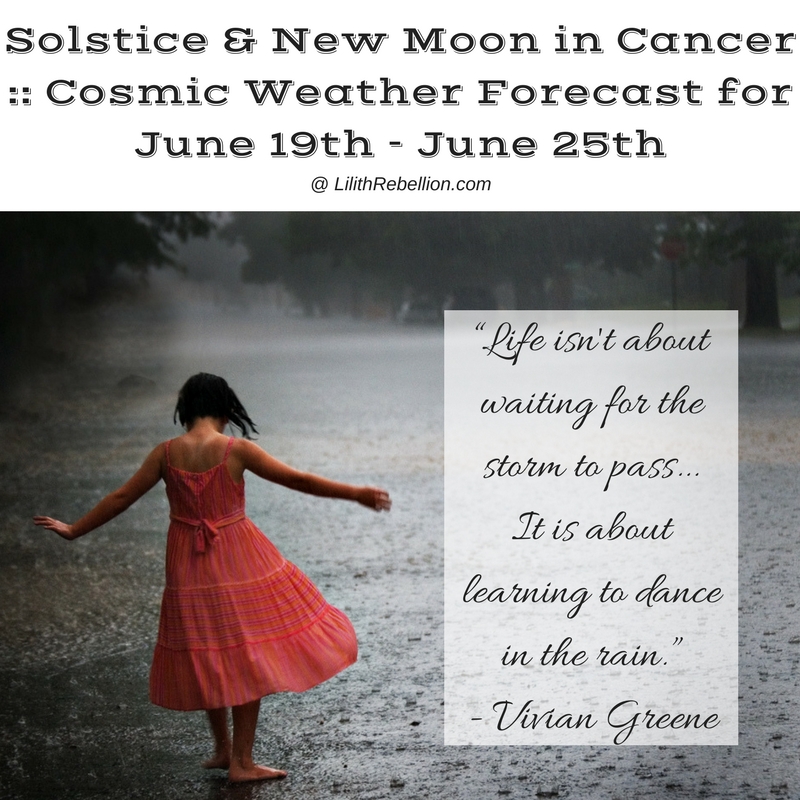 This week is tender, soft, sensitive, yet raw and exposed. This week slowly, gently, firmly, pulls back the outer layers. It simultaneously draws us back into ourselves, while peeling back our protective shells and bringing a flood of feelings to the surface.
Welcome, to Cancer season. Watery. Emotional. Cathartic.
The Cosmos is nurturing this week, in a way that a wise mother nurtures by guiding her children through tough life terrain – supporting them with navigating uncomfortable emotions without trying to shelter them, teaching them that "life isn't about waiting for the storm to pass… It is about learning to dance in the rain" (Vivian Greene). There are some difficult aspects this week, as always, but they are immediately cushioned by supportive, healing transits that pull us through and beyond.
I'm relieved to be done with the succession of Saturn oppositions for now. Saturn's been playing a heavy role with my natal chart these days, so when Saturn's involved with global transits as well (like last week and into the weekend), I feel gutted and mired in self-doubt. For all those who felt the same, trust. Trust in the process and who you are becoming. Play the long game.
This week, the Sun and Mercury leave Gemini to join Mars in Cancer. Pluto (retrograde) has been hanging out at about 18° Capricorn (check Planet Watcher for a real-time view of the current planetary positions), and Cancer is opposite Capricorn in the zodiac wheel, so we will be dealing with a series of volatile oppositions to Pluto in the future weeks as Mars, Mercury, and the Sun pass 18° Cancer. However, that's still a ways off (Mercury will form the first opposition on June 29th). This week is here to ease us into Cancer's watery depths.
Before the Sun hits the solstice point at 1:24 am (ADT) on Wednesday, with Mercury right on its heels, they both have to finish up their work in Gemini. This "finishing up" process happens to involve our deepest wounds. Monday and Tuesday's transits (+ separating transits from the weekend) involve both the Sun and Mercury forming challenging squares to Chiron, an asteroid known as the wounded healer. However, at the same time, both celestial bodies are making supportive sextiles with the North Node (the point of the soul's growth and evolution) and Uranus (individuality and liberation). It is through facing our greatest wounds that we will grow and experience the exhilarating freedom that comes through healing.
The healing, emotional theme of the week continues to be emphasized on Tuesday as Venus sextiles Neptune, raising up our slumped shoulders and heads into place of higher perspective; a place where our tears collect and turn into rivulets of new life, threading through the weary landscapes of our souls.
Early Wednesday morning, as the Sun reaches its furthest Northern point toward the Earth's rotational axis, the Northern Hemisphere awakens to the first day of summer and the longest day of the year, whereas those in the Southern Hemisphere awaken to the first day of winter and the shortest day of the year. This solstice point is always marked by the zodiac wheel as 0° Cancer. Significantly, the Sun and Mercury enter Cancer within 6 hours of each other. Mercury has been gaining ground steadily since its last retrograde and it is on this important day of the Solar Year that it finally overtakes the Sun, fusing with it through an exact conjunction. This cazimi occurs at the potent 0° of Cancer, a power point in the zodiac wheel.
Although traditionally Cancer has a tendency to be indirect with its communications, protectively seeking roundabout ways to express itself, on Wednesday (and extending forward a few days) there is an opportunity to gain new insight into your deepest emotional needs, and the needs of the broader collective. With the Sun (symbolizing identity) merging with Mercury (symbolizing thought and communication) at one of the zodiac's most powerful degrees in a deeply emotional sign, empathy flourishes and we find the strength to channel our emotions into words.
We are then quickly drawn into the dark of the moon on Thursday. The balsamic moon phase is a spiritual time. There may be a sense of acute vulnerability, but also of ethereal surrender. It is a time to turn inward, in order to turn outward with the New Moon. A time to shed any remaining gunk clinging to you from this lunation cycle.
At 11:30 pm (ADT) on Friday, the Moon is reborn at 2°47 Cancer. Mercury is still close by, with the Sun, Moon, and Mercury all forming a conjunction together. Wednesday's themes of emotional expression continue. On Friday we are challenged to restore trust and faith in ourselves, in the world, and in each other, so we can move forward. A life devoid of trust, is a life filled with fear, conflict, and exclusion. To ground ourselves in Love and cultivate the safe and secure foundation that Cancer so desires, we must somehow, together, rediscover and rebuild trust. Sow seeds of Trust during this New Moon.
The healing themes of this week are sustained through to the weekend when Venus trines Pluto on Saturday. The shallow posturing and defensive masks are washed from our self-worth and our relationships, leaving only what is pure and true, beautiful in its nakedness.
On Sunday we have Mars in Cancer squaring Jupiter in Libra. This aspect has likely been felt throughout the week. This transit speaks to an aggressive and reactionary emotional struggle for justice, to prove ourselves right, to defend our inner and outer "homeland". However, the harshness of this aspect has been kneaded by Cancer's motherly influence throughout the week, and it is softened by Mars forming a trine to Neptune, exact the following day (Monday).
Neptune reminds us that the universe is an intricate eco-system. We are all connected to each other and have more in common than we might think (or want to imagine). While Mars may want revenge – "an eye for an eye" – Neptune urges us to find another way. We must heal, together. We must trust, together. We must love, together. We must rebuild, together.
The storm clouds may be rolling in, but this week? Go dance in the rain.
Image credit: Heather @ Flickr (CC – image modified & words added)
Pssst… for daily cosmic weather updates follow Lilith Rebellion on Instagram and Facebook. I often get daily posts up on these mediums before the weekly blog post is finalized. To receive a weekly cosmic weather overview by email, subscribe to Lilith Rebellion email updates. 
Click below to check out the detailed Cosmic Forecast for the following days…
Continue reading "Summer Solstice & New Moon in Cancer :: Cosmic Weather Forecast for June 19th – June 25th"