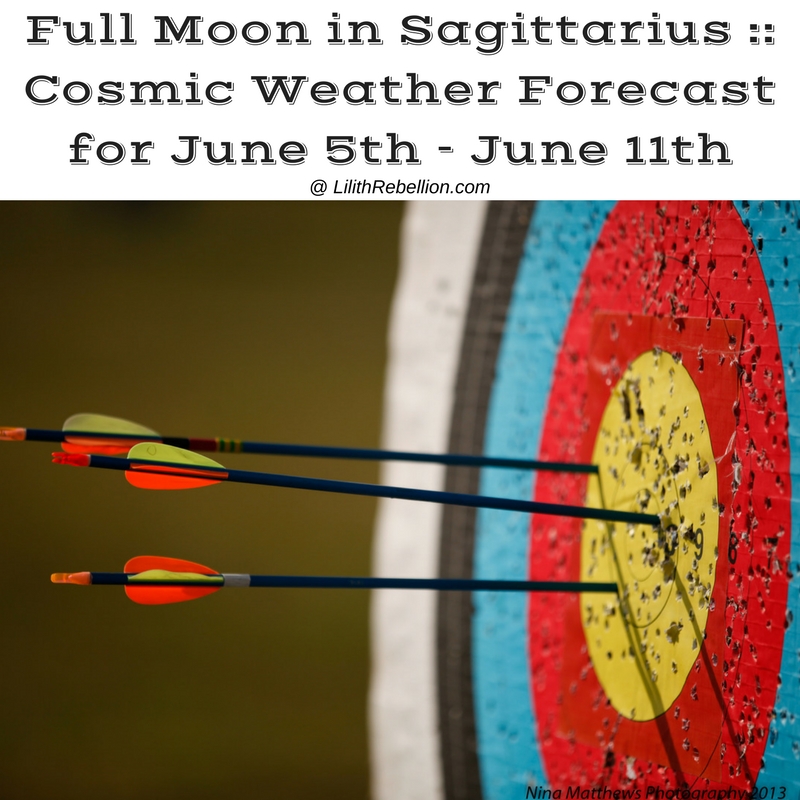 My overall interpretation summary of this week's transits is something like this: Pursue your passion (even if it is weird and unconventional) and be willing to take risks to express your creative potential and authentic self. Trust that success is possible and remember that even when you are half-way up the mountain, you are allowed to take a moment to admire the view and celebrate your efforts thus far.
Major shifts abound this week. Three personal planets transition into different zodiac signs within the space of three days! The Sun, Moon (called planets for convenience), Mercury, Venus, and Mars, are the five personal, or inner planets in astrology because they are closest to the Earth and thus are believed to have a more direct, obvious, and explicit impact on our day-to-day lives. The other planets (Jupiter, Saturn, Uranus, Neptune, and Pluto) are often called the "outer planets". Their influence may be more subtle (although no less powerful) since they are further away, and their transits are long-lasting whereas the personal planets move quickly through the zodiac wheel and make themselves felt within shorter time periods.
On Sunday Mars moved into Cancer, and on Tuesday Venus transitions into Taurus and Mercury into Gemini – that is a lot of change within three days! It is particularly noteworthy that while Mars is not at its best in Cancer, Venus and Mercury are both entering the signs that they rule – the signs that they are most at home in. Theoretically this makes it easier to express the nature of these forces in our lives.
Monday begins with Mercury squaring the Lunar Nodes making a sextile to Chiron, as both Mercury and Venus cross the last Anaretic degrees of Taurus and Aries respectively. There is a restlessness, an anticipation, or a sense of urgency. With the square to the nodes there may be a struggle between choosing the safe and familiar route, or taking a risk to express your true self and pursue your passion. Remember that you don't have to be "100% ready" to move forward. You don't need to have your doubts and insecurities completely under control before you take the next step.
Tuesday is a busy day for the cosmos. Venus and Mercury make their transition into Taurus and Gemini, while Uranus in Aries forms an trine to the North Node. Venus in Taurus (until July 4th) asks us to slow down and be seduced by all the good and pleasurable things of the Earth that are available to an embodied soul.
Meanwhile Mercury entering Gemini (until June 21st), combined with the Uranus-North Node trine, tells us to speed up. Carefully reconsider that which you once perceived as weird, unusual, and uncool. Explore the unknown. Collect new information. Network. Socialize. Learn something new from everyone you come in contact with, and then use these new insights and collaborations to propel yourself forward toward your destiny.
On Wednesday the Moon leaves the depths of Scorpio to leap into Sagittarius, in preparation for the Sag Full Moon on Friday. Hold your bow steady, pull back on the string, and focus on the target. Don't let the distance between you and the bull's eye intimidate you – this is the sign of the archer in all its glory.
On Friday the majestic Full Moon arrives. The Sun is in Gemini and the Moon is opposing it in Sagittarius. This is an enormously potent Full Moon because only about an hour after the Full Moon is exact, the ruler of this Sagittarius Full Moon turns Direct. What stunning synchronicity! Jupiter has been retrograde since February 6th in Libra, and it has chosen today to change direction. Whatever area of your life (and your natal chart) Jupiter has been fostering growth in, today this benefic planet bestows its blessing on your efforts. Furthermore Venus, newly dignified in Taurus, will make a supportive sextile to Mars, connecting the planet of relationships and love with the planet of action and (sex) drive.
Saturn is subtly involved in this Full Moon through a wide conjunction with the Moon, as well as Neptune through a square aspect. Acknowledge that yes, there is more work to be done, and yes, you may not be able to know with certainty how this area of your life will play out, but f*** it! It is time to celebrate your incredible efforts thus far! Don't discount your progress just because you haven't reached that mountain peak in the distance yet. Look at what you have achieved!
On Saturday the Moon will move into Capricorn, giving you the nudge to ride the inspiration of yesterday's Full Moon and keep on keepin' on by investing the hard work to make your goals and dreams continue to bear fruit.
Image credit: Nina Matthews Photography/CC (words added)
Pssst… for daily cosmic weather updates follow Lilith Rebellion on Instagram and Facebook. I often get daily posts up on these mediums before the weekly blog post is finalized. To receive a weekly cosmic weather overview by email, subscribe to Lilith Rebellion email updates. 
Click below to check out the Cosmic Forecast for the following days…
Monday, June 5th
Mercury (in Taurus) square the North Node (in Leo) as it draws close to the Anaretic degree of Taurus
Venus crosses the Anaretic degree of Aries
Moon (in Libra) opposes Uranus and Venus (in Aries)
Moon enters Scoprio and trines Mars (in Cancer)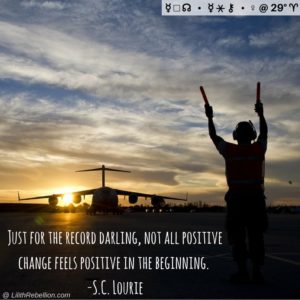 Mars switched signs yesterday from Gemini into Cancer, and tomorrow Venus and Mercury will be welcomed into the signs they rule (Taurus and Gemini). In the meantime they are both finishing up their work in our lives that began when they entered Aries and Taurus. Venus and Mercury are both about to cross the final, critical Anaretic degree of 29° in their respective signs. As always this may create some restlessness; a sense of anticipation and excitement, or pressing urgency.
Earlier today, Mercury (symbolizing our thinking mind, our capacity to communicate) squared the Lunar Nodes. Whenever a planet squares the Nodes we are often presented with a choice in some way (this could show up both internally or externally). Will we stretch beyond our comfort zone to step out into the unknown in order to grow and develop (North Node)? Or will we choose the familiar option that feels safer, but won't necessarily propel us forward in life (South Node)?
Since Mercury is still in Taurus, it may be more of a push for us to take that risk and lean into the Leo North Node. Taurus has a great appreciation for safety, security, and comfort. Taurus can be a stubborn energy and extremely reticent to take risks.
However, at the same time Venus is moving through the final degree of Aries; the zodiac sign which epitomizes fearless risk-taking. Venus is buzzing with energy and excitement after her recent fusion with Uranus on Saturday. As she charges forward she asks you to be bold in pursuing what you desire and what you are passionate about – no matter how strange or unconventional. The world becomes a more beautiful place when we glow and vibrate with the thrill of expressing our authentic selves in the world. On this point, the North Node in Leo would certainly agree.
Mercury in Taurus will also form an encouraging sextile with Chiron, the wounded healer, later tonight, just before it switches signs. How often do we tell ourselves that we aren't ready yet? That we have more healing to do? More preparation and planning to take care of? Additional education and skills to acquire?
We all have our unique array of insecurities, doubts and hesitations. There are indeed times in our life when we should take it slow (Taurus knows this best of all). However, in light of the other aspects going on this week, as Mercury gets ready to leave Taurus, I would interpret this sextile to Chiron as a message to just do it. Do you. Express your unique self in the world. Choose the riskier option that will propel you toward your future.
We don't have to be completely fixed/ healed/ cured/perfectly prepared, before we jump off the diving board. Imagine a child taking swimming lessons, but because her parents are so nervous about her safety she is only allowed to practice her strokes on the ground out of the pool. At some point if you wanna swim, you gotta jump!
We are all works in progress, and in this world of linear time and impermanence, we will never be 100% perfectly prepared for every possibility.
As S.C. Lourie writes, "Just for the record darling, not all positive change feels positive in the beginning" . Change and risk can be scary. That North Node is not supposed to feel comfortable, but choose the North Node option and you are stepping toward a more fulfilling future.
A therapist once advised me against "taking time off life to heal" after I had pressed pause on ALL my commitments and involvements. Do this and you risk losing yourself in a swamp of tumultuous emotions, thoughts and memories. Yes, be easy on yourself. Take care of yourself in the ways that you  need to. But living is healing and healing is living.
Earlier today the Moon in Libra opposed that Venus and Uranus conjunction in Aries. "What are you waiting for?" It asks. "Jump and find your fins! Leap and find your wings!"
Mercury (in Taurus) sextile Chiron (in Pisces) – just after midnight (ADT)
Uranus (in Aries) trine the North Node (in Leo)
Venus enters Taurus
Mercury enters Gemini
Moon (in Scoprio) trines Neptune (in Pisces), sextiles Pluto (in Capricorn), and then is void of course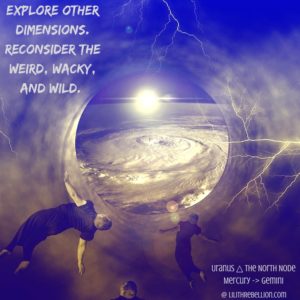 Today is the type of day that you might find out your good friend has a communication device through which they can speak to aliens and your super "normal" neighbor breeds snakes in the basement.
Today Uranus, the weirdo rebellious planet overflowing with wonderful eccentricities, trines the North Node – society's point of evolution, of destiny, of the future. Look out for portals!
Today is a day to let your freak flag fly. Those ideas and projects you dismissed because they were too weird, wacky or wild? Time to dig them out. Or, just read a science fiction book or watch a scifi movie.
In straight forward terms, today is a day to do you. We are all fantastically unique, but sometimes our best eccentric traits are subjected to oppressive and suffocating social norms. Get comfortable walking around in that meat suit of yours, being the incredible strange human being that you are.
Tuesday is a busy day for the cosmos. The Uranus-North Node trine isn't the only cosmic event occurring… today Mercury transitions into Gemini and Venus shifts into Taurus. Both let out a huge sigh of relief to be back "home", in the signs they rule. After some uncomfortable journeys through the zodiac wheel they can finally settle into a comfy rhythm.
For Mercury at home in Gemini, this means turning on the TV to watch the News while catching up on all its favourite blogs and exchanging rapid-fire text messaging with 20 friends simultaneously. There's 30+ browser tabs open, a bunch of new library books on the table and "How to Learn Russian: Basic Phrases" is blasting on repeat through the stereo.
Recently we've had Mars pass through Gemini territory, as well as the Sun who is still traversing the sign of the twins until the solstice on June 21st. Each planet could be said to symbolize a different part of our psyche, a different motivating force in our lives. Mars and the Sun both ushered the curious energy of Gemini into our lives in various ways, influencing where we directed our energy and our journey of personal development.
With Mercury in Gemini, this energy is truly amped up. Mercury symbolizes the thinking mind, and our capacity to learn and communicate. Mercury loves to exchange information – collecting and sharing through various different mediums. Whereas in Taurus, Mercury brought a slower pace to our thoughts and emphasized the information we were receiving through our senses, in Gemini, Mercury whips our thoughts into a frenzy.
Mercury is happy. Our brains may not be. It depends on how well we work with Gemini energy in our birth charts – and how vital it is that we avoid distractions over the next few weeks!
With both the Sun and Mercury traveling through Gemini right now, it would be best to go with the flow and soak up all the knowledge you can get your hands on. Since we are all under this influence, go and seek out conversations. Mercury in Gemini is a complementary match for the Uranus-North Node trine. Harness that Mercurial curiosity to explore your own weirdness and find out what secret oddities are hidden in the lives of others. Ask lots of questions. People are fascinating! There is so much we can learn from each other.
---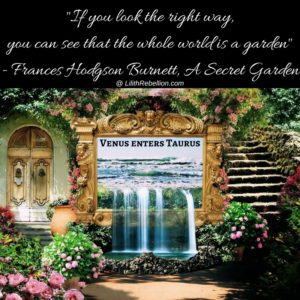 Helllooooo Venus, welcome home! The astro corner of the internet is clearly so thrilled to see you enter your sweet luxury-loving sign of Taurus!
This is a Venus with scrapes and bruises – or maybe battle scars for some of you. Remember that Venus retrograde?
"How could I forget…", I hear you groan.
On March 4th of this year, Venus was about half-way through the sign of Aries when she was yanked backward on a retrograde journey. She spent the month of April treading water in Pisces, trying to keep her head afloat in some vicious waters (i.e. conjunct Chiron, square Saturn), and then she eventually re-entered Aries after turning direct. Over one month later and she has fiiiiiinally made it through all 30 degrees of Aries and now, with the tips of her hair singed by fire and her limbs weary and sore, she holds her head high and proud as she crosses the threshold. Home; a word has never sounded so sweet.
In Taurus, Venus asks us to slow down and be seduced by all the good and pleasurable things of the Earth that are available to an embodied soul. Venus speaks to how we both create and attract beauty, pleasure and love in our lives – whether that be through art, relationships, or our personal values. Venus is seeking the "good life"; the happy and fulfilled life.
In Taurus, her needs and motivations are well supported since Taurus is the zodiac sign that knows how to best savour every delight and every sensual pleasure the Earth has to offer – whether that be a hot cup of tea, a walk in the forest, or a romantic rendezvous at a 5 star hotel. While in Aries Venus felt rushed and impatient, in Taurus she can slow down and satiate her desire for beauty, pleasure, and love.
A brief tangent – when I was growing up "The Secret Garden" was one of my favourite books. It is about a girl who goes to live with a distant relative and discovers a walled-in garden on the property. After finding the key, she begins to cultivate the garden with some assistance from new friends. As the garden is nurtured and becomes vibrant again, the lives of everyone involved are powerfully impacted as they participate in the magic of nature, and the garden breaths new life into their souls.
Venus entering Taurus is like opening the door to a secret garden, lush with abundance and sweet smelling blooms. If you don't have access to a garden, fill your home with fresh flowers. Eat delicious food. Enjoy the sunshine. Make love. Take delight in that physical body you were born into.
Venus will be in Taurus until July 4th, so you have plenty of time to maximize her pleasure.
Here are some closing quotes from The Secret Garden by Frances Hodgson Burnett, for inspiration:
"And the secret garden bloomed and bloomed and every morning revealed new miracles."

"Sometimes since I've been in the garden I've looked up through the trees at the sky and I have had a strange feeling of being happy as if something was pushing and drawing in my chest and making me breathe fast. Magic is always pushing and drawing and making things out of nothing. Everything is made out of magic, leaves and trees, flowers and birds, badgers and foxes and squirrels and people. So it must be all around us. In this garden – in all the places."

"If you look the right way, you can see that the whole world is a garden."

"One of the strange things about living in the world is that it is only now and then one is quite sure one is going to live forever and ever and ever. One knows it sometimes when one gets up at the tender solemn dawn-time and goes out and stands out and throws one's head far back and looks up and up and watches the pale sky slowly changing and flushing and marvelous unknown things happening until the East almost makes one cry out and one's heart stands still at the strange unchanging majesty of the rising of the sun–which has been happening every morning for thousands and thousands and thousands of years. One knows it then for a moment or so.

And one knows it sometimes when one stands by oneself in a wood at sunset and the mysterious deep gold stillness slanting through and under the branches seems to be saying slowly again and again something one cannot quite hear, however much one tries. Then sometimes the immense quiet of the dark blue at night with the millions of stars waiting and watching makes one sure; and sometimes a sound of far-off music makes it true; and sometimes a look in someone's eyes."

– Frances Hodgson Burnett
Wednesday, June 7th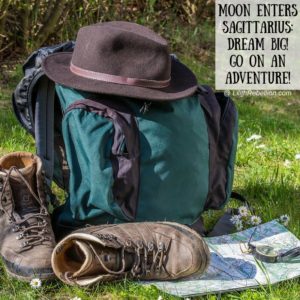 Wednesday evening the Moon leaves the depths of Scorpio to leap into Sagittarius, in preparation for the Sag Full Moon on Friday. Hold your bow steady, pull back on the string, and focus on the target. Don't let the distance between you and the bull's eye intimidate you – this is the sign of the archer in all its glory.
Outgoing, extroverted, enthusiastic – Sagittarius folks have boundless sense of adventure and an unquenchable zest for life.
There are several people in my family with a lot of Sagittarius in their birth charts. My dad died two years ago, but he had a Sagittarius Ascendant, Sun, Mercury, and Venus! Plus Jupiter (the ruler of Sagittarius) opposed his Sag stellium of planets, amping up his exuberant Sagittarius vibes to the max!
My dad was a teacher (very Sagittarius). He was known for his trademark bright Hawaiian shirts and neon blue pants. People would always know when he was around because you would hear him singing, whistling, or shouting out a jovial greeting to someone in the near vicinity.
It was easy – and so satisfying – to make him laugh. He'd slap his knee and react as if that was the funniest thing he had ever heard. He himself was always cracking cheesy jokes or bursting into spontaneous improvised acts. His playful personality made for many fun adventures.
Sagittarius has its shadow, or its liabilities, faults, pitfalls, just like any other sign, but one of the traits I love most about people who embody the zodiac's archer, is their ability to dream big – as well as their resilience and eternal optimism to bounce back and go with Plan B, C, D, E, and F when Plan A doesn't quite work out. Their dreams are boundless. They perceive no limits. They have an admirable trust in the universe, humanity, and positive outcomes. Because of their expansive nature, this enthusiasm overflows to everyone near by. They are generous with their infectious inspiration.
My dad never doubted or judged our dreams, even when they were seemingly way over the top. He always believed that we (myself and my siblings) could accomplish whatever we set out to do. Countless people were touched by his profound gift of encouragement and generosity – and his unwavering faith in their capacity to achieve their goals.
Saturnian reality, of course, will inevitably show up with some set of obstacles or limits.
But be that what it may, always believe in your dreams. Dream big and keep those dreams alive. If you need to adapt as you go along, then do so.
If it turns out that your dreams are going to take longer to come to fruition then you anticipated, nestle their essence deep into your heart and soul, and let their vibrancy sustain you throughout the journey.
Everyone has Sagittarius energy somewhere in their birth chart. How can you channel this adventurous energy? What house(s) does Sagittarius influence in your chart? Where is Jupiter and what aspects does it make to other planets? What is going on in the 9th House – the house associated with Sagittarius? Are there any chart configurations that are inhibiting this energy in your life?
Sagittarius is about exploring new horizons. This may mean hopping on a plane, or pushing yourself toward some new uncharted territory in your life, some exciting new project.
As we head toward the Full Moon in Sagittarius on Friday, keep dreaming. Be your own cheerleader and a source of inspiration and encouragement for those around you. Life is a grand adventure! Who knows what opportunity is just around the corner…
Thursday, June 8th
Moon (in Sagittarius) opposes Mercury (in Gemini), and sextiles Jupiter (in Libra)
Moon (in Sagittarius) opposite Sun (in Gemini) – Full Moon @ 18° Sagittarius (10:09 am ADT)
Jupiter goes Direct
Venus (in Taurus) sextile Mars (in Cancer)
Moon (in Sagittarius) square Neptune (in Pisces), and conjunct Saturn (in Sagittarius)
I love it when cosmic synchronicity gives special emphasis to certain transits and highlights particular themes.  Today holds a glorious Full Moon, loaded with significance!
The Full Moon occurs in Sagittarius (i.e. Moon in Sag, Sun opposite in Gemini). The ruler of Sagittarius is Jupiter, the planet of expansion, abundance, success, confidence, luck, adventure, optimism, enthusiasm, wisdom, philosophy, spiritual beliefs, and the search for Truth and meaning in life… Jupiter was named after the Roman king of the gods (Zeus to the Greeks), so its symbolism is appropriately grand! It is also the largest planet in our solar system. It has a mass of 2.5 x that of all the other planets combined!!!
Jupiter has been retrograde since February 6th in the sign of Libra, the sign of relationships, harmony, balance, and justice. Only one hour after the Full Moon's 180° aspect is exact (10:09 am, ADT),  Jupiter, the ruler of the Full Moon, turns Direct at 13° Libra! Four months of retrograde action and it decides to turn Direct as the Full Moon reaches its height of glory?!
Ahhh Jupiter, you always have to be impressive, don't you? Jupiter's pride and extravagance knows no limits. Let's channel that vibe for a celebration of epic proportions! Or… whatever floats your boat, but do hold some space during the day for this momentous occasion. Jupiter appreciates an adoring and attentive audience.
Show some respect! – for yourself, that is. And for others. Your hard work and effort is beginning to pay off. You may experience a break-through within the 48-hour time span of this Full Moon. Today, take a moment to reflect on how far you all have come. A round of drinks are in order, or some mutual congratulatory high-fives. Sagittarius and Jupiter are extroverted energies, and this Full Moon is also highlighting Gemini and Libra – communication is a prominent theme during this lunation phase! Therefore sharing the day with other people is recommended.
To get in the mood I would recommend listening to Gustav Holst's "Jupiter" or "Jupiter's Lightening" by Coeur De Pirate, posted below. Listen to these while making grand gestures or striking poses…
What part of your chart has Jupiter been moving through? If you have your birth chart, check out the retrograde zone between 23° and 13° Libra. In what house(s) does this fall? When a planet is retrograde the themes associated with that planet and the area of your chart it is moving through, are under review. Even for a loud and extroverted planet like Jupiter, from February 6th – June 9th, Jupiter's activity may have been more subdued as it focused its expansion on your internal self.
After Jupiter turns Direct today, the fruits of its labour begin to become more visible, externally expressed and validated in our lives. Jupiter will be moving through its retrograde shadow until September 9th, 2017 while it retraces its steps and catches up to the place where its retrograde journey first began. The retrograde shadow period is a great time to integrate the changes and developments that have occurred. Once Jupiter has cleared its shadow on September 9th you will really begin to see obvious progress in the area it has been influencing.
Whatever area of your life (and your natal chart) Jupiter has been fostering growth in, today this benefic planet bestows its blessing on your efforts. Furthermore Venus, newly dignified in Taurus, will make a supportive sextile to Mars, connecting the planet of relationships and love with the planet of action and (sex) drive – adding additional oomph to an already majestic day! Full Moons often bring out buried emotions and subconscious desires, and thus with Venus and Mars in conversation with each other, some sort of love-related event may be in the works for you.
You can also look to 18° Gemini and 18° Sagittarius in your chart to see what two opposite houses and their associated themes are being illuminated through this Full Moon.
I've seen a number of astrologers remark on Saturn's involvement in this Full Moon due to Saturn's wide conjunction to the Moon with an orb (deviation from the exact aspect) of 6°. I think that's a pretty loose conjunction and a gloomy outlook is uncalled for, in light of the other lovely transits occurring today.
Today Saturn may be a prudent and wise voice of restraint on a day that may be prone to Jupiterian (is that a word?) excess. He may also provide a helpful reminder that while Jupiter and Sagittarius tend to ride on "luck", you would not have gotten to where you are today without a whole lot of hard work. Saturn is still part of that wonderful Grand Fire Trine with Uranus and the North Node, so I would think that through a loose conjunction his presence is supportive and gentle here – like a wise and encouraging mentor. Today Saturn may remind you of all the work that still lies ahead, which must be tackled in order to achieve your goals.
Yes, that may be true. The Full Moon also squares Neptune, giving us a sense of incompletion, of something that is lacking. Acknowledge that yes, there is more work to be done, and yes, you may not be able to know with certainty how this area of your life will play out, but f*** it! It is time to celebrate your incredible efforts thus far! Don't discount your progress just because you haven't reached that mountain peak in the distance yet. Don't cower in smallness. Look at what you have achieved! Play big! Own your truth and proclaim it! Sagittarius is both about seeking truth and disseminating it. Be also ready to receive words of truth expressed by others.
Some wise words from Marianne Williamson:
"Our deepest fear is not that we are inadequate. Our deepest fear is that we are powerful beyond measure. It is our light, not our darkness that most frightens us. Your playing small does not serve the world. There is nothing enlightened about shrinking so that other people won't feel insecure around you. We are all meant to shine as children do. It's not just in some of us; it is in everyone. And as we let our own lights shine, we unconsciously give other people permission to do the same. As we are liberated from our own fear, our presence automatically liberates others." – Marianne Williamson
Jupiter is beaming with pride. Full Moon phases indicate a time to enter fully into the present moment – to stop where you are and survey the landscape below you. And what a beautiful view it is!
Saturday, June 10th
Moon (in Sagittarius) trines Uranus (in Aries)
Moon enters Capricorn and opposes Mars (in Cancer), and trines Venus (in Taurus)
For yesterday's Full Moon post I referenced the analogy of climbing a mountain and pausing to celebrate your progress thus far and admire the view, despite the goal of reaching the mountain peak being a ways off in the distance still.
As soon as I saw this photo I knew it was perfect for today's forecast. I love it because first of all, it depicts a mountain with the baby mountain goat surveying the landscape below. This is you at the Full Moon, which was widely conjunct Saturn (ruler of Capricorn – read yesterday's post for more info).
You're the little baby goat.
You're like "Wow! I'm up so high! All that time I was focused on climbing and jumping up the mountain I didn't realize how much progress I was making! Sweet! I rock! We rock!"
As you know the zodiac sign of Capricorn is associated with the mountain goat (and the imaginary sea goat). Another reason I love this photo. The Moon, fresh from the Full Moon in Sagittarius yesterday, moves into Capricorn on Saturday where it will journey until Monday.
I recently came across the following description of Capricorn symbolism, which I thought was quite apt for this post:
"The sign of the high roller, Capricorns are regarded as the zodiac's top, but also quiet, life and business achievers. But, there are two very different types of Capricorns. The first is represented by the mountain goat, always climbing higher and higher; never content until reaching the top. The second is the garden goat, with little adventurous spirit or ambition-happy to remain within a small domain, refusing to budge unless it is pushed. Either type of Capricorn, however, is patient and persevering. They reach their goals because they know the longest journey commences with a single step and that the first step is always the most difficult." – Universal Psychic Guild
The little goat in the photo is like the garden goat. Perhaps the little goat would be content to stay where it is, enjoying the view and its achievements thus far. But see that face on the bigger mountain goat? That's the third reason I love this photo. With the Moon moving into Capricorn today, this is the face of this weekend's Capricorn goat.
He's like: "Yup. Pretty view. Yes, you rock. But there are also plenty more rocks to leap over and more mountainside to climb. The mountain peak, our destination, is still far in the distance. Now it's time to get back to work making those dreams a reality."
Keep on keepin' on. You are doing awesome. Ride the buzz of yesterday's spectacular Full Moon extravaganza into the Last Quarter Moon phase next week.
Sunday, June 11th
Moon (in Capricorn) squares Jupiter (in Libra), sextiles Neptune (in Pisces), and conjunct Pluto (in Capricorn)