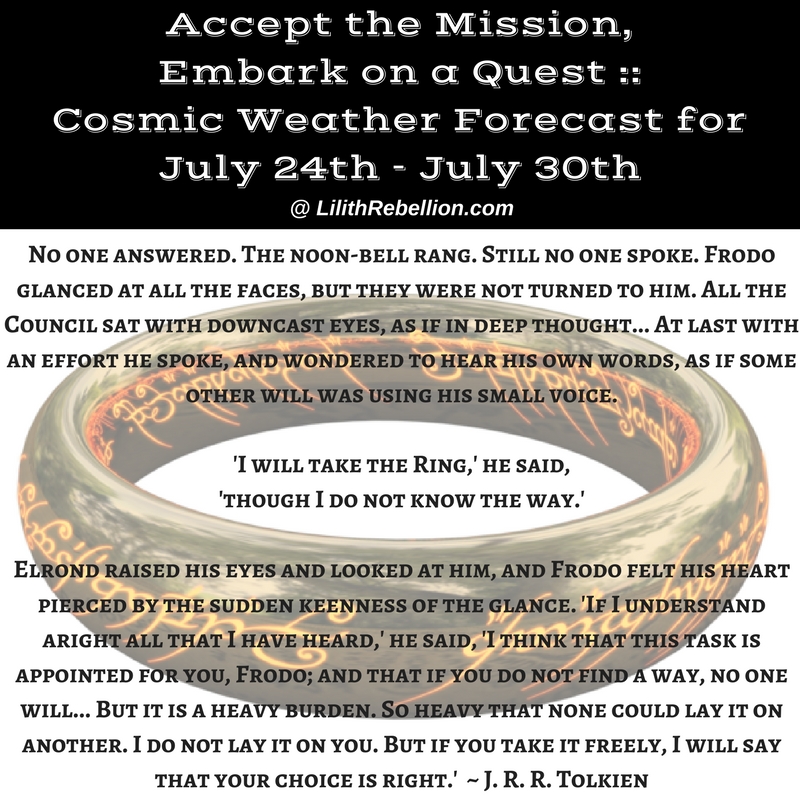 I am a little late with this forecast, but hopefully it will still prove useful for reflection.
The punctuated highlight of the week occurs later today (Wednesday) when the Sun finally consumes Mars as they form an exact conjunction in the early degrees of Leo. This happens about every two years. The last Mars-Sun conjunction occurred in Gemini on June 14th 2015. Throughout the last couple of weeks, the Sun (symbolizing our core identity and purpose) has been steadily moving in on Mars (symbolizing our will, our desire, and our capacity to initiate action).
As Mars first fell beneath the Sun's rays, Mars began a dying process that I talked about last week. In the same way we refer to the final couple of days in the monthly lunation cycle, when the Moon's light is extinguished by the power of the Sun, as the balsamic moon phase (a time of tiredness, retreat, reflection, and letting go), we could also refer to these final weeks of Mars' two-year cycle as a balsamic phase for the same symbolic reasons.
As Mars enters into a cazimi with the Sun (cazimi literally means "in the heart of the Sun"), it is born anew, mirroring the New Moon phase. Another two-year long Mars cycle begins. Whereas when Mars was combust and weakened, as it drew close to the Sun, now that Mars has entered into the heart of the Sun, the strength of these two fiery celestial bodies merge together and increase in power. From our perspective here on Earth (the viewpoint that astrology is based on), it appears that the Sun and Mars have merged because the Earth-Sun-Mars are in a perfect alignment within their respective orbits.
But what does this mean symbolically? It means that Wednesday and Thursday hold significant power. It means that with this rebirth of Mars, our sense of purpose and identity fuse with our action centre, our will, our courage, and our strength.
The rebirth of Mars through the Sun, signifies that we are deeply in touch with our inner authority.
In other words, the question of this transit is: Do you accept your mission? Are you ready to embark on your next quest? Are you up for the challenge?
Despite the vibrancy of Leo season, which launched last Saturday, you may have felt somewhat deflated, frustrated, or discouraged over the past few days. Perhaps you felt as though you weren't making enough progress in some area of your life as quickly as you wanted to, or you have been struggling to bounce back from an effort that didn't yield the success you were hoping for.
Previously the energy of Mars, the strength of our will, was fading, but today the Sun hands off the baton and we receive a second wind. A fresh start. Renewed strength.
Like Frodo at the Council of Elrond in the Lord of the Rings, doubts may still linger, we may not yet have figured out exactly what our strategy is, but our will itself, has been purified. We've shaken out all the interfering distractions and we now know what we want. A fierce courage has awakened in our souls, one that perhaps we had not previously recognized in ourselves. It's full speed ahead as we race into eclipse season; a turbulent, yet exhilarating time of change.
The Mars-Sun conjunction is the major cosmic story this week, but there are a few more important transits playing supporting roles.
Monday has come and gone, but Monday's cosmic weather may also have contributed to a sense of deflation or discouragement over the weekend through into this week. Venus (the planet of "the good life", of pleasure, love, beauty, art, money, self-worth, and relationships) opposed Saturn (the "reality check" planet of restriction, limitation, high standards, commitment and hard work).
When Saturn, the always serious and staunch realist, is in hard aspect to another planet, he directs his pointer stick at the distance that lies between the "You Are Here" sign planted in the present moment of your life, and "The Ideal"; your long-term goals and the destination that your dreams have called you to.
How did you experience the awareness of this gap, when Saturn drew your attention to what may be lacking or not working in your life? Did you experience it as a prompt to get to work? To commit to something or someone? To make changes or revisions in your direction? Did you experience it as a prompt to address some source of conflict or disagreement?
When experienced harshly, this type of aspect can bring up feelings of deprivation, loneliness, discouragement and insecurities. However, think of this transit as preparing the ground for Wednesday's Mars-Sun catapult of energy. Perhaps we needed to know the exact dimensions of this life gap so we could harness our motivation more effectively to set about addressing it and bridging the distance.
Simultaneously occurring with the Venus-Saturn opposition on Monday, Mercury, the planet of thought and communication, trined Uranus, the planet of innovation and liberation. In the midst of Saturn's heavy and somber presence, the sparks of inspiration, the seed of a new idea, were catalyzing new growth somewhere in your life – the fruits of which, will blossom over the next two months.
Take note of what occurred Sunday/Monday/Tuesday. Mercury entered its pre-retrograde shadow zone at 28° Leo on Monday, which coincided with the trine to Uranus. Mercury's upcoming retrograde period will begin on August 12th, when it begins traveling backward through the zodiac at 11° Virgo, up until September 5th, when Mercury turns Direct at 28° Leo – where it was at on Monday.
This links not only the events of the Mercury retrograde period back to today, but it also embeds the upcoming Mercury Rx story deeply into the upcoming eclipse story. That big Total Solar Eclipse in Leo on August 21st that everyone is talking about? It will occur at 28 degrees Leo.
It's some wild cosmic synchronicity that this is the same degree at which Mercury's powerful pivot will occur on September 5th – conjunct Mars in the same degree no less. 28 degrees Leo is hotter than hot this season and full of potent astro magic. The Universe is trying to get our attention, so heads up. Make note of what happened and what you were feeling around this time.
On Tuesday, Mercury leaves Leo to enter Virgo; its entrance is heralded by the Moon who moves into Virgo earlier in the day. This is lovely timing. As the Mars-Sun conjunction renews our strength on Wednesday, we'll need the focus of Virgo to lay out our plans, figure out what we need, and attend to the strategic details. This Virgo influence will apply the raw power and motivation of the Mars-Sun conjunction, into methodological, organized, productive activity. Check off that to-do list!
As the Moon moves into Libra on Thursday, the potential tendencies of the Mars-Sun powerhouse combo to adopt an arrogant, defensive and aggressive stance, are softened by Libra's light and balanced touch.
Venus has three acts this week. The first was Monday's opposition with Saturn. The second is a sextile to the North Node of the soul's evolution on Wednesday, coinciding with the Mars-Sun conjunction. Whatever Venus is up to in our natal charts, on Wednesday she receives an uplifting blessing.
The third act is on Sunday, when Venus will sextile Uranus while simultaneously squaring Chiron, just before leaving Gemini to enter Cancer on Monday. This week's final Venus act reminds us that something great, something wonderful, is beginning to break through. As with many breakthroughs, as with any significant personal growth, our hurts, fears and insecurities may be activated at the same time. We must face our Chiron wounds before we can take flight with Uranus' progressive leap.
Venus' last act occurs on the same day as the First Quarter Moon. The Moon is in Scorpio squaring the Sun in Leo. We've spent time prepping, and now we are ready to take our first big step within this lunation cycle. However, we may face some resistance that is intensely emotional in nature – and it could be related to the Venus-Chiron square.
Leo is passionate and dramatic. Scorpio is intense and extreme. The emotions of fire, and the emotions of water, battling it out through internal cacophony. Find a vantage point within your psyche from which you can survey the landscape of your emotions from an objective perspective.
It may involve swallowing your pride, it may involve letting go of absolute control. However, stay the course and take that crucial step toward the bright horizon that you can glimpse beyond the dark emotional rain clouds you may find yourself standing under.
Image Credit (ring): Jorge Arimany @ Wikipedia Commons (CC – modifications made)
Pssst… for additional and more frequent cosmic weather updates, follow Lilith Rebellion on Instagram and Facebook. To receive a weekly cosmic weather overview by email, subscribe to Lilith Rebellion email updates. The week's cosmic weather forecast will be published on the blog every Monday, with periodic additional posts to mark important cosmic events.