[Hi! Did you know that you could receive these posts conveniently in your inbox? To receive my posts by email, subscribe to Lilith Rebellion email updates]
The Sun, Mars, and Mercury are currently moving through Virgo, with Venus trailing behind, currently traveling through the final decan of Leo this week. Mid-NEXT week, for a period of approximately three days, we will have FOUR personal planets in Virgo (Sun, Mercury, Mars, Venus) – and at the time of the New Moon on September 20th, we will have the Moon in Virgo as well. It is relatively rare to have all the personal planets in the same sign at once. As I mentioned before, this is a very–Virgo Virgo season. Tis the season to get shit done.
However, Venus is letting us know that she is not done playing with fire yet, and she has plenty of lioness moves to make before the week is done. The North Node (the eclipse choreographer) also gets a great deal of action this week. It begins with receiving a friendly sextile from Jupiter, the great benefic planet, on MONDAY morning. This sextile will hold throughout the week while Venus interacts with it.
Late THURSDAY night (ADT) Venus will conjoin the North Node at 23° Leo, and then on FRIDAY, Venus will complete the sextile to Jupiter.
The Moon's North Node speaks to our destiny, our evolutionary call, the stimulus of change – that place outside our comfort zone "where the MAGIC happens." Sometimes the North Node can get activated in a way that feels jarring – as if we were suddenly yanked out of the familiar and safe, into foreign territory for which we have no map.
The Solar Eclipse on August 21st might have felt like a jarring yank, but this week Jupiter and Venus are calling us forth toward the North Node in Leo with song.
Leo; the sign of the inner child, ego identity, uninhibited joy, and passionate engagement with the world. Leo, and its ruler the Sun, symbolize the courageous act of a Homo Sapien stepping boldly onto the stage of life, shoulders back, head held high, saying: "Here I am! An incredible human being, talented and unique in a way that only I can be. I am ready to make my creative contribution to the world!"
The North Node in Leo, as it is activated this week, reminds us to show up for our lives, and for each other. There is no one like you in the world. No one can make the creative contribution to the world that you can. The world needs you right now – it needs all of us – to step up, to hone and harness our unique skill set and giftings; to light a passionate fire within our souls, to become fully alive, to express our potentialities.
"The most creative act you will ever undertake is the act of creating yourself." ~Deepak Chopra
As you step into alignment with your inner Truth, everyone benefits as your creative contribution overflows, affecting the lives of people around you. While the destructive side of humanity looms large these days, I truly believe that the creative potential, the ingenuity, and the compassionate capacity of human beings is astoundingly immense, and it gives me great hope.
That comfort zone though… we'll have to ease out of many comfort zones in order to change (e.g. like weaning ourselves off our dependence on fossil fuels).
"Real change is difficult at the beginning, but gorgeous at the end. Change begins the moment you get the courage and step outside your comfort zone; change begins at the end of your comfort zone." ~Roy T. Bennett
Venus assists us with this transition this week, in more ways than one. She hands us a flotation device, to make the deep-end less scary. On TUESDAY night (ADT), just before the challenging Sun-Saturn square goes exact late WEDNESDAY night (ADT), Venus in Leo trines Saturn in Sagittarius at 21°, lighting up the Grand Fire Trine with Uranus in Aries as the third point, which Venus will trine next Monday.
I have a Saturn-Venus trine natally, and when I experienced a personal Venus-Saturn trine transit earlier this year, activating this aspect, I thought maybe something relational might show up in my life, because in basic astrology Venus is all about relationships and love, right? So the transit passed, and there was definitely nothing noteworthy in the relational realm that occurred.
But then I realized that the day the transit was exact, I had worked for 12+ hours on a research project, blissfully. This was after 3 months of having zero motivation for it. I had previously logged an hour at a time, counting every minute. The work was grueling for me. But that day I found my flow, my inspiration. I got super excited about the topic and even logged more hours than I was being paid for, because I was enjoying the learning process so much. This is what a Venus-Saturn trine can offer.
Venus speaks to how we define, create and find pleasure and happiness in life (which often includes relationships).
Saturn's symbolism involves work and responsibility.
Venus trines Saturn, and suddenly that troublesome task or chore becomes a source of joy and inspiration. Venus trine Saturn is the tonic that lifts the load, softens the groans, and eases you into the magic – outside your comfort zone.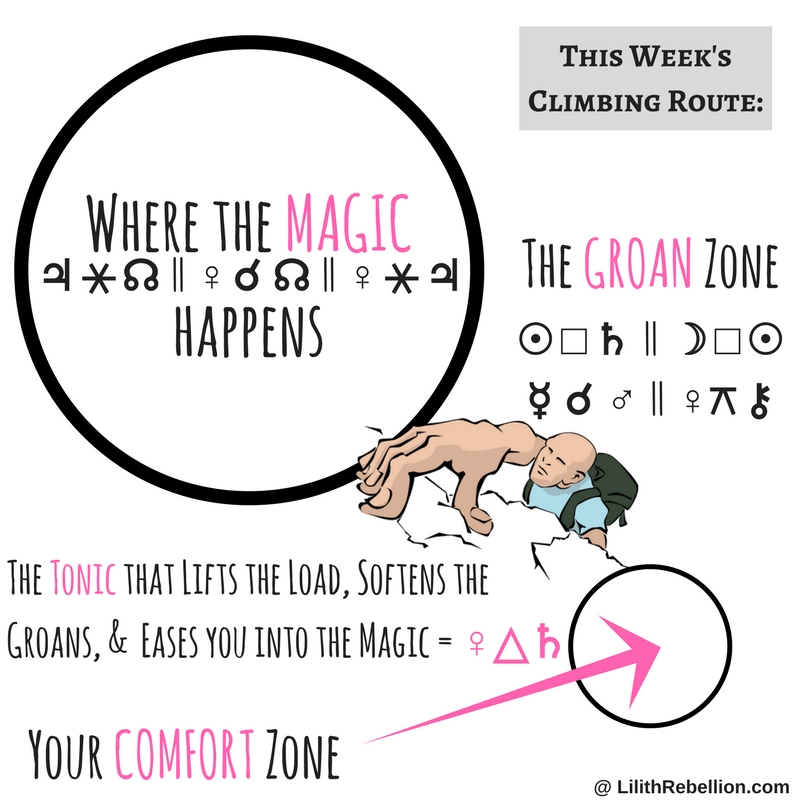 And thank goodness for that, because late WEDNESDAY night (or early Thursday morning, depending on time zone), the Sun in Virgo squares Saturn in Sagittarius around the same time that we reach our Third Quarter Moon phase in this lunation cycle.
Hard aspects between the Sun and Saturn create the "I'm not good enough" stories. The stories of having to earn one's worth and value, of striving to meet impossible expectations and standards, of being constantly chased by the threat of failure and judgement.
So, admittedly WEDNESDAY'S aspect is a little prickly. Here, we may be feeling like we are in the GROAN ZONE between comfort and growth. Between the familiar ordinary, and where the magic happens.
Uranus creates change in our lives suddenly, erratically – arguably so quickly we may skip out on the many levels of growth potential. In contrast, Saturn creates change and growth like the slow turn of a ship. Slower, more deliberate, but invoking change on all levels. Deep change. Profound growth.
We can misinterpret Saturn as directing our focus to the external end results and achievements, but what Saturn really cares about is our inner development. The external human world of time and space is the tool that Saturn uses to peel back the layers to reveal our True Self, hiding beneath conditioning, fears, and limiting self-beliefs. Saturn cares about the PROCESS.
The Ralph Waldo Emerson quote – "Life is a journey, not a destination" – could easily be a Saturnian mantra. The obstacles and challenges you encounter in the Groan Zone along the way, are grist for the mill; developing your character, your wisdom, and your inner resilience.
The Third Quarter Moon, occurring at the same time, increases the pressure. Quarter Moons involve Sun-Moon squares. With the Moon in Gemini, squaring the Sun in Virgo, which is squaring Saturn in Sagittarius, we have a pressurized configuration called a T-square (Saturn and the Moon opposing each other as the top line of the T).
Both Virgo and Gemini are intellectual signs co-ruled by Mercury. They are different, and yet they complement each other quite well. Gemini, always driven by a curious need to explore, indiscriminately collects and gathers information, while Virgo sorts and organizes this information with her powerful gift of discernment. Gemini expands Virgo's narrow focus and deepens the perspective by providing other points of view, while Virgo teaches Gemini how to synthesize all that information into something coherent and useful.
Finding the right balance between these two Mercurial faces, will assist you with passing through the Third Quarter Moon's thorny intersection. With Saturn simultaneously opposite the Moon, emotional resilience may be called for in order to persevere with the duties ahead, but go easy on yourself – and ask for help when you need it.
TUESDAY – THURSDAY may present you with some serious work to do, but the cosmic weather is in support of your endeavors – especially if your tasks require a heavy cognitive emphasis and studious, focused work.
The Sun-Saturn square is nicely book-ended by Venus in Leo conjoining the North Node on THURSDAY and then sextiling Jupiter on FRIDAY.
Finally the weekend greets us with another Mercury-Mars conjunction on Saturday, as Mercury, now Direct, catches up to Mars in Virgo. Mercury last fused with Mars on September 3rd, when it was Retrograde in Leo.
This conjunction in an earth sign will feel different, but we are still dealing with the messenger and the warrior colliding. There are no filters. Word and thought meet action and assertion. You can see exactly what needs to be fixed and how to fix it. Heads up for SATURDAY: watch your self-talk – as well as your words with others! Virgo is notoriously critical and your inner (and outer) critic is liable to get a little out of control over the weekend! Rein it in. Apply that mental energy and acute clarity to the task at hand.
Despite all that clarity in Virgo's realm, on SUNDAY Venus meets with Chiron through a quincunx, making us search a little deeper to find the source of our hurt, and a little broader to find the path of our healing.
"Courage doesn't always roar. Sometimes courage is the little voice at the end of the day that says I'll try again tomorrow." ~Mary Anne Radmacher
Venus may be still traveling through Leo, the sign of the lion, but with the Sun, Mercury, and Mars in Virgo, Virgo's steady consistency is grounding your change efforts.
Like myself, perhaps you are hitting a wall of fear as you try to ease out of a comfort zone. If so, stay the course, beautiful. Those less visible baby steps are just as important as the big, spectacular leaps – if not more so.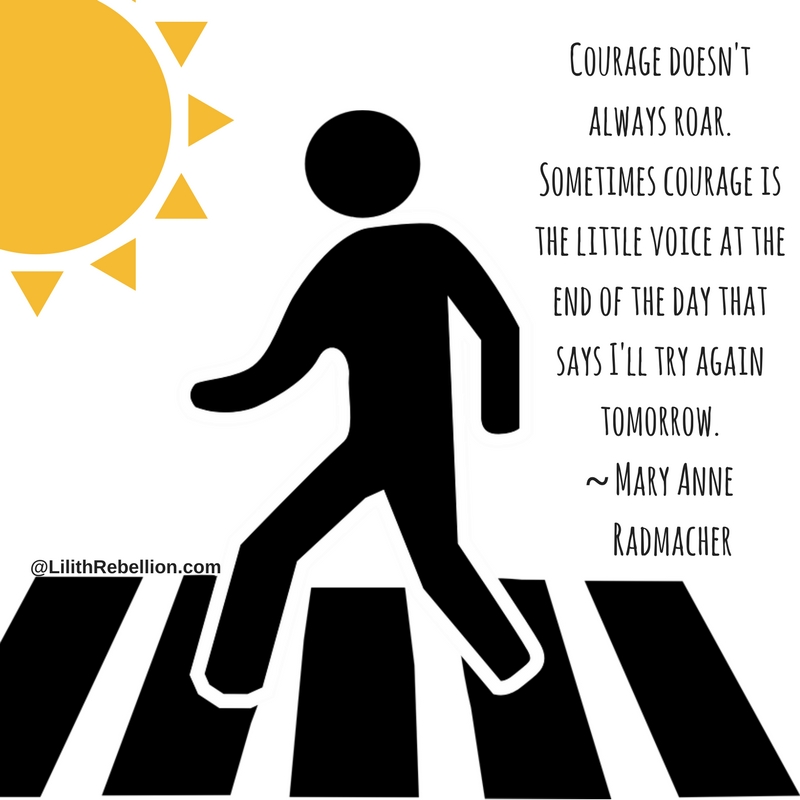 Here's a final review of this week's Cosmic Weather:
**According to Atlantic Daylight Time**
MONDAY: Jupiter (in Libra) sextile North Node (in Leo) @ 7:52 AM
TUESDAY: Venus (in Leo) trine Saturn (in Sagittarius) @ 9:49 PM (activating the grand fire trine with Uranus that will last into next week)
WEDNESDAY: Third Quarter Moon @ 3:24 AM (Sun in Virgo square Moon in Gemini) + Sun (in Virgo) square Saturn (in Sagittarius) @ 11:58 PM
THURSDAY: Venus (in Leo) conjunct North Node @ 11:34 PM
FRIDAY: Venus (in Leo) sextile Jupiter (in Libra) @ 4:43 PM
SATURDAY: Mercury (in Virgo) conjunct Mars @ 3:59 PM
SUNDAY: Venus (in Leo) quincunx Chiron (in Pisces) @ 4:16 AM
Pssst… for additional and more frequent cosmic weather updates, follow Lilith Rebellion on Instagram and Facebook. To receive a weekly cosmic weather overview by email, subscribe to Lilith Rebellion email updates. The week's cosmic weather forecast will be published on the blog every Monday, with periodic additional posts to mark important cosmic events.