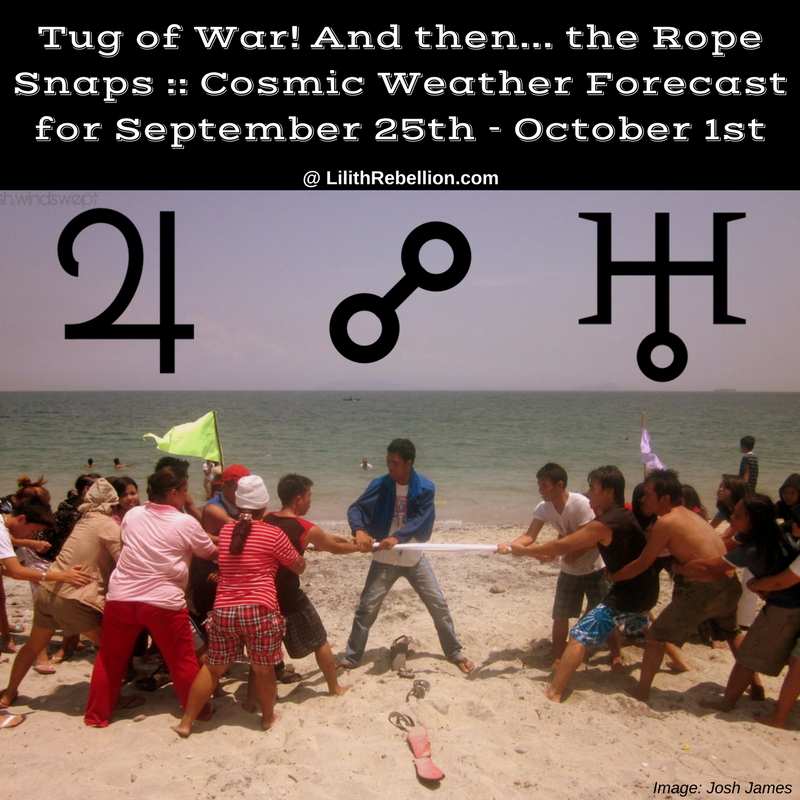 [Hi! Did you know that you could receive these posts conveniently in your inbox? To receive my posts by email, subscribe to Lilith Rebellion email updates]
I remember playing Tug of War as a child. It was lots of fun, until one side really gained an edge and suddenly yanked the other group over the line with a jolt – or, when one team decided to suddenly let go, causing the other team to topple over back onto each other. The same effect could be caused by the rope suddenly snapping. That is what this week may feel like, for better or worse, as we make our way to the third and final installment of one of 2017's major aspects: The Jupiter-Uranus opposition.
Before that happens late WEDNESDAY/early THURSDAY, we are welcomed back to work MONDAY morning with a Mercury square Saturn aspect, which you would have all have felt by now. I don't know about you, but the way this firm boundary-delineating aspect showed up in my life, really nicely complemented the lingering murkiness of the Mars-Neptune opposition the day before.
If you were to experience the Mercury square Saturn internally, it may feel like a struggle against doubt and self-criticism in order to persevere and complete something, or to meet a deadline in time (umm… like trying to get this post out by Monday….). If it were to show up externally, perhaps you were involved in some strenuous negotiations in an effort to come to an agreement. Maturity, wisdom, self-discipline, and boundaries, were hopefully working with you, not against you.
On WEDNESDAY, tension and restlessness is accelerated a few notches as we reach the First Quarter Moon and stand on the brink of Jupiter and Uranus exacting their opposition. I randomly mention asteroid transits when it feels appropriate – which it does in this case. On WEDNESDAY, the Sun conjoins with Vesta in Libra, bring focused dedication to our relationships and matters of justice and peace, along with the themes of the House that Libra rules in our chart. There is a sacred flame here, that we are attending to with great care.
Mercury is a significant player this week. Also on WEDNESDAY, the messenger planet of thought and communication opposes Chiron, while squaring Black Moon Lilith, forming a T-square configuration. A wound is brought to light as we are propelled to share or receive uncomfortable truths.
The First Quarter Moon is our first big moment of decision in this lunation cycle, on route to the Full Moon in Aries, and it happens to coincide with the Jupiter-Uranus aspect within a couple hours, late on WEDNESDAY. The Sun is in Libra, squared by the Moon in Capricorn.
Where does this fall in your chart? In Libra's House we are still gathered around Vesta's sacred hearth, applying devoted attention to a particular matter of great importance. However, Capricorn's House activated by the Moon,  reminds us to play the long game, to adopt a broader vision and continue strategic advancement.
Finally, at 1:24 AM (ADT) early THURSDAY morning (or late WEDNESDAY night for you), Jupiter opposes Uranus Rx, strongly activating the Libra-Aries axis and the houses that these signs rule in your birth chart. This is the third and final chapter to this radical, destabilizing, yet transformative and liberating Jupiter-Uranus story. The first opposition was December 26th 2016, the second was March 2nd, and now the third, on September 28th.
This aspect between these two slow-moving planets would have spread its peak influence throughout the several weeks surrounding these three dates, but now there is some sense of completion and breakthrough. Of reaching a final tipping point. Watch for continued developments on these themes over the next seven days as we build to the Aries Full Moon, which will highlight this axis again.
I thought of two scenarios that demonstrate the inherent tension in this opposition…
In one scenario, an extravagant "fundraiser" gala, organized for the rich and famous to socialize and feel good about themselves while writing cheques to charities (Jupiter in Libra), is interrupted by a bold and brazen activist who storms in, grabs the mic, and loudly challenges them that if they really want to help the world, they'll need to do more to actually restructure the oppressive power structures that privilege them (Uranus in Aries). (I'm totally using a fragmented memory from a movie I saw ages ago here, but can't remember what it is???)
In the other scenario, two erratic and rash political leaders make childish jabs at each other's sensitive egos while claiming that the time for talking through the conflict has long passed, and threatening the world with their impulsive trigger-happy fingers (Uranus in Aries). Meanwhile, citizens, advisers, and other countries, apply pressure, asking for continued efforts at diplomacy and peacekeeping (Jupiter in Libra).
Can you see the tension in each scenario? The Jupiter-Uranus opposition can show up in both ways.
There is instability and restlessness. This Tug of War aspect wants to DO something with all that growing frustration and pent up tense energy. It could be stressful, chaotic and volatile, or it could be that big breakthrough you have been waiting for. Lean into it. Pull hard. Be brave. Get into alignment with your truth and stretch toward your potential.
You know you've got this. You've been working on this thing for at least 9 months. Just make sure you aren't leaving others to clean up the consequences of your actions, unless your situation absolutely demands this.
Libra is ruled by Venus, and Aries is ruled by Mars. Both Venus and Mars are in Virgo, which means that Virgo (and the House ruled by Virgo in your birth chart) is also a key player in this Jupiter-Uranus opposition. As we move toward freedom, we must simultaneously, with great diligence, seek continued healing.
I think it is cosmically significant that Pluto stations Direct on the same day as this opposition going exact. Although it is currently too far away to really be involved in this aspect directly, throughout the year it has been dancing into squares with both Uranus and Jupiter at different times.
Pluto turned Retrograde on April 20th at 19° Capricorn. While it's true that Pluto spends half the year retrograde, and its effects tend to be subtle, the pivot points always make some noise. Do you see any connections between the two dates?
As Pluto turns direct, it hauls forth a sack full of filthy beauty from the depths of its retrograde trek. Pluto's gems are always covered in dirt – valuable knowledge and growth that involves an encounter with our shadow. As new information rises to the surface with Pluto's pivot, clean and polish those insightful Rx gems with care, so you can act on them with wisdom.
The week's big planetary plays are followed by Venus in Virgo opposing Neptune in Pisces on FRIDAY, urging us to love and love and love… carefully. Are we drowning in disillusionment and fear? Or swimming in fantasies? Are we so in love with the concept of love, with the ideal vision of the relationship, that we are blinded to the growing cracks and the tears at the seam? Are we so afraid that relationships will never live up to our dreams that we decide to forfeit reality for the intoxication of a forever-perfect fantasy?
These questions may sing out to you on FRIDAY, especially as Mercury, the planet of communication, enters Libra on the same day, the sign of love and relationships.
Harness discernment as you open the doors to your heart.
Finally, on SUNDAY, Mars and Pluto, the traditional and modern rulers of Scorpio, trine each other in Virgo and Capricorn respectively.  Mars wants to slice through the extraneous details to apply precise force to an initiative. Pluto, newly turned Direct, will ensure your action propels your inner growth. The weekend may feel raw and intense in the Houses that these two power planets are transiting in your chart, but the trine indicates that if you step into the flow, the river will ease your forward motion. 
---
Summary of the week's transits (all times are Atlantic Daylight Time)…
MONDAY (Sept 25th):
Mercury (in Virgo) square Saturn (in Sagittarius), both at 21° @ 11:35 AM
WEDNESDAY (Sept 27th):
Sun conjunct Vesta (in Libra), both at 4° @ 10:54 AM
Mercury (in Virgo) squaring Black Moon Lilith (in Sagittarius), both at 25° @ 6:02 AM + opposite Chiron (in Pisces), both at 26° @ 7:11 PM
First Quarter Moon: Sun (in Libra) square Moon (in Capricorn) @ 11:53 PM
THURSDAY (Sept 28th):
Jupiter (in Libra) opposite Uranus (in Aries), both at 27° @ 1:24 AM
Mercury (in Virgo)  quincunx Uranus (in Aries), both at 27° @ 10:55 AM
Pluto stations Direct (at 16°  Capricorn) @ 4:37 PM
FRIDAY (Sept 29th):
Venus (in Virgo) opposite Neptune (in Pisces), both at 12° @ 9:11 PM
Mercury ingresses into Libra @ 9:41 PM
SUNDAY (Oct 1st):
Mars (in Virgo) trine Pluto (in Capricorn), both at 16° @ 8:36 PM
Image credit (tug of war): Josh James
Pssst… for additional and more frequent cosmic weather updates, follow Lilith Rebellion on Instagram and Facebook. To receive a weekly cosmic weather overview by email, subscribe to Lilith Rebellion email updates. The week's cosmic weather forecast will be published on the blog every Monday, with periodic additional posts to mark important cosmic events.