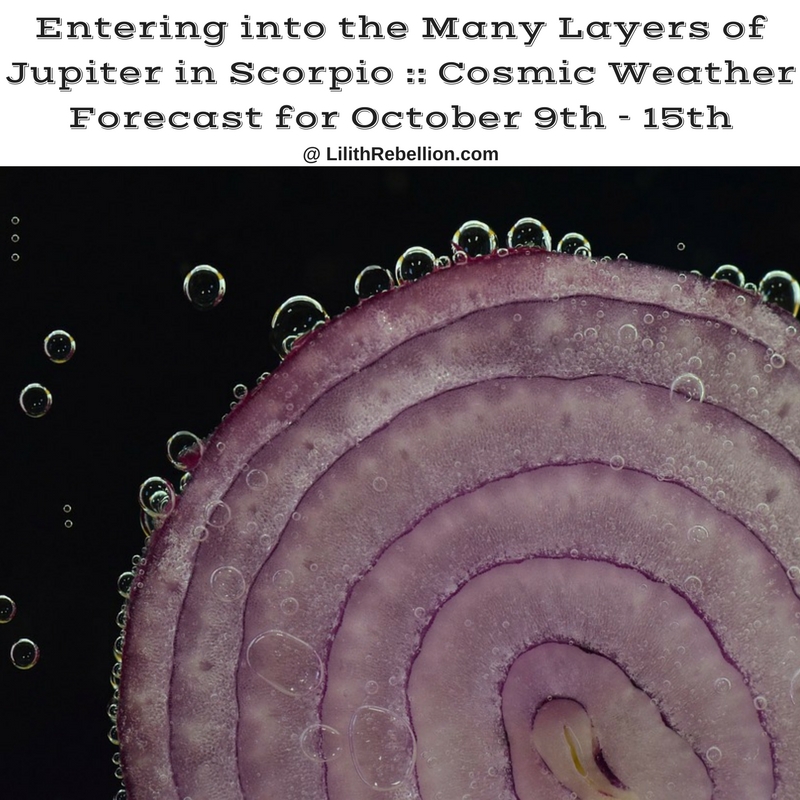 [Hi! Did you know that you could receive these posts conveniently in your inbox? To receive my posts by email, subscribe to Lilith Rebellion email updates]
This is a busy, intense week, cosmically speaking.
As many of you are likely aware, Jupiter enters Scorpio tomorrow (TUESDAY). Jupiter takes about a year to travel through each sign. It entered Libra on September 9th, 2016, and will exit tomorrow, October 10th, 2017. That means that today, MONDAY, October 9th, we are currently passing through the 29th Anaretic degree of Libra – the crisis degree, the day when Jupiter may be urgently attempting to wrap up the Libra projects its journey was correlated with in our lives (think: relationships, beauty and art, achieving healthy balance and harmony, waffling over decisions). To top it off, we are also experiencing both Mercury and the Sun squaring Pluto today (MONDAY).
Heavy stuff to say the least.
A brutal sore throat and head cold pounced on me last night, and I'm pounding this out through a fog. So, for some reason or another, today's energy feels pretty dense to me! Despite all family members feeling under stress (or under the weather) today, we managed to pull off a (Canadian) thanksgiving dinner tonight for my Uncle… whose car tire pretty much exploded on the highway on route to our house. There was NOTHING left of it.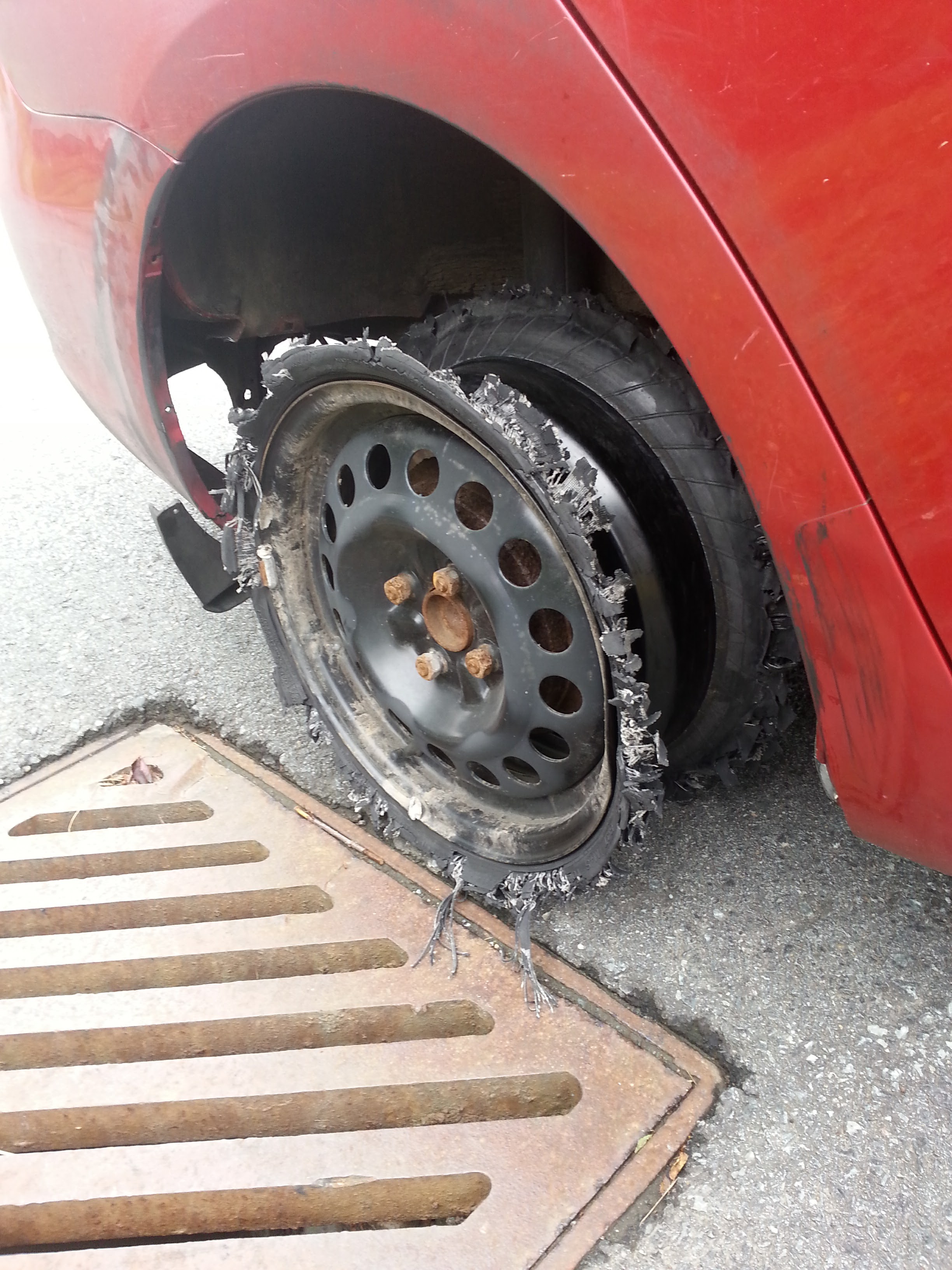 Thank goodness he is okay (since he also drove 25 km at 60 mph on a metal hub where the tire once was). He returned home in style, with the car on the back of a flatbed truck.
That's a pretty literal reflection of a Mercury square Pluto transit, in my opinion. Mercury rules all forms of transit. Pluto can be volatile, explosive, all-consuming – leaving nothing but shreds. Like Scorpio, Pluto symbolizes the destructive force of chaos and death that destroys and takes away, in order to give birth to new life (e.g. like some brand new parts for my uncle's car).
This sounds violent – and the symbolism of Pluto can be – but often it isn't so externally literal. It can also be correlated with latent, internal, volcanic undercurrents in our psyche, bubbling over into consciousness. Aspects to Pluto can prompt our shadows to emerge up into our conscious mind. Be aware of any buried fear, obsessive compulsions, manipulative power struggles, hatred (toward self or others), or dark secrets and hidden desires that are wrestling with your will.
Journal it out. Shake it out. Dance it out. A repressed Pluto is a dangerous thing. What do you need to let go of? Get honest with yourself and others.
The Pluto squares today are a launching pad for Jupiter moving into Scorpio on TUESDAY (10:19 am ADT).
Jupiter in Scorpio… well, I can say that it will be good in the long run (Jupiter leaves Scorpio on November 8th, 2018). I can't say I'm excited, but I am intrigued. Jupiter EXPANDS whatever sign or planet it touches. Therefore, Scorpio's themes are going to be amplified over the next year – and at a personal level, themes related to whatever house Scorpio rules will become more prominent in your life. Sometimes Jupiter can be a little TOO MUCH, to be honest, but generally I have found that Jupiter does indeed bring big blessings and strength to whatever part of my chart it is moving through. Given Scorpio's symbolism, I trust that we are in for some powerful rebirths, but I can't promise you it will be easy.
I really liked the paired keywords that Pandora Astrology put together for their newsletter:
• A journey (Jupiter) into the darkness (Scorpio).
• Adventures (Jupiter) in depth psychology (Scorpio).
• Growth (Jupiter) through metamorphosis (Scorpio).
• Expansion (Jupiter) by means of death and rebirth (Scorpio).
Jupiter in Scorpio is like sending a submarine down into the dark depths of an ocean with flood light. All our Scorpionic shadows and secrets are getting ILLUMINATED.
I also imagine Jupiter in Scorpio to be like a big onion – one of those deep, dark purple ones. Scorpio (along with Pluto and the 8th House) in our charts, points to an area of our life we try very hard to maintain control over by cultivating impenetrable defense systems. Big ol' jovial Jupiter has its work cut out. We're going to be peeling back the many layers, one by one, over the coming months.
"The cave you fear to enter holds the treasure you seek."~ Joseph Campbell
Expect profound insights in the next 13 months. Expect to touch the depths of your naked soul.
Ultimately, we will likely discover (or rediscover) a resiliency, inner power and strength that we may have gotten out of touch with.
On the same day that Jupiter enters Scorpio, Venus in Virgo will oppose Chiron in Pisces, forming a Grand Mutable Square, since the Moon in Gemini will be opposing Saturn in Sagittarius around the same time. Plus, on TUESDAY, we for sure be feeling WEDNESDAY'S Mars-Saturn square pretty strongly.
MONDAY–WEDNESDAY is just a whole lot of ouch, to be honest. Old wounds may be trying to get your attention, and at the same time you may feel restricted and limited in your ability to make progress. I don't really imagine that Jupiter's entrance into Scorpio is going to feel particularly victorious at the beginning of its year-long sojourn, especially when combined with these aspects, but who knows! Take a moment to decide when it is best to struggle against the barriers, when to seek out support, and when to accept temporary limitations and take this time to really turn inward.
If you are feeling like you are drowning in sorrows and beyond exasperated at the barriers you keep facing that are slowing you down (like this awful flu that has me in its clutches!!), on THURSDAY, FRIDAY, and SATURDAY, we get a bit of a pick-me-up.
On THURSDAY, the Last Quarter Moon in Cancer, squaring the Sun in Libra, challenges us to find a sense of true belonging in the wilderness – an unshakable belonging that is not necessarily dependent on "fitting in", being blessed with a supportive family, or winning a membership to an exclusive group (expect Brene Brown references in the upcoming last quarter post!). Also on THURSDAY, Mercury sextiles the North Node in Leo, sending encouraging messages our way to remind us to keep growing and stretching.
Late THURSDAY, or very early FRIDAY (ADT), Mercury will sextile Saturn, bringing some firm resolve, boundaries and determination to our conversations and cognitive tasks.
On SATURDAY the lovely Venus leaves Virgo (the sign of its fall), to enter Libra (the sign it rules). Venus is blissed out in Libra. Supremely dignified. This is her home territory. Her graceful beauty will sweep across this part of your chart, reminding you of the many gifts Jupiter left behind in its wake.
On SUNDAY, Mars in Virgo will take its turn in opposing Chiron, the wounded healer asteroid, while Mercury in Libra opposes Uranus in Aries. If conflict arises interpersonally (or with your inner critic) be aware you may be getting triggered – meaning, you may be reacting to old wounds being activated, rather than the current situation on its own terms.
Speak some tender words to that inner wound.
The Sun sextiles the North Node on SUNDAY, breathing fresh life into old issues. It is a good day to break some cyclical patterns of behavior and move, with self-compassion, toward a new direction.
"You enter the forest at the darkest point, where there is no path… If you can see your path laid out in front of you step by step, you know it's not your path. Your own path you make with every step you take. That's why it's your path… If you follow someone else's way, you are not going to realize your potential." ~ Joseph Campbell

---
A summary of this week's cosmic weather:
MONDAY:
• Saturn (in Sagittarius) trine North Node (in Leo)
• Mercury (in Libra) square Pluto (in Capricorn)
• Sun (in Libra) square Pluto (in Capricorn)
TUESDAY:
• Jupiter enters Scorpio
• Venus (in Virgo) opposite Chiron (in Pisces) – creating a Grand Cross with the Moon in Gemini opposite Saturn in Sagittarius
WEDNESDAY:
• Mars (in Virgo) square Saturn (in Sagittarius)
• Venus (in Virgo) quincunx Uranus (in Aries)
THURSDAY:
• Last Quarter Moon (Moon in Cancer squaring Sun in Libra)
• Mercury (in Libra) sextile North Node (in Leo)
FRIDAY:
• Mercury (in Libra) sextile Saturn (in Sagittarius)
SATURDAY:
• Venus enters Libra
• Mercury (in Libra) quincunx Chiron (in Pisces)
SUNDAY:
• Mars (in Virgo) opposite Chiron (in Pisces)
• Sun (in Libra) sextile North Node (in Leo)
• Mercury (in Libra) opposite Uranus (in Aries)
---
P.S. I hope to offer personalized astrological consultations in the near-ish future. I created a survey to help inform this development, which I would be ever so pleased if you were to fill out 🙂 You can find it here. All questions are optional, so if you are short on time and don't want to answer all 10 questions, just scroll to the bottom whenever and click "Done". Thanks!
If I collect enough data I will crunch some of the anon results to share. I've found it super interesting and helpful so far – thanks to everyone who has responded!
---
Pssst… for additional and more frequent cosmic weather updates, follow Lilith Rebellion on Instagram and Facebook. To receive a weekly cosmic weather overview by email, subscribe to Lilith Rebellion email updates. The week's cosmic weather forecast will be published on the blog every Monday, with periodic additional posts to mark important cosmic events.