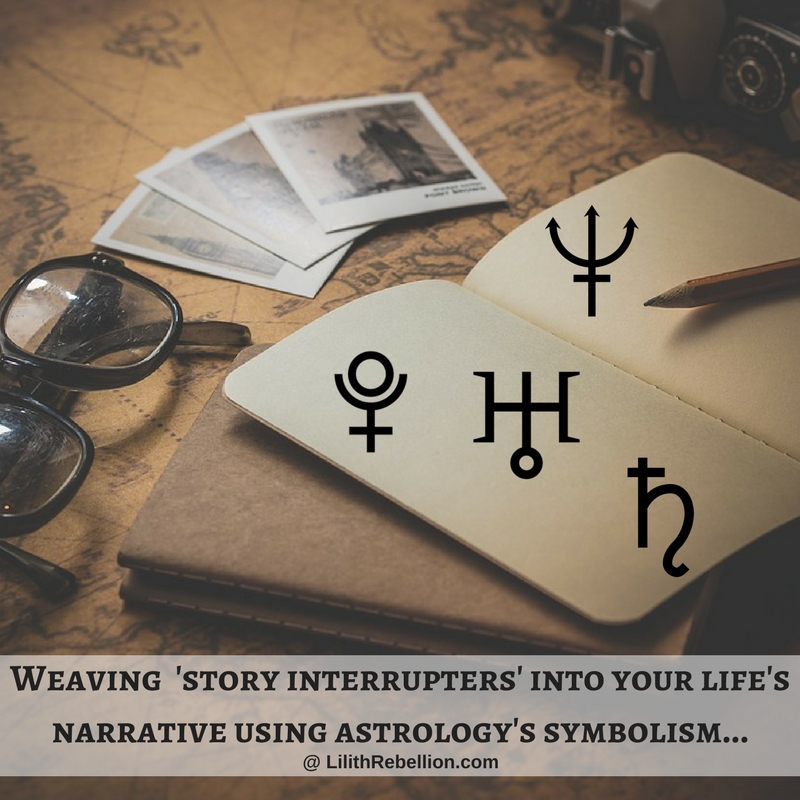 Life has many obvious cause and effect patterns. Just like gravity causes an apple to fall from a tree, we can work with cause and effect – within the physical, material Saturnian/Capricornian world of time and space – to achieve the outcome we are looking for.
But life is just as much chaos, as it is cause and effect.
We make sense of our life through creating internal stories of our life journeys. Story interrupters are those chaotic curveballs that come out of nowhere. The events that derail us. The circumstances that pull apart the threads of the story tapestry we are weaving.
When our life stories are unexpectedly interrupted, our sense of coherent meaning, purpose and identity can fly out the window. We may find ourselves flailing in chaos.
A few examples…
Perceived cause and effect: Jeff works tirelessly toward his goal of fulfilling his heart's desire of being a full-time musician, grounding himself in the belief that hard work = goals achieved.
Chaos, a story interrupter: Just as his hard work is beginning to pay off, he ends up in a car accident that inhibits his ability to use his limbs and play the guitar.
Perceived cause and effect: Kate has been with her partner now for 5 years. The couple just bought a house, a dog, and got engaged. They talk of children. The story of how they fell in love could be made into a movie. The #couplegoals hashtag stalks their online media presence. Since clearly they are soulmates (with amazing astrological synastry), they will be together forever.
Chaos, a story interrupter: Kate finds out her partner has been having an affair with her best friend. A volatile break up ensues.
We will ALL experience story interrupters of some sort. We typically dread them. We dread the unraveling. We dread the chaos that reveals how little we can really control in life.
But life is just as much chaos, as it is cause and effect.
Healthy people get cancer. Unexpected breakups occur. People die. Careers hit a dead-end. Abuse and crimes are committed. Stuff gets stolen. Money runs out. Conflict happens. Horrific tragedies take place.
And we ask, why?
As we grapple with our broken, interrupted life stories that no longer make sense, depression and anxiety have been known to sneak in through the story's cracks.
How can we find our way again? After investing so much emotional energy, so much of our identity formation, so much time and money, into our previous life stories, how can we develop the resiliency to keep going? How can we cultivate meaning, purpose, and hope at times when the broken shards of our life stories swirl around us?
It is a Scorpionic truth that from the primordial soup of chaos, new stories are born.
Through the use of astrology, we can often anticipate story interrupters, or see our present-day chaos, reflected in the sky.
Hard aspects (i.e. opposition, square, conjunction) from outer planets and asteroids (i.e. Chiron, Saturn, Uranus, Neptune, Pluto) to personal planets or points (i.e. Sun, Moon, Ascendant, Mercury, Venus, Mars), often correlate with difficult challenges in our lives that can destabilize our well-established life stories.
• Hard aspects from Chiron correspond with story interrupters that stop us in our tracks as we are brought face-to-face with childhood wounding and deep insecurities that we thought we had dealt with years ago. ->There is the potentiality for healing and greater self-awareness.
• Hard aspects from Saturn reflect a story interrupter that deconstructs our foundational sense of security and our faith in our life direction (i.e. the infamous ~2 year Saturn Return ~ age 30). ->There is the potentiality for establishing a greater sense of identity and worth, and shifting course toward a direction that truly resonates with one's soul.
• Hard aspects from Uranus synchronize with story interrupters that shock us and change everything in an instant. Uranian story interrupters have our lives moving so fast that our attempts to create a story, to create meaning of what is happening, often cannot keep up with the blur of change and motion. –>There is the potentiality to get unstuck, to step out of an old rut and discover opportunities that you would never otherwise have encountered.
• Hard aspects from Neptune correlate with story interrupters that dissolve what we thought was firm and solid, and confuse what we thought was clear. –>There is the potentiality to gain greater clarity and insight into life content that you took for granted, and to consciously re-evaluate and re-adjust your boundaries.
• Hard aspects from Pluto align with story interrupters that relentlessly burn everything to the ground in order to make us face the repressed origins and the consequences of our deepest pain, traumas, and shadow material that has been, often unbeknownst to us, shaping the direction of our life story – a continued legacy and testimony to our buried wounds. ->There is the potentiality of accessing the courage to look at the Truth directly in the face; to withstand touching one's most raw and painful inner wounds with compassion; and to then utterly transform into someone with profound fearlessness, spiritual insight, resilience and healing capabilities.
I don't believe planets cause shit to happen, but I do believe the movements of the celestial bodies reflect, correlate, and synchronistically align, with what occurs on Earth. The freewill vs. fate debate is one I have been wrestling with for quite a while now (especially since getting back into astrology), but my current position is that…
a) life is a mysterious, complex mixture of both freewill and fate that are impossible to disentangle, so we might as well move forward acting on our assumed freewill;
and/or
b) time and space are an illusion and thus from a vantage point beyond time the past, present, and future exist simultaneously at once – therefore, the movements of the planets could, in some almost inconceivable way, be aligned with the choices we have made (are making, and will make) using our freewill, as well as reflecting back to us the chaotic interruptions.
At any rate, while I am aware the practice of astrology has the unfortunate capacity to instill fear in people (and has a history of doing so); it can also be a profound tool of healing, validation and liberation. Astrology is laden with rich, evocative symbolism, and through accessing this symbolism, we can craft new stories in our lives and renew our sense of meaning, purpose and hope.
Astrology is an amazing gift that can help us integrate story interrupters as new threads within the life tapestry we weave; as new characters and plot lines within the life stories we write.
For example, in my own life, the last few years have been full of major life story interrupters, and yet astrology's symbolism has been a lifeline. Yes, I can see tough transits interacting with my natal chart – one of which is my Saturn Return (a major life story interrupter). The current transits validate the frustration I am currently feeling – and the validation itself, as my chart reflects my life back to me, provides reassuring comfort. However, I can also embrace the hopeful, transformative potential inherent in astrology's symbolism and "lean in" to the possibilities on the horizon.
It has been interesting analyzing the results of the survey I launched a few weeks ago. In response to my question about what type of consultation people would be interested in, I did not anticipate so many respondents to rank the option: "making meaning of past events using astrology", so highly. It shouldn't surprise me though, really. Humans are meaning-making creatures. Certainly for myself, retracing my life's history through the lens of astrological transits, has been incredibly grounding.
Caveat #1 – Using astrology to make meaning out of chaos does not mean necessarily accepting the belief that "all bad things happen for a reason". This saying reflects a desire to believe in a logical, orderly, cause and effect world. Scorpio asks us to leave room in our worldview for chaos, for the mysterious, for the inconceivable, for the irrational, for the nonsensical. And yet, as we emerge from the darkness of a life story rupture, Scorpio's symbolism reminds us that that there is no experience, which cannot somehow be redeemed and transformed. Every thread can find its way back into our life's tapestry.
Caveat #2 – Making meaning out of an awful story interruption and weaving it into our story, does not mean blind passive acceptance. There is chaos and injustices that we are called to fight against (individually and globally), and this too, we can see reflected in the sky. Arguably many story interrupters that appear as random and chaotic at an individual level are, at a global level, part of a clear cause and effect response that needs intervention (e.g. natural disasters occurring in response to climate change).
Caveat #3 – When you've experienced a major story interruption, do not rush to make sense of your experience. Do not try to force a story reconstruction. You may limit the options, you may limit potential growth. Sometimes we have to sit with the chaos. Sometimes we have to stay in the liminal breach of a story interruption before we are able to see the possibilities and opportunities that exist. It can be excruciating to be present with the shredding of a life story, but trust the process. Trust that amidst the chaos, a new story is taking its first breath.
Its formation may be gradual. Its first steps may be vulnerable. But there is a pulse.
Life->Death & Chaos->Transformation->Rebirth. You can see this cycle occurring over and over again in nature. Trust that you too, belong to this infinite, sacred rhythm.
Einstein coined a beautiful Scorpionic quote: "Energy cannot be created or destroyed, it can only be changed from one form to another".
The energetic legacy of your old stories, will be transmuted and reborn as a new story to carry you forward.
Pssst… for additional and more frequent cosmic weather updates, follow Lilith Rebellion on Instagram and Facebook. To receive a weekly cosmic weather overview by email, subscribe to Lilith Rebellion email updates. The week's cosmic weather forecast will be published on the blog every Monday, with periodic additional posts to mark important cosmic events.