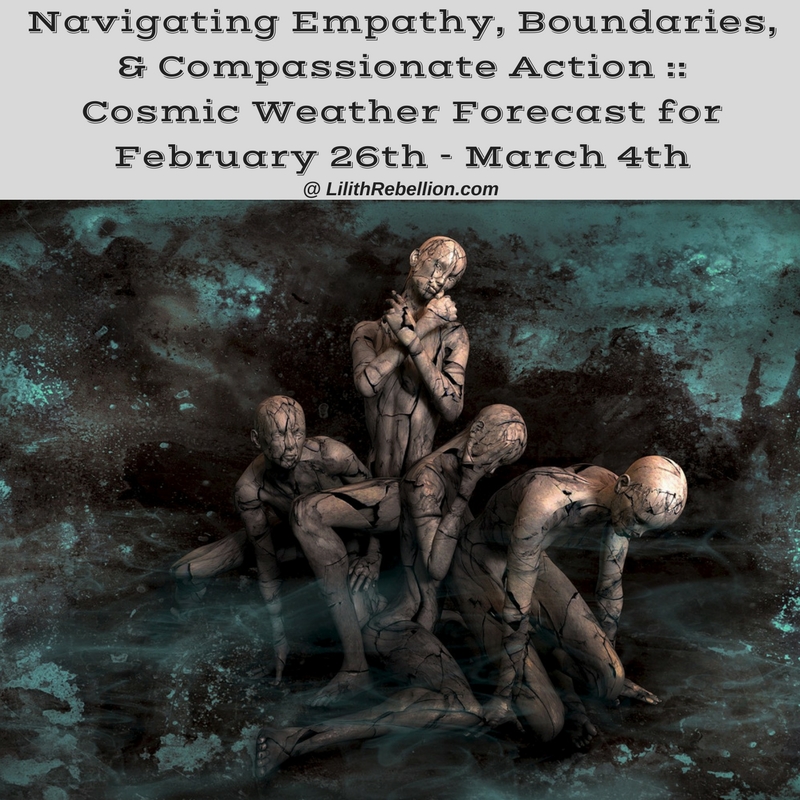 The watery Piscean trend continues this week with 5 celestial bodies in the sign of the two fishes (Sun, Mercury, Venus, Neptune and Chiron). If you haven't gotten enough of these deep feels, you're in luck! There's plenty more to come in the next 7 days.
The highlights of the week include the Full Moon in Virgo on WEDNESDAY, and the rare triple conjunction of Venus, Mercury and Chiron occurring at Venus' exaltation degree in Pisces on SUNDAY – the same day that the Sun conjoins with Neptune.
Circle SUNDAY, March 4th on your calendar. This is a unique line-up of transits which could correlate with a deeply emotional relational event, or a significant internal shift (especially if you have personal planets or points in the late degrees of the mutable signs – Pisces, Virgo, Gemini, and Sagittarius).
As I mentioned earlier, my chart is Pisces-heavy with the Sun, Mercury, and Jupiter in Pisces, along with some strong Neptunian aspects. It is a little strange to see all the super emotional 'Pisces Season' posts all over my feed these days! I find I get a strong reaction to them. Like, seriously?! Pisces is really that emotional and sensitive? OMG… AM I THAT EMOTIONAL AND SENSITIVE?? Because honestly, as a Pisces native, I'm not sure life feels anymore emotionally intense (or confusing) for me than usual! Continue reading "Navigating Empathy, Boundaries, & Compassionate Action :: Cosmic Weather Forecast for February 26th – March 4th"