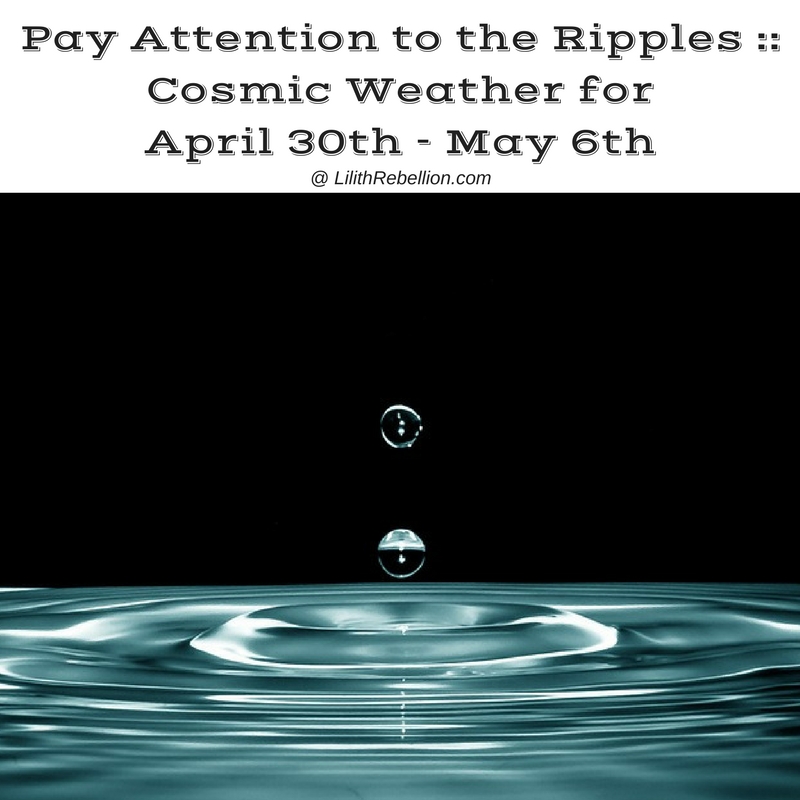 This week's astrology is really boring to report on, to be honest. There are no major aspects occurring – not even an important lunar phase. Does that mean this week will be literally uneventful? On an individual level, I have no idea without knowing your chart. You could very well be receiving some significant personal transits.
At a global, cosmic level, however, there are a few minor transits, but overall, the week is pretty low-key. And really, that's just fine with me! April delivered some pretty intense, pressurized astro with all those Capricorn and Aries squares, a tension-filled Mercury retrograde facing off with Saturn, Mars colliding into Saturn and Pluto (the three infamous malefics of the sky all in the same sign)… and then of course, that powerful Scorpio Full Moon yesterday (April 29th).
Pay attention to the ripples. Perhaps this week's still waters offers an opportunity to process and integrate all those big shifts that may have begun in the last month or so. Perhaps it is an opportunity to relax into Taurus Season; steadily digesting life's events while sipping tea in a comfy chair, surrounded by everything that makes you feel most safe, secure and grounded.
On MONDAY, the Sun perfects its square to the Nodal Axis (North Node in Leo, South Node in Aquarius), while at the same time, Ceres (the asteroid of nurturing and daily rhythms) fuses again with the North Node, with whom it has been dancing with for quite some time.
How is that Leo North Node growth process going for you thus far? The Nodal Axis has currently traveled about 2/3s of the way through the Leo-Aquarius axis since they entered this zodiacal polarity on May 9th, 2017.
I have the bulk of Leo in my 12th house (using a quadrant house system) and I've found myself repeatedly pulled away from employment opportunities that would involve working with others (SN in 6th house) toward creative creating in isolation and behind the scenes.
Rather than getting caught up in group dynamics and the exhausting process of navigating the tender edges of group allegiances, outsider/insider status, and how much compromise is too much compromise, a Leo North Node invites us to pursue that which feeds our fire. To fill our cup with that which gives us life, vitality, and fills us with passion that overflows from our heart out toward the world, leaving ripples of abundance in its wake.
After a revealing Scorpionic Full Moon on SUNDAY, with the Sun in Taurus creating a T-square with the nodal axis on MONDAY, as Ceres fuses with the North Node, we may be reminded of our North Node mission in some way. Nourish your capacity to love, to play, to create. It is said that you cannot give from an empty cup… so then, what fills your cup?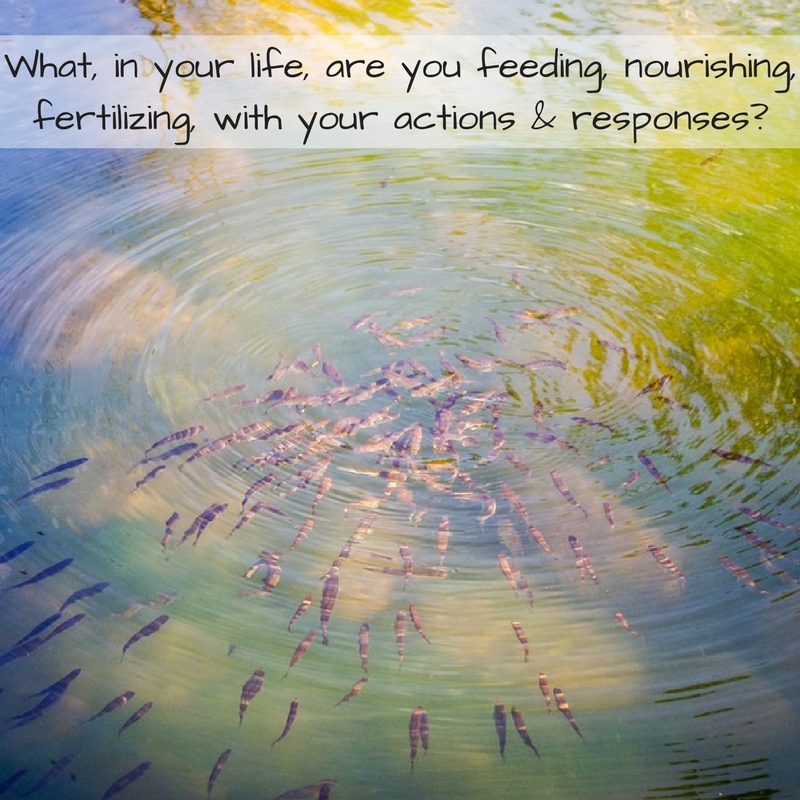 After a bit of Venusian tension on TUESDAY with Venus forming a quincunx to Saturn, perhaps correlating with our financial or romantic options feeling stifled, there is then a spark of insight and flow, as Venus in Gemini creates a sextile with the North Node in Leo on WEDNESDAY.
Mercury's recent retrograde period spanned March 22nd – April 15th (4 – 16 degrees of Aries). On FRIDAY, it finally clears its retrograde shadow – meaning, it catches up to the spot in the zodiac wheel where its retrograde first began at 16 degrees Aries. With Uranus now wrapping up its work at the 29th degree of Aries, in preparation for its ingress into Taurus on May 15th, and with Chiron having just entered Aries, there has likely been A LOT of significant and meaningful activity in the Aries region of your birth chart.
The symbolic meaning and insightful gems of Mercury's retrograde should now be clear: what were you reviewing, re-doing, reflecting on, or structuring, redefining, adjusting, preparing or studying for, from March 22nd – April 15th?
Furthermore, there may be emerging insights into the major themes of Uranus' past 7-year journey in Aries. For me, Uranus' initial ingress into Aries on May 27th,  2010, began with a very significant and typically 'Uranian' event… and thus I'm quite curious what will happen when Uranus enters Taurus. It will make itself known, that's for sure. It's a huge cosmic shift and its ingress coincides with some additional transits that really amplify (and aggravate) its symbolism.
Uranus' second and final shift out of Pisces and into Aries (after a retrograde period) on March 11th, 2011, coincided with the earthquake, tsunami, and damaged nuclear reactors in Japan. Many astrologers have drawn symbolic correlations between this explosive event, and Uranus' disruptive ingress into the fiery sign of Aries. Let's hope the ingress into Taurus brings more pleasant surprises – like mine was!
Within a few days of Uranus first leaving Pisces and entering Aries in 2010, I found myself in another city… in a random, obscure little restaurant… ordering take-out… just a couple hours after landing (my trip had been planned around the presentation of my research, which addressed the themes of independence vs. interdependence – a timely bridge between Pisces and Aries). With my plate of food in hand, I turned around and found myself face-to-face with someone who I had briefly met 2 years earlier in 2008. Startled with the immediate recognition, we both spluttered nonsensical sentences in surprise and amazement.
Although we had only shared a few conversations at the time we had first met at a conference, I had written in my journal how surprised I was by the instantaneous strength and flow of a connection that seemed so inexplicably familiar, and how I felt I would probably see them again, although I had no idea how.
We did not live in the same city, and we did not maintain any type of communication (or even social media contact) for the two years after our initial encounter… and thus the memory of the encounter gradually drifted out of my consciousness.
Our sudden, unexpected, surprising, synchronistic moment of re-connection (see all those Uranian words?) launched the beginning of one of the most meaningful, utterly undefinable and unlabeled relationships of my life – one which continues today, despite all its twists and turns. Oh and by the way, he has an Aries Sun, which was receiving an exact hit from Uranus on the day we reconnected.
This is the type of completely out-of-the-blue disruptive magic that Uranus can bring. Never in a million years would I have expected to see this guy that day, two years after he disappeared from my life. I was only in that city for 3 days. I was only in that obscure take-out restaurant for 20 minutes max. The chances of running into each other again were so slim.
But that is Uranus. You really don't know what (or who) is around the corner.
Uranus' ingress into Taurus is still a few weeks ahead, but it is a major shift and suggests potential upheaval or disruption. It is worth reflecting on how this might show up in our lives symbolically (even though the specifics will be impossible to anticipate, I'm sure).
Podcasts form a big part of my regular astrology diet. Three of the most well-known astrology podcasters recently collaborated for a set of three episodes that were released successively on each of the three podcasts. I invite you to check out the whole series @ The Astrology Podcast, by Chris Brennan, @ Exploring Astrology, by Adam Sommers, and @ Bridging Realities, by Eugenia Krok.
In particular, if you want to listen in on a great discussion and introduction to Uranus in Taurus, I would recommend: Part 2 (Exploring Uranus) on the 'Exploring Astrology' podcast (you can find all of the podcasts and episodes on iTunes or wherever you typically access podcasts).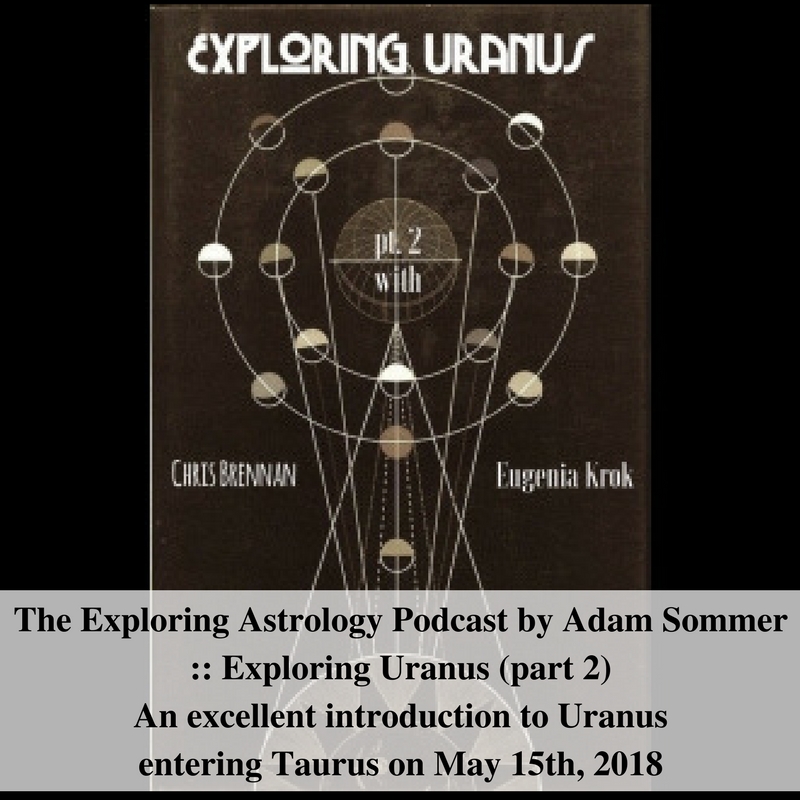 …I've somehow managed to still find lots to talk about despite this being a pretty low-key boring week, cosmically speaking.
The weekend rounds out with Venus moving out of bounds on SATURDAY, which means she escapes the domain ruled by the Sun and gets to do her own thing for a month (until June 8th) without restraint – in regards to pleasure, romance, art, and money. Intrigued by Tony Howard's and Steven Forrest's work on Out of Bounds planets, I'm tracking these more consistently. I see their expression in natal charts, but I'm still getting a sense for them by transit. For more on this, check out these articles by Tony Howard for Venus' upcoming month-long journey out of bounds, and re: Venus out of bounds in natal charts.
On SATURDAY, Sun will bring us to the astrological Beltane at 15 degrees Taurus; the cross-quarter day – or the midpoint – between the Aries equinox and the Cancer solstice. Whichever hemisphere you are in, take time to root, to ground yourself in this magical messy world we call home.
The Moon will be moving through Capricorn on SATURDAY, lighting up all the heavy-weights hanging out there (Saturn, Pluto, and Mars) bringing an air of somber seriousness or intensity to the day – but also an earthy embrace as it trines the Taurus Sun.
On SUNDAY the Sun trines Neptune while moving into an opposition with Jupiter (exact the following Tuesday). Have faith, loves. The world can be a harsh place… and yet there is a strange something that is infinitely larger and transcendent, that somehow, inconceivably, encompasses all of us in a magical, benevolent, imminent embrace.
Pssst… for additional and more frequent cosmic weather updates, follow Lilith Rebellion on Instagram and Facebook. To receive a weekly cosmic weather overview by email, subscribe to Lilith Rebellion email updates. The week's cosmic weather forecast will be published on the blog every Monday, with periodic additional posts to mark important cosmic events. To request an astrology consultation with me, check out my list of services.