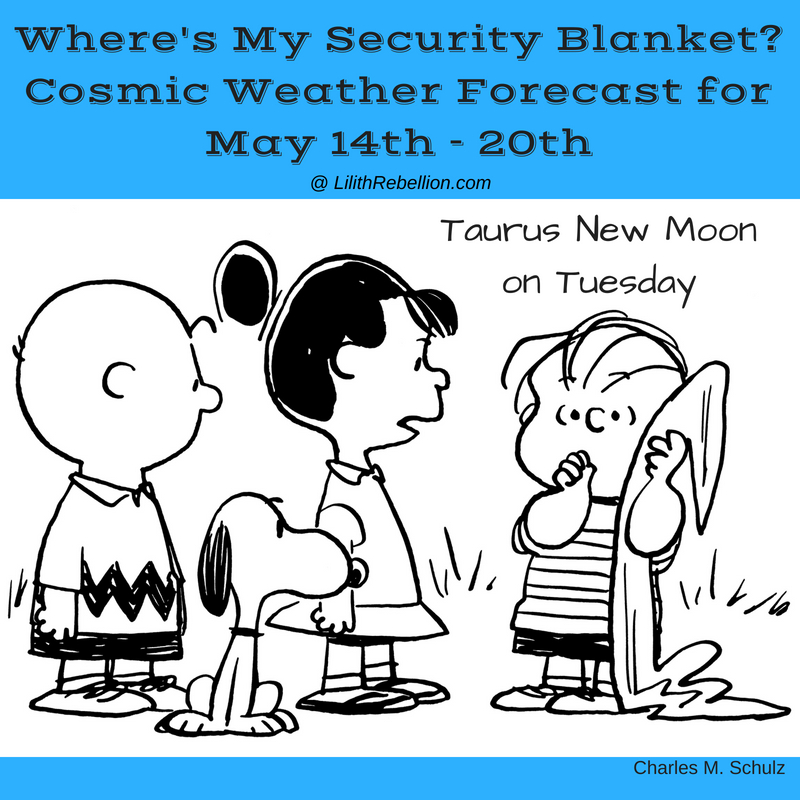 I always find it interesting when some major cosmic shift is accompanied by numerous other transits that further activate and reinforce it. It's like the Universe is trying to make a point.
Uranus changes signs every 7 years or so, and on TUESDAY, Uranus will leave Aries and enter Taurus. This will occur just a few hours after the Moon catches up to the Sun for the year's New Moon in Taurus on TUESDAY morning. Mars is in a tight square with Uranus as I write this, heightening that Uranian impulse for independence, freedom and action.
On WEDNESDAY (or late Tuesday depending on time zone) Mars will leave Capricorn to enter Aquarius where it will finally perfect its square to Uranus at 0 degrees Aquarius and Taurus, respectively.
Uranus clearly does not have to wait long for it's first major aspect in its new home. It is quite a powerful launch. There will be two more Mars-Uranus squares this year, due to Mars' upcoming retrograde. You'll probably see some similar themes weaving throughout this cosmic story. Take note of what happens this week.
Taurus is widely known for it's chilled out, peaceful nature and its deep appreciation for simple physical pleasures. As fixed earth, Taurus tends to be a risk-aversive, change-avoidant sign that upholds safety and security. It takes its sweet ol' time carefully tending to long-standing relationships and cultivating its stable resources and assets.
Uranus is none of these things.
When Uranus is activated or transits my personal planets, I have learned that I have to surrender my desire for guaranteed outcomes; to know exactly where I'm headed in that area of life. I do better during these times when I can embrace constant uncertainty and trust myself to follow my intuition on a moment to moment basis. Plans fall to the wayside as unexpected events roll out in completely unanticipated ways.
Uranus is the panacea for times of 'stuckness'. It seeks to liberate with fast-moving, unconventional, exciting change. It nourishes sparks of individuality, originality, innovation, human weirdness and human brilliance with sudden breaks in the fabric of normal life.
On the more challenge side, Uranus can be disruptive, stressful, anxiety-producing, and in the process of individuating each one of us, it can also correlate with conflict and tension as our freedom-seeking selves clash with the status quo, or with other people in our lives. Relational harmony is not Uranus' forte. Uranus as an archetype is uncompromising, always.
So… Uranus enters Taurus on TUESDAY; fixed, stable, earth.
In the long term, over the next 7 years, we will likely see major changes and fast-moving developments within the realm of currency (e.g. bitcoin), the stock market, resource distribution, housing, farming, community gardens, the food industry, food security, the environmental movement, and how technology interacts with our human bodies.
In the short term, there may be some shake-ups and surprises this week, especially if you have personal planets or points that are directly impacted by this shift. It's pretty wild aggravated astro rippling out from the TUESDAY New Moon and Uranus ingress. Perhaps watch out for impulsive reactions and pause before making any drastic changes, but this energy needs an outlet. Lean in to it by intentionally switching up your routine this week in a fun way, and give your body opportunity to move in nature whenever you can.
As the New Moon seeds itself at 24 degrees Taurus during this time of cosmic upheaval, set your intention toward imagining the first step of change you would like to take, in the direction highlighted by this lunation according to the house in which it falls. How can you bring freshness, excitement, originality, greater independence and liberating freedom into this area of your life?
Linus and his security blanket, from the Peanuts comic strip, is my inspiration for the week…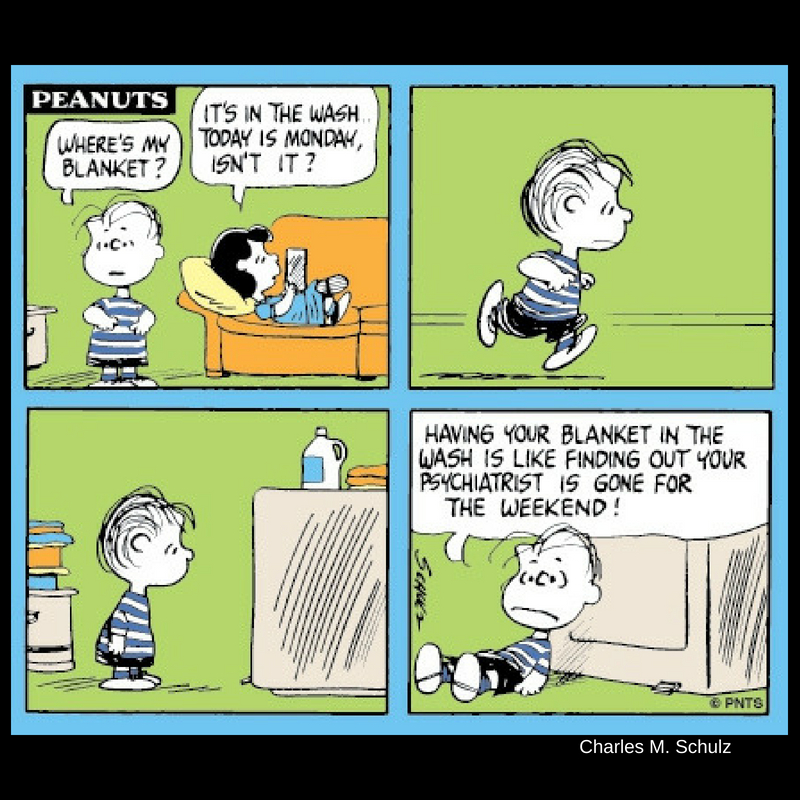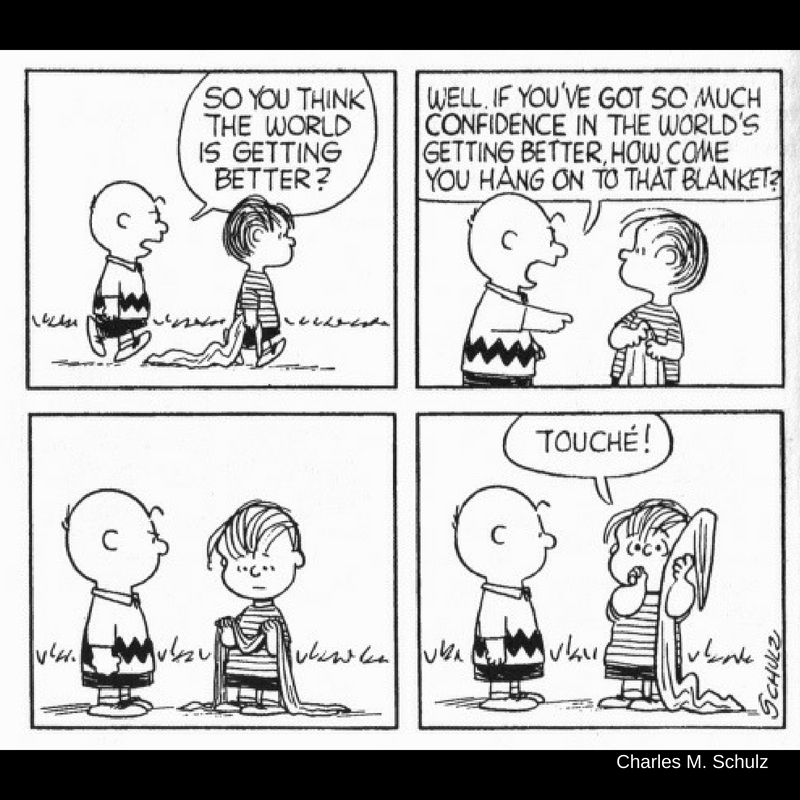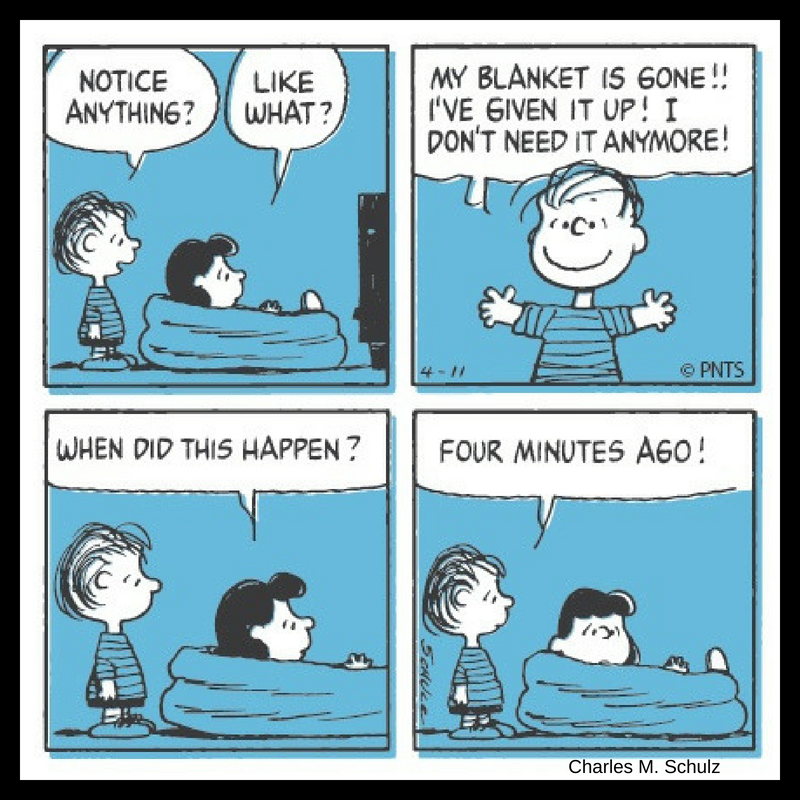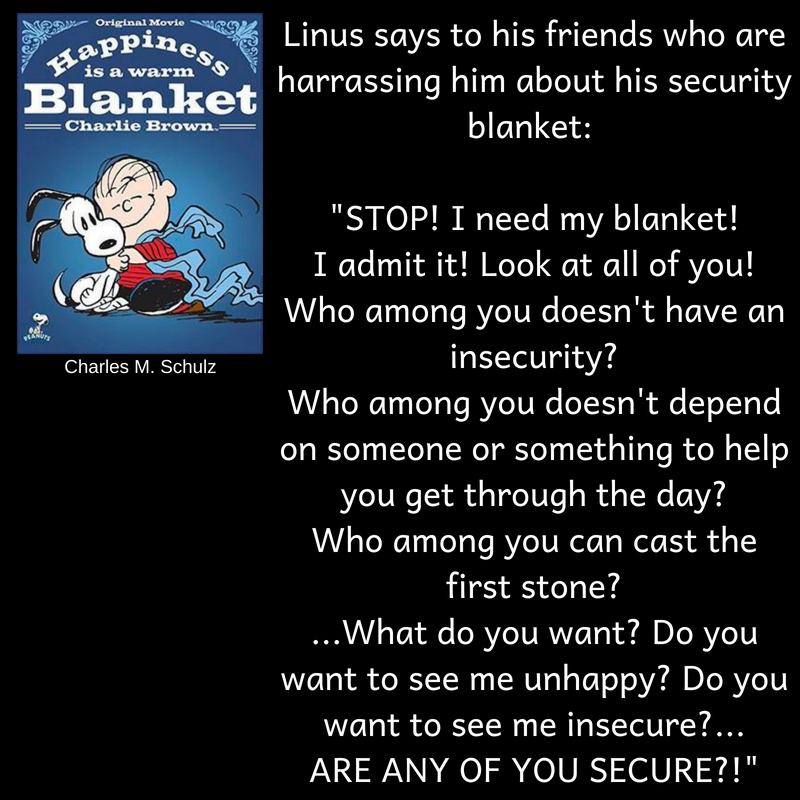 Here's the video clip if you want the sound version of Linus' speech…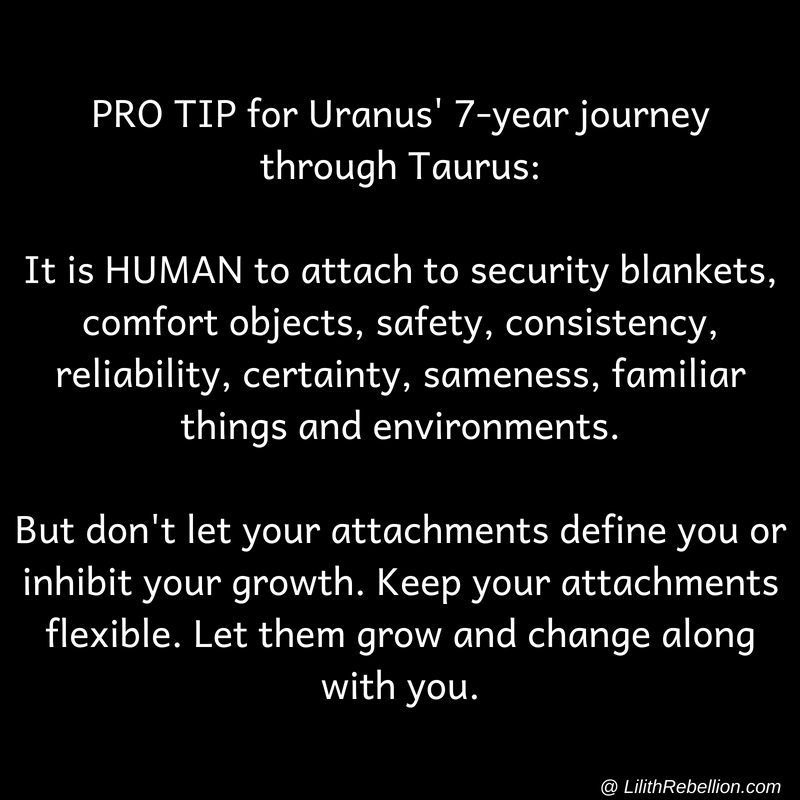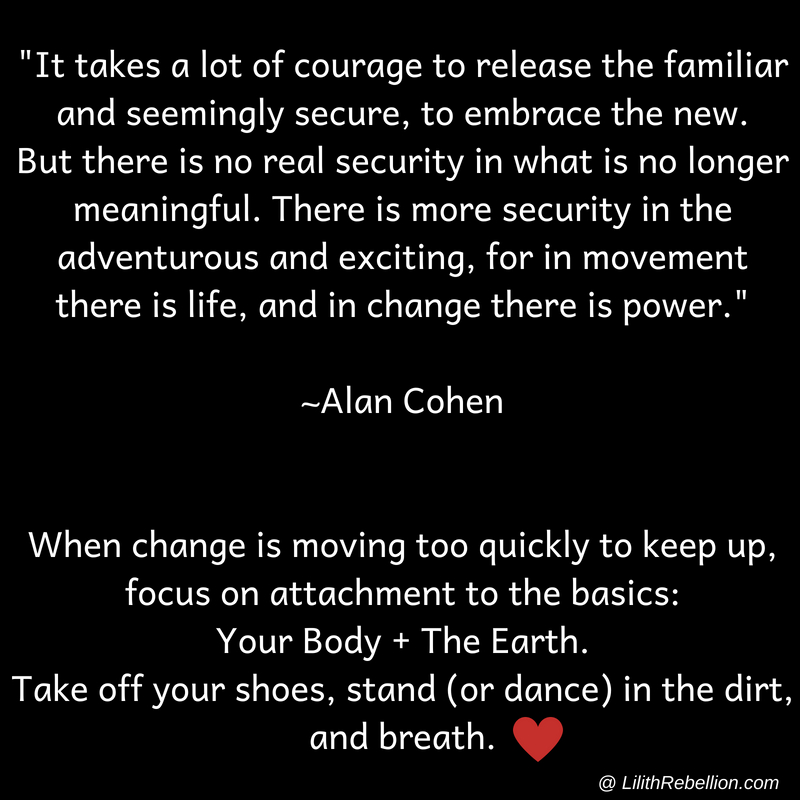 As for the rest of the week, on FRIDAY, Mercury in Taurus trines Saturn Rx in Capricorn, creating some stabilizing flow and focus for any cognitive tasks you need to finish before the weekend. At the same time Mercury squares the Nodal Axis, inviting us to move toward the North Node in Leo; choosing passion, pleasure, self-expression, and individual creative pursuits.
On SATURDAY Venus leaves Gemini and enters the sensitive realm of Cancer, immediately forming a sextile with Uranus. This is Uranus' second major aspect since Uranus' ingress into Taurus, and it is with the landlord (Venus rules Taurus). We may feel the sparks of change on a relational or financial front today, in ways that beckon us out of hiding, out of the nest of security.
SUNDAY brings us lots of Chiron action. Mars will sextile Chiron in Aries, while Venus forms a square to Chiron. This puts Mars and Venus into an awkward quincunx configuration. The feminine and masculine may not be comfortable with each other today as a deep wound gets tapped. One's desires and preferences may not align smoothly with what is in one's reach and capacity for action.
And yet, as always when the wounded healer is activated, there is the possibility and potential for integration, for rediscovering wholeness by bringing compassionate acceptance to parts of us that are hurting.
The Sun will launch Gemini Season on SUNDAY, bringing us to a total of FOUR celestial bodies changing signs this week (Uranus, Mars, Venus and Sun).
That's a lot of change.
Stay flexible 🙂 Gemini, one of the most versatile and adaptable signs, welcomes the Sun just in time.
Pssst… for additional and more frequent cosmic weather updates, follow Lilith Rebellion on Instagram and Facebook. To receive a weekly cosmic weather overview by email, subscribe to Lilith Rebellion email updates. The week's cosmic weather forecast will be published on the blog every Monday, with periodic additional posts to mark important cosmic events. To request an astrology consultation with me, check out my list of services.