Home.
What does that word stir in you? What does it mean to be "at home"? To "come home"? To "create a home"?
I once took a semester's philosophy course that was dedicated to exploring the concept of "home". I've remain fascinated by the concept ever since, and the emotions that word can evoke… including those associated with nostalgia.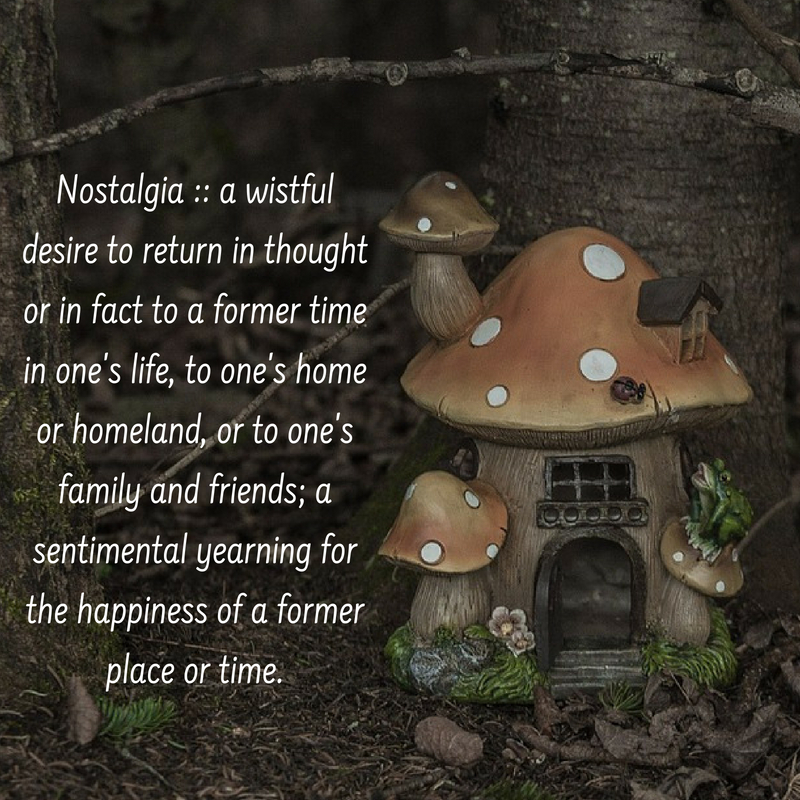 This watery week may bring up feelings of nostalgia and thoughts of "home" as Neptune Stations Retrograde in Pisces on MONDAY… as Mercury in Cancer creates a grand water trine with Jupiter in Scorpio and Neptune in Pisces throughout TUESDAY–THURSDAY… and as we wade into Cancer Season, crossing the threshold of the Summer Solstice on THURSDAY.
The yearning for "home" is often more about the desire to experience a deep subjective sense of belonging, than it is about the literal location necessarily.
At the transcendent Neptunian-Pisces level, our souls long for the belonging of oneness, of divine wholeness – the belonging found in the embrace of something infinitely larger than us.
As children, perhaps still carrying within us the deep desire for the boundless place from which we came, or searching for the safety of tender womb spaces, we become magical home-makers, home-creators, home-finders. Whether it is a crevice in tree roots, a small hollowed out area in a rock face,  the far end of our closet, or in the pages of a book, we seek out the enchanted home spaces that are overlooked by the adult eye.
Today, as Neptune Stations Retrograde, I am watching the rain come down through a cafe window, feeling all the feels, and reminiscing of the magic spaces I used to create as a child. I had a reputation for it too! I was the "best fort builder" (how about that for Saturn in the 4th house opposite Moon?!). My forts, little homes, tiny getaways, and imaginary stories, were portholes to otherworldly kingdoms and fantastical lands.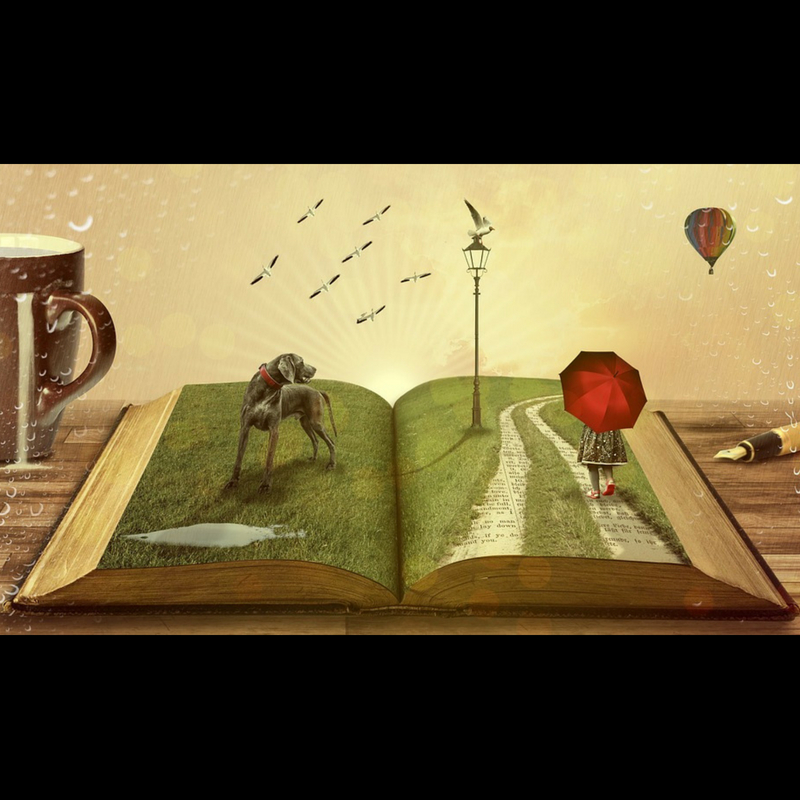 Neptune dissolves.
This act of dissolving typically looks like one of three things…
Our reason and critical discernment may dissolve, leading us into deceptive situations that are not what they at first appear to be.
Second, the rose-colored glasses we may have been looking through, the illusionary, idealistic beliefs and fantasies (and lies) we were invested in, dissolve, leaving us with a crushing sense of disillusionment and cold reality… which may prompt escapist behaviors in response.
Or, thirdly, Neptune can dissolve our hard cynical boundaries, thereby opening up our hearts and souls to new magical possibilities of home-making and home-finding here on earth – allowing us to fall in love with this world, heightening our intuition and uniting divine potential with the material realm.
How are you experiencing Neptune Stationing today? As always, if you're looking for guidance for this 5-month retrograde period, apply the "re-prefix" verbs (redo, reassess, resume, refine, review, etc.) to all things Neptunian – artistic creation and appreciation, spiritual practices, humanitarian compassion, and an exploration of your dreams.
Neptune is a far-away outer planet that moves ultra slowly and spends about half the year retrograde (until November 24th, 2018). Its station can be a pretty uneventful transit – unless you have an important point or planet around 16 degrees of primarily the mutable signs (Pisces, Virgo, Gemini, Sagittarius). Then, you will likely see some strong correlations as Neptune's mist changes direction in some area of life.
And for those of you around my age (early thirties), how is that Saturn-Neptune transit going – or how did it go?
I love the word 'sonder', created by John Koenig for his Dictionary of Obscure Sorrows. It captures a Neptunian experience so effectively: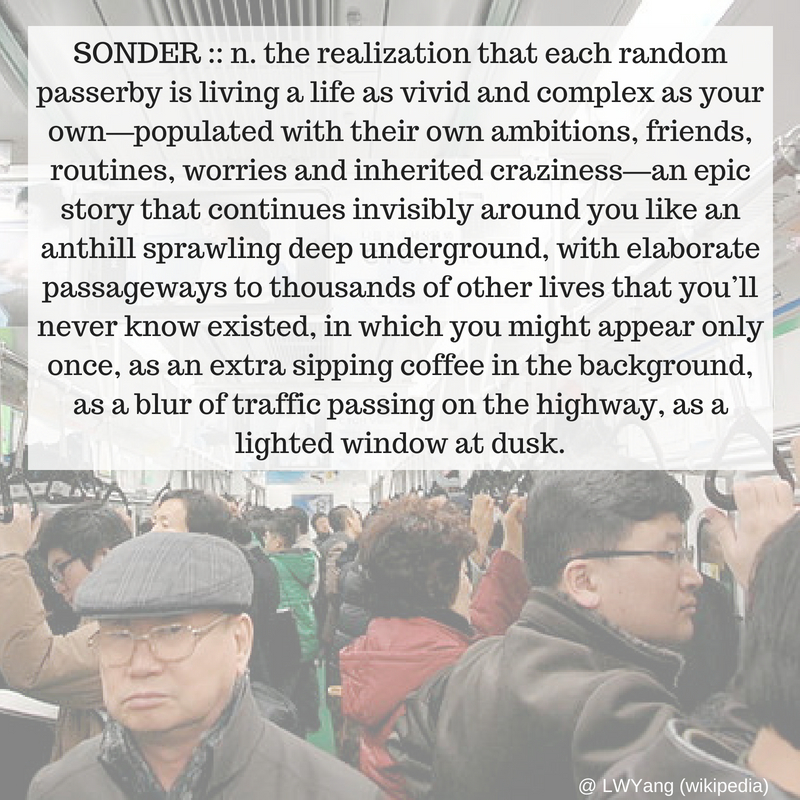 Does anyone else ever get overwhelmed with awe at this realization?
At worst, this realization is isolating and alienating, but at best, it is an invitation into the world's hidden mysteries, holy complexity, and a prompt to shift away from an egocentric perspective.
Everyone has a story, "living a life as vivid and complex as your own", on this Earth we call home along with 7 billion other people.
Remember that the sacred is always weaving itself throughout the profane and the ordinary, and we are more interconnected that we may sometimes feel.
Make magic today – all week – if you can. Rediscover a special getaway, a gateway. Tap into the intersecting point between the earthly and spiritual axis, unifying the two with your feet finding stability on our sacred ground.
The other non-watery cosmic story this week is the Venus and Mars opposition occurring at either end of the Nodal axis (in Leo and Aquarius respectively). This could express in many ways, including of course, sexual tension, or tension related to gender roles.
Venus conjoins with the North Node in Leo on TUESDAY, amplifying her themes of love, money, beauty, and pleasure with an extra dose of passion, or a potent glimpse at the future potential that lies in these realms.
And yet Venus' simultaneous quincunx to Saturn and opposition to the extremely frustrated Mars conjunct the South Node (opposition exact on THURSDAY), suggests that what we desire, what we are attracted to, may be somewhat out of sync with our capacity for action and the limits, restrictions and boundaries of the situation.
The grand water trine created mid-week as Mercury in Cancer connects to Jupiter and Neptune (newly retrograde), could correlate with some emotional over-sharing, some lack of boundaries related to Venus's money and love… or it could potentially expand our faith and our hope in a way that supports the sustainability of our heart-felt desires.
As our thought processes and our conversations expand and reach for interpersonal connections across borders, across divisions, can we imagine and maintain hope in a world where everyone's passions and life-energy has an outlet that awakens the earth to a more loving vibrancy?
Imagination alone, of course, is not going to cut it. WEDNESDAY's First Quarter Moon is a sharp one, activating the anaretic 29th degrees of Virgo and Gemini. Action, it whispers urgently in our ear, take action, now! Don't wait a moment more!
The plans have been laid, the information has been collected, now grab your tools and begin…
The Sun joins Mercury in Cancer on THURSDAY as it crosses the solstice threshold, welcoming summer in the North, and winter in the South.
Cancer is the sign most associated with home, with belonging, with nationality,  with memory, with motherhood, nurturing, family, and origins.
Cancer speaks to our human desire for secure and trustworthy relational attachments, and a deep-rooted internal sense of safety.
As Cancer extends its warm welcome, this shy yet fierce cardinal sign also gives us all a job to do. We can get lost in nostalgia for the "good old days" and seek to withdraw and hide… but we can also use the power of our roots, of our community networks, of our inherited resources and strengths, to expand outward into the world, reclaiming it as a safe home for all its inhabitants.
Rather than a platform to showcase humanity's accomplishments, a wrestling ring for our power struggles, a surface map marked up with borders and country divisions, or a source of profit through endless resource extraction, the world is first and foremost, 'a home'.
And dear goddess, may it continue to be one.
On FRIDAY Mercury conjoins Pallas Athena in Cancer and we may gain additional insight into the patterns composing an emotionally-saturated Cancer-type issue related to home, family, and close relationships.
On SATURDAY, the cosmic seas are rather stormy.
Mercury opposes Pluto bringing intensity, suspicious investigation, and searing, confrontational truths to our thought processes, conversations, and/or information exchanged (particularly in relation to family and authority themes). Trust, or a lack of trust, is on the table.
On the same day, the Moon conjoins with Jupiter in Scorpio, expanding our emotions, pressurizing them, until their buried content bursts forth. The transformative path to freedom is through truth.
Also on SATURDAY, the Sun in Cancer squares Chiron in Aries, tapping into some insecurities related to our courage and our capacity to take action.
The Sun's energizing sextile to Uranus (continuing with the theme of nostalgia), bestows us with a pair of cosmic Moon Shoes – providing an unconventional source of inspiration and innovation to find our way forward.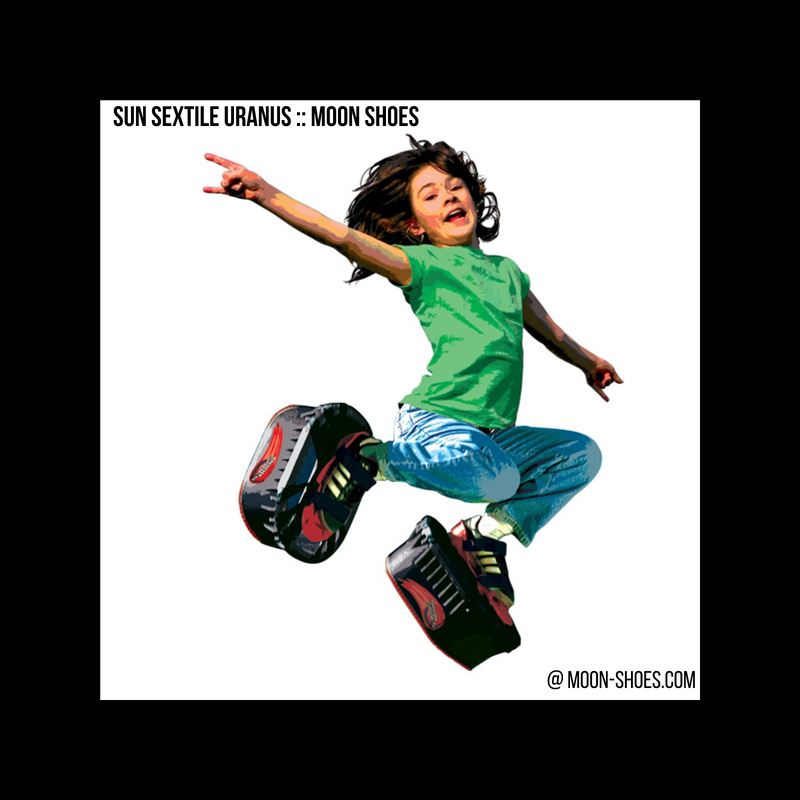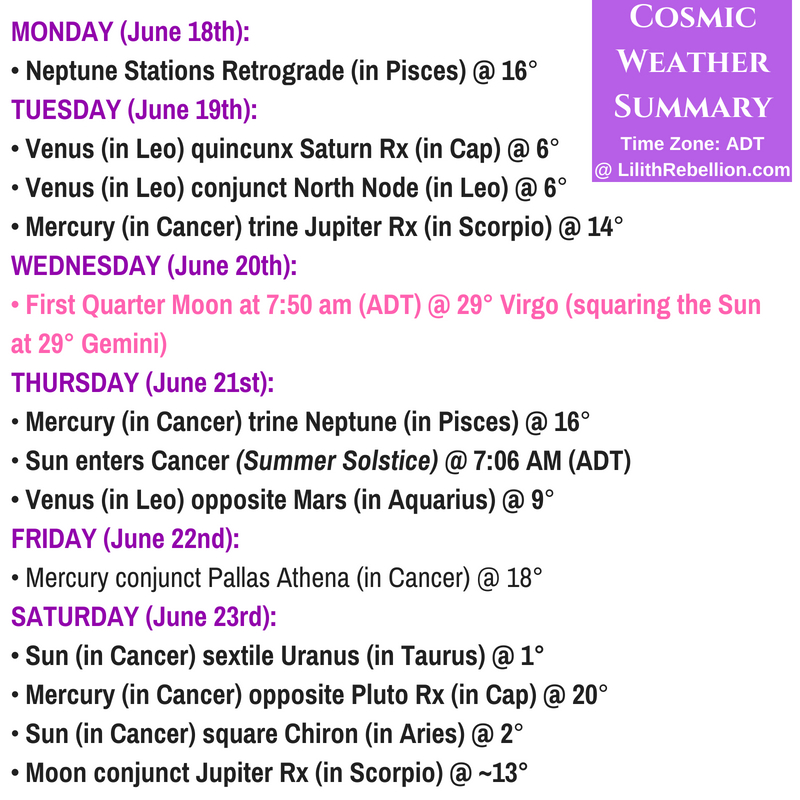 Pssst… for additional and more frequent cosmic weather updates, follow Lilith Rebellion on Instagram and Facebook. To receive a weekly cosmic weather overview by email, subscribe to Lilith Rebellion email updates. The week's cosmic weather forecast will be published on the blog every Monday, with periodic additional posts to mark important cosmic events. To request an astrology consultation with me, check out my list of services.