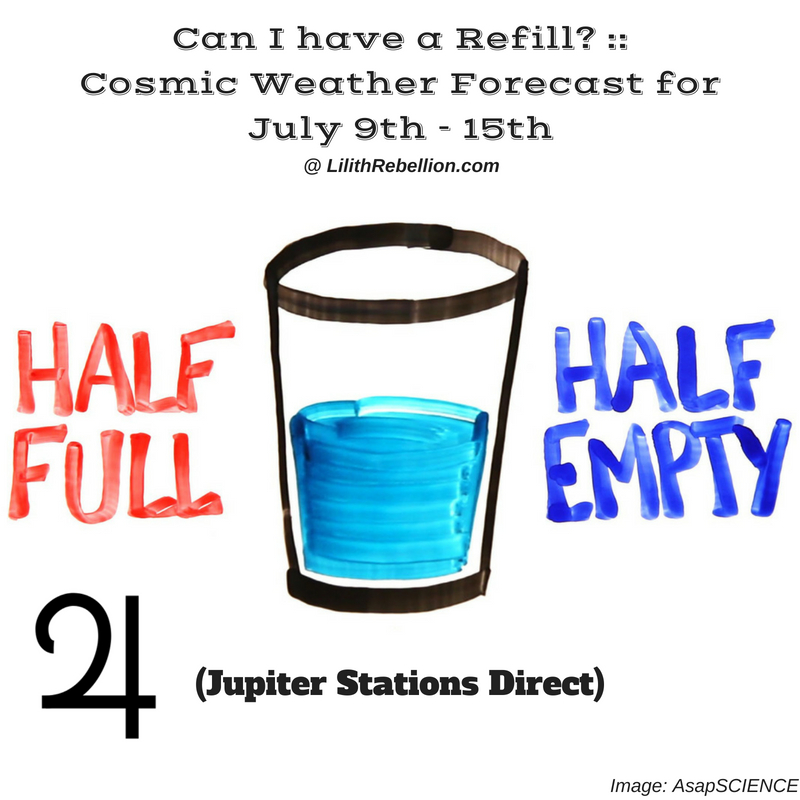 The Moon is entering into its Balsamic phase right now, its dark phase, as it moves toward its New Moon conjunction with the Sun on Thursday. This means that instead of reflecting the Sun's light toward Earth, the Moon's body is reflecting the light of the Sun, back to the Sun. When you look up at the sky at night, you may catch a whisper of the waning crescent tonight, but soon the Moon will be nowhere to be found.
And yet… the Moon is still with us.
As you walk the Earth today, beneath the bright globe of the Sun, invisible, and yet still present, the Moon is traveling with the Sun across the sky. Together for their monthly rendezvous, the luminaries whisper an intimate conversation about what has transpired since they last crossed paths.
If you respond to the directives of the balsamic phase and retreat into some stillness and quiet, you might just hear them.
I forgot to mention that last weekend, on SATURDAY (July 7th) Mercury entered its pre-retrograde shadow zone at 11 degrees Leo (the degree at which it will pivot direct on August 19th). This means that from here on in until Mercury's summer retrograde begins on July 26th, we will be traversing life territory (in our chart's Leo Land) that will soon be reviewed and potentially revised.
Today (MONDAY) as Mercury in Leo squares a stationing Jupiter in Scorpio, conversations, information delivered, or our internal dialogues, are  somewhat expansive. Perhaps rather exaggerated, emotionally dramatic, intense, or prone to all-or-nothing extremist positions. Both Jupiter and Leo are also known for their warmth and generosity, so it's a good time to reach out to connect, rather than withdraw or provoke.
Venus' transition from Leo to Virgo on MONDAY, brings the planet of relationships into a sign where it loves to love through mending, healing, and assisting others in practical ways. Encouraging words (i.e. Mercury in Leo) are great, but addressing people's physical needs and helping them with the pressures of their daily existence, is also valued.
There are three major cosmic stories interwoven this week. One is the grand earth trine that is strengthened and activated upon Venus' entrance into Virgo, second is Jupiter stationing direct at 13° Scorpio on TUESDAY, and third , of course, is the New Moon Partial Solar Eclipse in Cancer on THURSDAY.
(p.s. If you haven't checked out my Eclipse Season Schedule of Events, you can read it here).
I'll explain the grand earth trine first. Although there is never a moment where it is 'exact', its 5 players are active throughout the whole week. If you look at the list of transits at the bottom of this post, you'll see that Venus, Saturn, Uranus, Ceres, and Juno are interacting continually in the three earth signs (Virgo, Taurus, and Capricorn) from TUESDAY to SUNDAY (and beyond).
Here's what it looks like…
It is grounding, stable, nurturing, relational, practical – and yet also innovative with Uranus in the mix. We could use some of that this week!
Look at that lovely trine!
It even looks rather reassuringly solid. The thing about 'easier' aspects like trines and sextiles, is that we often don't notice them or fully utilize them. This could be said about all positive transits… and positive life events. Typically life doles out challenges with one hand and blessings with the other, and while we may receive them simultaneously, the moments of pleasure or happiness can seem so fleeting, that we often dismiss them in the midst of difficulty.
Happiness and pleasure are indeed fleeting. Impermanent, like everything else in life. But it doesn't make them less valuable. Sink into those feelings when you stumble across them and store that memory away for when you need the boost.
We had a grand water trine last week, which is now gently fading. I had a hard couple days, but I went for a delicious purifying walk in the rain. What about you?
With the grand earth trine in formation this week, whatever explosive Plutonian discoveries, decisions, and rebirths are happening this week, may we all be well resourced to take wise and rational, appropriate action.
Jupiter began its retro on March 8th at 23° Scorpio, and now the biggest planet in the solar system will station direct at 13° Scorpio on TUESDAY. Perhaps you see a correlation between the dates? What's changing and shifting now as it moves forward? What new discoveries, information, and lost items and memories are now coming into the light? Jupiter in Scorpio shines a spotlight on our shadows.
Jupiter is also known to open up horizons, to correlate with new opportunities for expansion and success, and fill up our gas tank with meaning, faith, confidence, and hope. Jupiter is a glass-half-full (at least), rather than a glass-half-empty type of planet.
(I have a Saturn – Jupiter square in my natal chart so I tend to fluctuate between a half-empty vs. half-full perspective – full respect to my half-empties out there!)
Jupiter's pivot in Scorpio's waters may increase the size of the emotional waves temporarily, but having such a benefic planet turn direct while so many of the planets are retrograde, should be a good thing! It's time to begin integrating what we've learned and discovered throughout Jupiter's journey.
The third major cosmic story this week is the Solar Eclipse in Cancer, which I've decided to post about later this week because it demands more time than I can give it now!
In the mean time you can check out what I wrote about the upcoming eclipse in my  Eclipse Season Schedule of Events.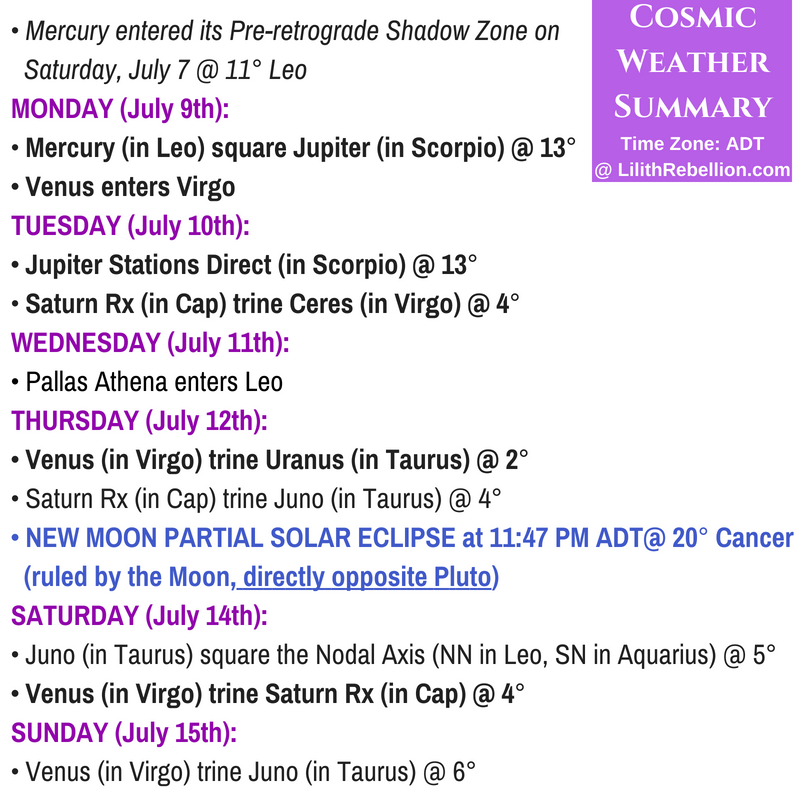 Pssst… for additional and more frequent cosmic weather updates, follow Lilith Rebellion on Instagram and Facebook. To receive a weekly cosmic weather overview by email, subscribe to Lilith Rebellion email updates. The week's cosmic weather forecast will be published on the blog every Monday, with periodic additional posts to mark important cosmic events. To request an astrology consultation with me, check out my list of services.