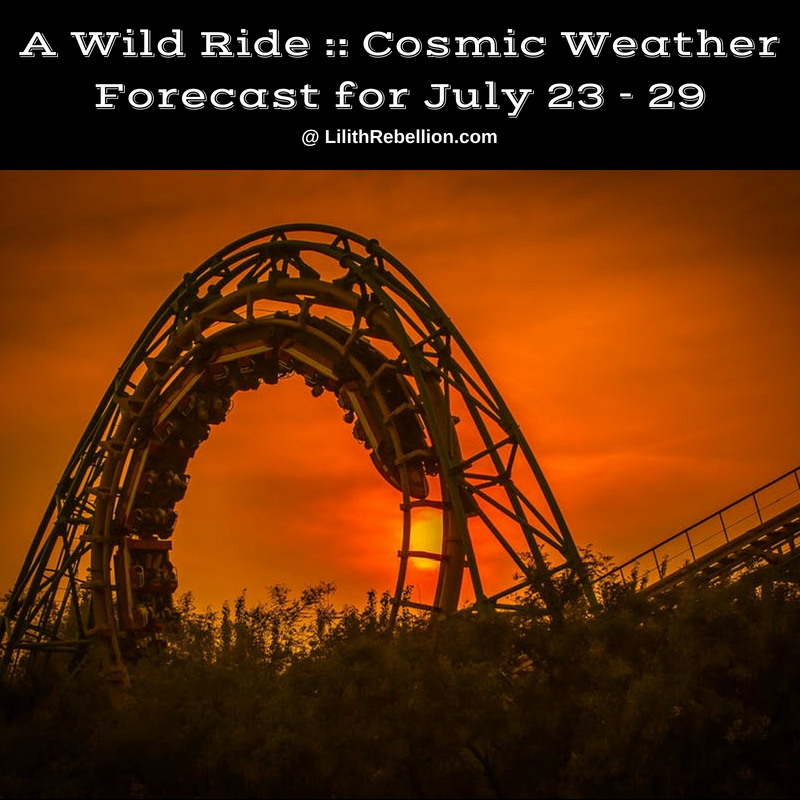 Clearly, the dominant story for this week is FRIDAY's Total Lunar Eclipse and its complex configurations and associated ripples (including Mercury stationing retrograde the day before, early on THURSDAY). However, there is also a Venus story playing out this week that I'll address first.
As I write, we are swimming in a Venus-Neptune opposition.
Venus in Virgo wants the nitty gritty details of the situation to delineate where the edges are, and what needs precise repairs and improvements. Venus in Virgo values the purity of simplistic minimalism and efficient organization. Venus in Virgo strives to bring careful discernment and thoughtful care to relationship and financial matters, as well as the cultivation of pleasure and beauty in our lives.
And yet when Venus in Virgo encounters Neptune via a hard opposition, those carefully delineated edges, boundaries and realistic limits, dissolve. It can be a perfect time to curl up with a fantasy novel on the beach, release some stifling inhibitions, or lose a sense of time while having a compassionate heart to heart with a good friend or lover.
And yet, without a sense of limits, we can overdo our escapist pleasure seeking. With Virgo's discernment all muddled, we may choose fantasy (or gossip) over reality, to our detriment, as we long for love, intrigue, and our ideal life. Or perhaps we run the risk of compromising or sacrificing too much, in a way that undermines our sense of worth. Relationship and financial matters may be subjected to some confusion and uncertainty… e.g. "Do they like me, do they not? What does that comment really meeeaaan? Why are they (or why am I) being so vague and elusive? Or whoops, I thought I had enough in my bank account to purchase that…"
Venus very quickly, however, slips from Neptune's embrace, into Pluto's cave via a trine that perfects on FRIDAY (the day of the Lunar Eclipse). While we may still be in a state of questioning and investigating to dig out the "real meaning" and the answers we are looking for, we may acquire the insight and depth of perception we lacked earlier in the week. Sometimes we really just don't want to see or accept what is so blatantly obvious, you know? As Venus trines Pluto, we can see more clearly now into the shadows, and we have access to the energy to transform all things Venusian.
Mercury, as I'm sure you've heard, begins its second retrograde period of 2018, in Leo (23 degrees -> 11 degrees) this THURSDAY (or late Wednesday for many of you), stationing direct on August 19th. Mercury usually retrogrades three times per year for ~3 weeks at a time. Do that prep work (back up technology, double check the details, clarify repeatedly) and then open up to what this retrograde wants to reveal to you about how you connect to your heart, how you express your passion, and how you work with the spotlight and public attention.
Mercury will make repeated squares to Jupiter in Scorpio throughout the next month because of its Rx cycle – really stretching and expanding the depth of our creative expression, as well as reminding us of how our ego needs and defenses interfere with our communications.
Okay… now the eclipse. The Venus and Mercury story really just feel like side plots this week, playing into the unfolding eclipse extravaganza.
We are buckled in (hopefully) for a wild ride.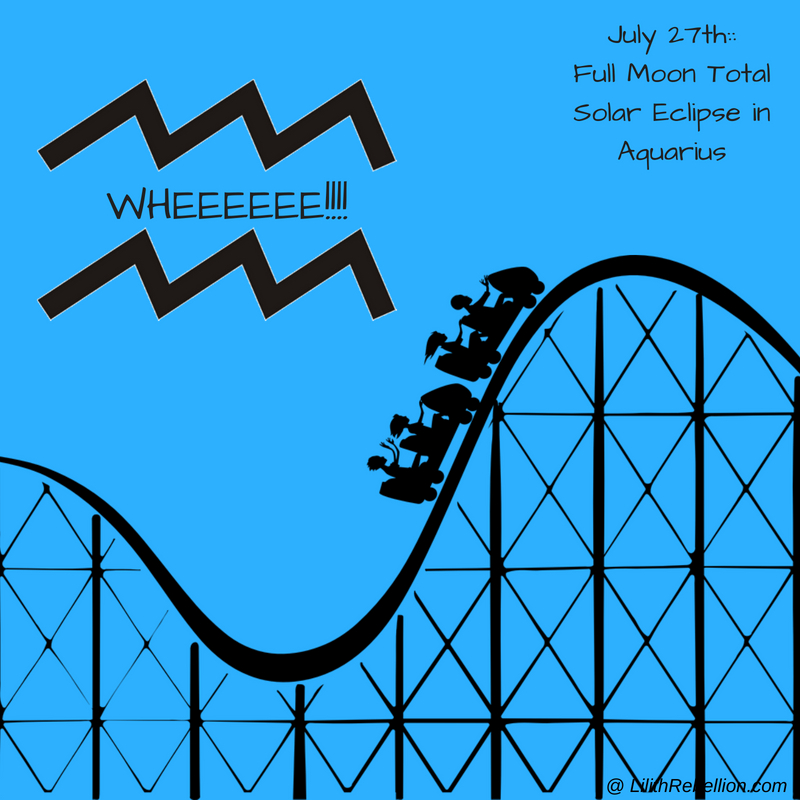 If you haven't yet checked out my complete guide to Eclipse Season (summer 2018), you can read it here.
There are a number of different aspect configurations related this Full Moon Lunar Eclipse in Aquarius that perfect between ~ July 25th ~ August 1st. I don't really want to try to separate and compartmentalize them too much, however, because realistically astrology doesn't work like that – especially when there are a number of transits that are so clearly tied into the same cosmic story. The transits all overlap and interact with each other, and we can still experience a transit expression with a wide orb (i.e. even when an aspect, like a square or an opposition, is not "exact").
So consider the lunar eclipse peak-time to be in effect beginning… now, pretty much 🙂
Mars, as you likely know, is retrograde for the summer. This Full Moon (Total) Lunar Eclipse (often called a blood moon by the media) lands right next to Mars, around the middle of its retrograde journey, thus amplifying Mars' message in a major way.
With Mercury stationing retrograde at the same time and the Lunar Eclipse squaring Uranus in Taurus, pausing before we react would be well-advised! It's a little volatile, to be honest. And yet… if you've been yearning for a major break-through and a leap toward freedom, perhaps this Lunar Eclipse is for you.
The 'easier' aspects to Chiron, the wounded healer, in Mars' sign of Aries, is a hopeful signifier. It indicates that in the midst of this cosmic chaos, as Mars hits the midpoint of its retrograde, there is potential for healing, for mutual support, for acceptance, and for personal development – related to the way we work with our anger, our independence, our willpower and capacity for action, our self-assertion and courage.
The Sun's exact conjunction to the North Node on SATURDAY, may catapult us into a new opportunity that helps us grow and develop our special giftings and passions.
And yet the rest of it… it's pretty raw and agitated stuff. Be safe folks; remember we all move beneath the same skies and we don't know how others are working with such impulsive, aggressive, intense, pressurized, emotionally reactive energy.
Here's where I sometimes feel conflicted with intense astro… you will hear a lot of cautioning from astrologers to be safe, to minimize conflict, to not overreact… which is good advice, and I'm doling this out as well. Our impulsiveness at this time could easily contribute to an unwanted domino effect or the burning of bridges that we may later regret.
And yet… to work well with the astro means to lean into the unique opportunities it presents, rather than resisting and hiding from it.
For example, this eclipse and the days surrounding it, isn't really well suited to a luxurious, chilled-out vacay. Perhaps a direct confrontation and expression of anger is understandably required at this moment. What about water skiing and sky diving? Well yes, that seems more appropriately aligned… but then, are those more risky activities the best idea under such accident-prone skies?
You see what I mean?
My best advice is that the pressurized, agitated energy does need an outlet, but with preparation you can achieve that with intentionality, self-awareness, and prudent precautions, rather than actions propelled entirely by rash emotional impulsiveness and egotistical pride and defiance.
Maybe this means sweating buckets in a high-intensity aerobics class. Maybe it means finding the courage to face your fears and make a big change in your life that is long overdue. Or maybe it means hitting the streets to protest the systems of oppression that are facilitating society's deterioration into increased violence and hate.
This eclipse wants freedom. It wants liberation. It wants a break through. This eclipse symbolizes pent-up frustration that wants immediate relief.
We can work with what is arising in the moment, in our bodies and minds, while also responding strategically to the catalyst component of eclipses, which can set in motion long-term shifts.
Stay flexible. Stay on your toes. Stay fiercely centered.
With Mars, Uranus, and Aquarius involved in the heated dynamics of eclipse season, the strange, weird, wild, bizarre, exciting and surprising, are at full throttle.
Plus, we still have a bunch of planets retrograde (including Mercury very shortly), and eclipse season is only halfway through. It's a tricky thing… because the astro wants movement and change on one hand, but it also suggests that action may be more effectively and wisely directed after August is behind us. In light of the astro still ahead of us, there may be a number of twists and turns and reversals involved.
Take heed that you don't burn the bridges you'll need tomorrow, but do use this energy to burn the bridges that have been in such a state of decay for so long, that they are no longer safe to be walked upon.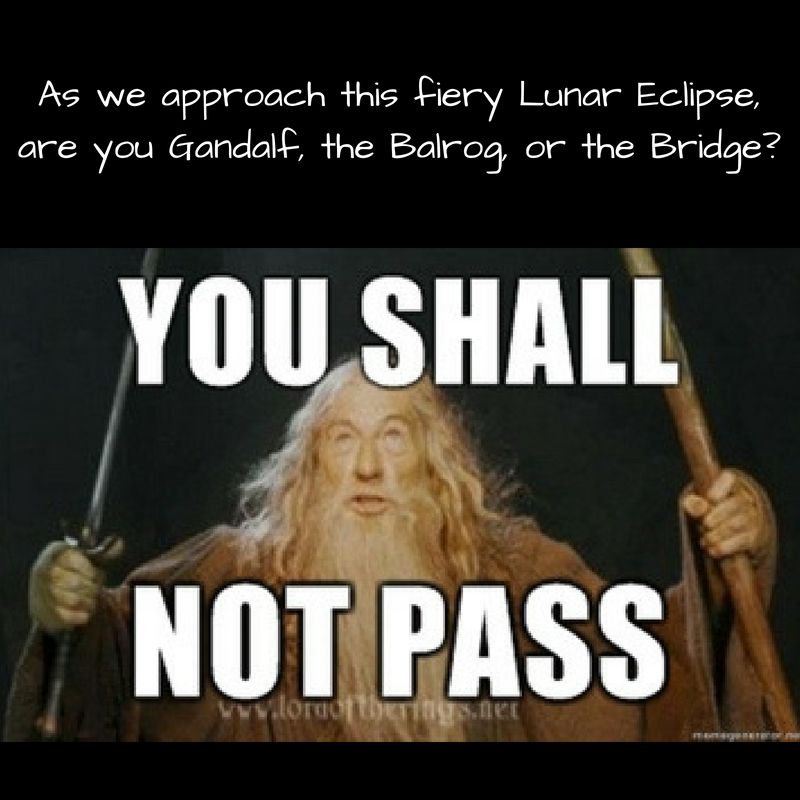 Oh, and drink water. Wear sun screen.  Get your sleep. Support each other with basic self care when necessary. Don't underestimate the benefits of addressing your body's essentials as we are shrouded in the steamy, bleary-eyed heat and drama of Leo Season. ❤
Pssst… for additional and more frequent cosmic weather updates, follow Lilith Rebellion on Instagram and Facebook. To receive a weekly cosmic weather overview by email, subscribe to Lilith Rebellion email updates. The week's cosmic weather forecast will be published on the blog every Monday, with periodic additional posts to mark important cosmic events. To request an astrology consultation with me, check out my list of services.