You're special. Shine like the star you are.
Sometimes Leo Season sentiments sound cheesy and cliche,  and echo of statements from kindergarten where every scribbled drawing got awed at, and being king or queen of the playground was a coveted position. As we grew older expressions like "you're…. special" acquired somewhat of a derogatory connotation.
But you are special! As in: uniquely different from the rest of humanity in so many beautiful, remarkable ways. Everyone is. The more we truly, deeply believe this, the less we need to prove our special value by trying to act superior to others.
It's Leo Season, the sign ruled by the Sun, and we have the third and final eclipse of this Eclipse Season occurring in Leo on SATURDAY, August 11th. The Sun's transits to Jupiter, Mercury, Pallas Athena, and Pluto, hold throughout the week and become part of the expression of SATURDAY's Solar Eclipse.
There's a pile of other transits throughout the week as well, that I've organized into a few cosmic stories: the eclipse story, a Venus story, the Uranus in Taurus story, and the Mars retrograde story.
The Sun in Leo squares Jupiter in Scorpio on MONDAY, expanding some area of our life to new levels of magnitude. Something is growing, getting bigger, acquiring additions, making progress… perhaps dramatically so. Maybe it's our egos (e.g. Sun in Leo), our ideas, or maybe its a volleyball game on the beach that began with two people tossing a ball back and forth and very quickly expanded to full teams of jovial strangers and a crowd cheering them on.
For example, for me the Sun is transiting my 12th house today/Monday (where the separate individual dissolves into infinite space, our interconnectedness, spiritual transcendence) squaring Jupiter in my 3rd house (learning, reading, writing, siblings). Today I went down some major, ever-expanding internet rabbit holes researching (and being completely awed by) the mystery and complexity of the universe, the nature of galaxies, the size of our sun and solar system embedded in the infinite, mind-blowing expanse of the ever generative and changing outer space — in order to write this blog post.
Furthermore, Jupiter is currently within a few degrees of my 4th house cusp (e.g. home, family), and I found out this Monday night that some other family members (including a sibling) would be moving in for a while (i.e. expansion within the home) .
Rather unusually, at the exact same moment as the Sun-Jupiter square perfects on MONDAY, Venus enters Libra, a sign she is immensely comfortable in. A sign of grace, beauty, charm, and delicate diplomacy. This synchronistic alignment bodes well for some socializing tonight.
However, we currently have a bunch of challenging cosmic bodies (Mars, Chiron, Saturn, Uranus) at the very early degrees of four different zodiac signs (btw, how's it going for y'all with a natal focus on the early degrees??).  This means when a fast moving personal planet like Venus enters a new sign, they will potentially make contact with all of these potent characters within a short span of time. Libra's balance may be thrown off this week, particularly in the house holding 0-5 degrees Libra in your birth chart.
On TUESDAY, Uranus joins the retrograde crew with a pivot at 2 degrees Taurus. Uranus entered Taurus on May 15th, 2018, which was a big deal because Uranus spends about 7 years in each zodiac sign. For those of you with planets or points in early Taurus, I'm sure you felt these rumbles. And now, for you especially, Uranus' retrograde pivot may further stir up some of that change-making cosmic dust.
For all of us though regardless, it's a time to take stock of what has unfolded in our lives since May 2018. How can we further adjust our sails to catch that every shifting breeze and be carried along the radical currents of collective liberation and unique individual expression? Has life been moving so fast that perhaps we've overlooked something or gotten our boat snagged by cloying seaweed? Now is the time to look deeper at that Taurean-ruled house of your chart (or where the early degrees of Taurus lie).
Venus' air trine to Mars Rx occurs on TUESDAY. If we've been working well with our Mars Retrograde maybe we can utilize this trine effectively as action and drive meet with values, desire, and capacity for connection. Otherwise, if Mars' Retrograde is still proving troublesome, stirring up some old issues, buried anger, and fatigue, we may have the intention to act, but lack the follow-through. It's a great aspect for social connecting, brainstorming, and strategizing, if you feel so inclined.
And yet even as the supportive trine perfects, so too, does Venus' more challenging opposition to Chiron (exact on WEDNESDAY), activating some hurts related to relationships, boundaries, and self-worth. Perhaps don't retreat from supportive social engagement because of insecurities, but assert yourself and your boundaries when you need to.
To those whom you value, tell them you appreciate them today – they may need it.
The Sun fuses with Mercury Rx for its inferior conjunction on WEDNESDAY (marking the half-way point of its retrograde journey), permitting clear communication and insight – especially as pertaining to important agreements and commitments (they square Juno as they conjoin). If the Venus-Chiron is bringing a relational wound to the surface, you likely have the tools in order to address it today.
Pallas Athena hovers beside these two, lending her sharp perception to all thinking, prepping, creative strategizing tasks at hand. If Mercury's retrograde has messed with any communicative, travel-related or detail-oriented work in your life, now's a good time to get it sorted out.
Since this Sun-Mercury conjunction occurs as we are late in the lunation cycle, beneath a balsamic moon and darkened night sky, reflective journaling could also be good medicine for the day.
THURSDAY ushers Venus toward a jolt from Uranus in Taurus via a quincunx, who stirs up some restless desire for the new, the radical, and the freeing without necessarily having a game plan for it… as well as a sturdy, cold square with Saturn that's been building since the beginning of the week.
Venus is strong in Libra, however, and perhaps a bit of constructive pressure from Saturn will prompt us toward finalizing an important relational or creative commitment, or accepting addition work, focus and responsibility in these areas. There could also be a measure of Saturnian separation such as: it feels like friends (or a partner) are distancing themselves from you, which is creating heightened loneliness…. or the symbolism of separation expresses itself as you hand in a final project, thereby completing your summer art course.
Whatever it may be, find that secure foundation you can rely on as you step forward. And yet with the quincunx to Uranus at the same time, don't let the serious nature of the Saturn square restrain your spontaneity too much…
Finally SATURDAY delivers that New Moon Partial Solar Eclipse we've been waiting for. While perhaps not as dramatic as the other two eclipses this season, it is an excellent time to reflect on how you've been developing the best of Leo in your life, with consideration of its house placement if you know your chart.
The North Node (a point in the sky that prompts personal growth) has been transiting Leo since May 9th, 2017, causing eclipses to occur in this area of your chart. Eclipses are like surges of energy, highlighting the Nodal growth that seeks wise direction and expression in your life.
The Nodal axis will leave Leo and Aquarius this November 2018. We have one more eclipse on this axis (a Leo Lunar Eclipse on January 31st, 2019), but this is the last Leo eclipse that occurs while the North Node is in Leo. And it's a New Moon, symbolizing a new beginning. Plant some seeds, root some intentions, for your glorious creative blossoming.
How has Leo-ness been positively lighting up in your life since ~May 9th, 2017, or even as far back as February 2017 when we had our first eclipse on the Leo-Aquarius series (e.g. traits of creative self-expression, passion projects, following your heart, self-confidence, the courage to have your unique true self be seen and heard by others, bold loving and connecting, generous encouragement of others)?
What has been refueling you with joy, exuberance, and a desire to engage with life?
What finishing touches do you want to put on your developing creative and passion-led endeavours?
These are some questions to think about as we head into SATURDAY's eclipse.
I've amended this previous diagram to include a quincunx to Neptune. It's a bit wide for a minor aspect, but together with Pluto, these outer planets form a Yod pattern with the eclipse as its apex, or as 'the finger of god' as it is sometimes called. I interpret this as indicative that while it may be all too easy to place a surface level focus on one's individual creative/personal projects and expressions of self, Pluto and Neptune ask for a deeper and more thoughtful, soulful, engagement with our creative potentials.
Don't activate those creative potentials solely for attention or external validation; manifest them in service of your inner fulfillment and in response to the needs of the broader collective that awaits the creative match you will light.
With the square to Jupiter still holding, with Mercury Rx and Pallas Athena nearby, there's plenty of reflective, thoughtful insight to draw from as you press into greater, deeper, freedom, growth and expansion.
Leo is often accused of narcissism, inflated egos, and dramatically always stealing center stage – but is that expression really reflective of someone's confidence in themselves? Not usually.
There are 2 directions people tend to lean toward when they are feeling insecurity and uncertain of themselves. They either a) hide, retreat and withdraw, and/or b) they overcompensate (especially when Jupiter is involved as it is with this eclipse). To overcompensate is to react against feelings of insecurity by claiming more space than others, by being the loudest in the room, by acting superior to everyone else, by creating a fake image, by being an extreme perfectionist.
The human ego can be pretty fragile and its likely we've all had experiences with both hiding our unique selves and giftings, and trying to overcompensate to defend or prove their value.
As the North Node finishes up its transits through the sign of the lion and we launch another lunation cycle with this Solar Eclipse, cultivate a secure inner center and self-acceptance. Leo's invitation to have our authentic selves and creative self-expression be seen and heard, can be a daunting, vulnerable one for many.
I get it. I'm a Leo rising with a large heaping spoonful of social anxiety who never shows her face on here. I'm wishing you all, and myself, some fierce inner strength and lion-like courage this season 🙂
With Mars backing up out of Aquarius and into Capricorn on SUNDAY, inner strength may arrive just in time. Mars was in Capricorn from March 17th to May 16th when it entered Aquarius… turning retrograde on June 26th at 9 degrees Aquarius. What is being reviewed, restructured, reassessed, prepared, in these areas of your birth chart, or what do you notice aligning with these dates? You may see themes of March 17th – May 16th resurfacing as Mars moves back into Capricorn.
Mars is still retrograde (until August 27th), but Mars is quite strong and powerful in Capricorn where it can channel its fiery ambition and drive through Capricorn's traits of patient determination, self-discipline and strategic action.
Venus in Libra pings the Leo North Node via a sextile on SUNDAY,  sending us on our way toward our unfolding potential, with her blessing.
I'll leave you with this series of Leo inspiration: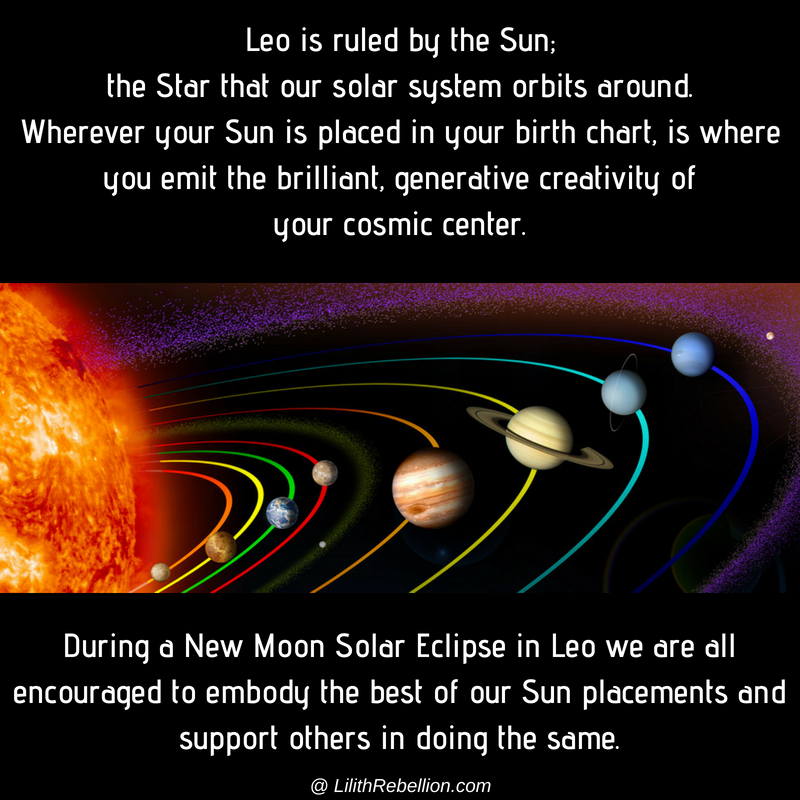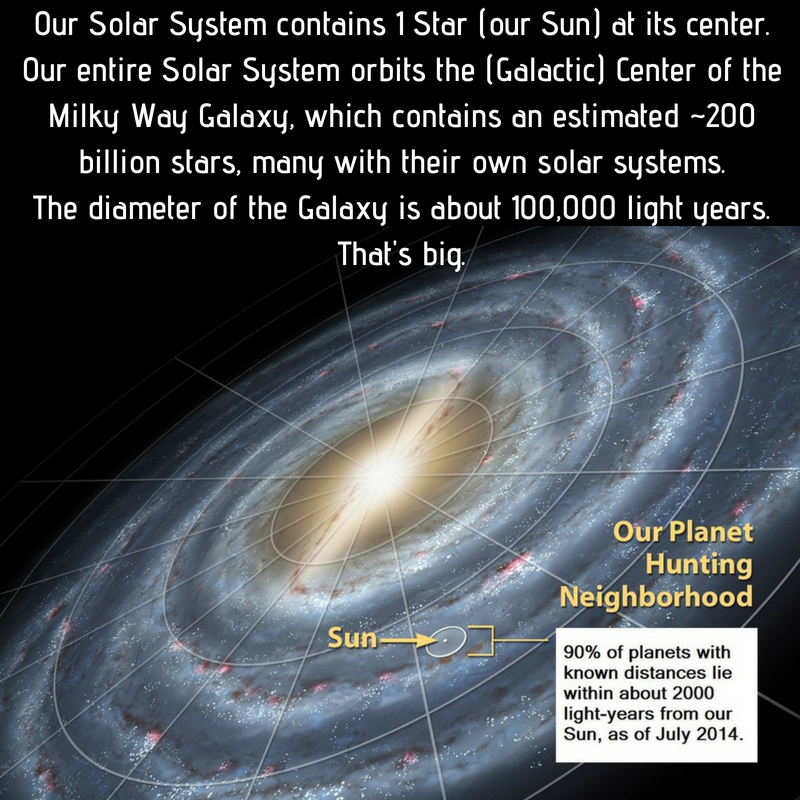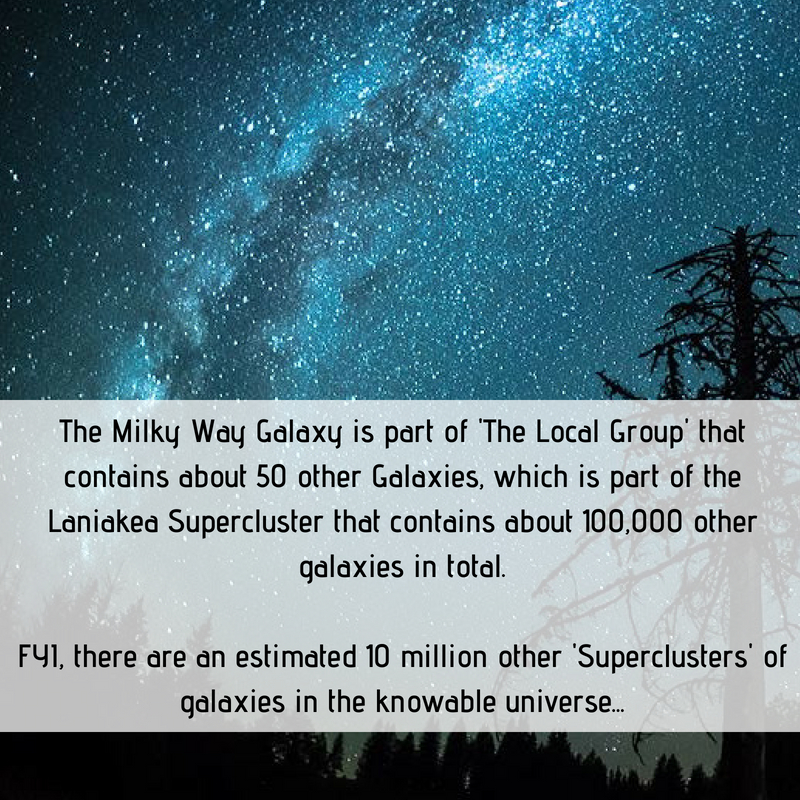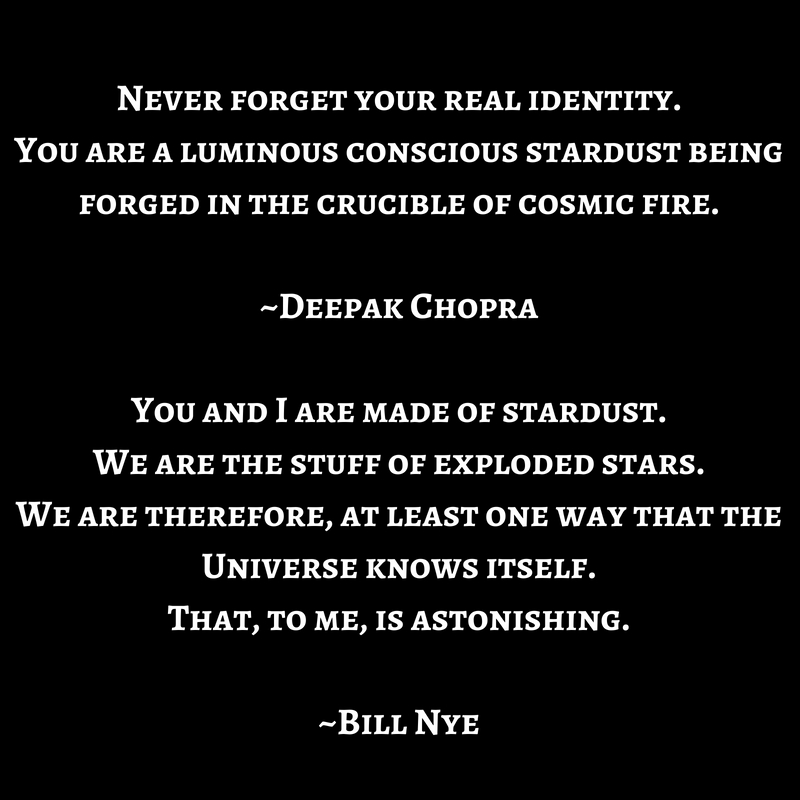 For more cool information about stars, check out the amazing Wait but Why blog!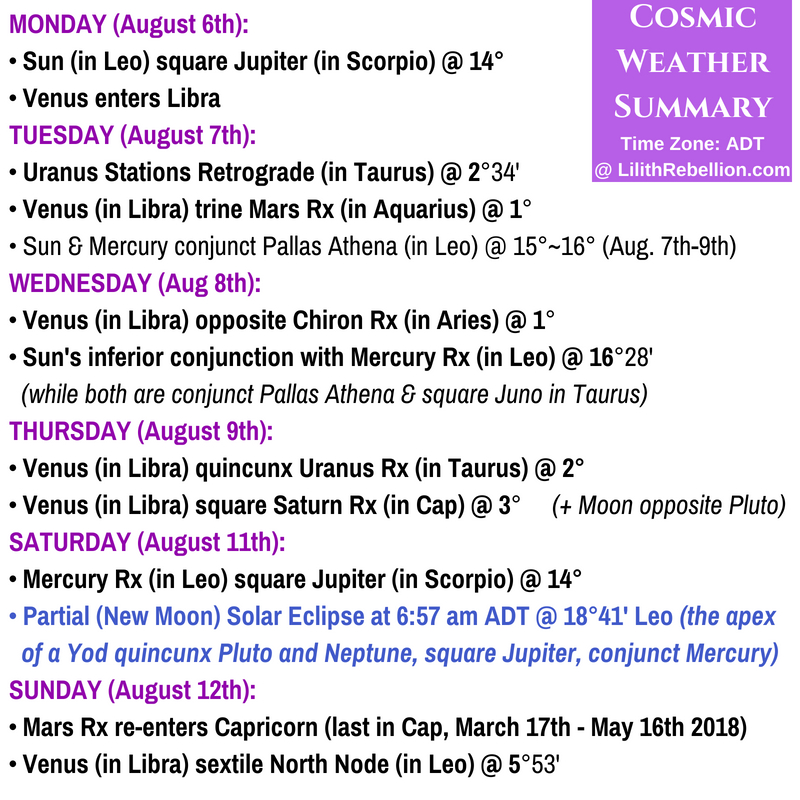 Pssst… for additional and more frequent cosmic weather updates, follow Lilith Rebellion on Instagram and Facebook. To receive a weekly cosmic weather overview by email, subscribe to Lilith Rebellion email updates. The week's cosmic weather forecast will be published on the blog every Monday, with periodic additional posts to mark important cosmic events. To request an astrology consultation with me, check out my list of services.