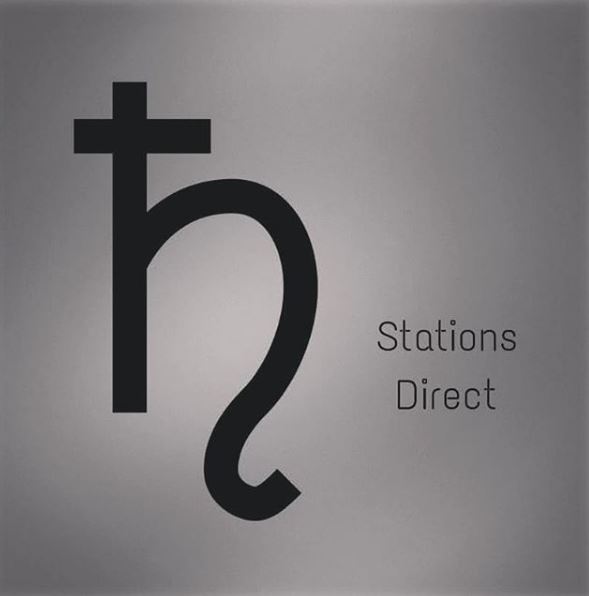 Saturn stationed direct Thursday morning (September 6th) after being retrograde since April 17th.
Saturn is about connecting with our inner authority, our deepest purpose, and living out our personal mission with integrity and determination in a difficult decaying impermanent world of time and space. Saturn is about building our most important life projects in a way that will leave a supportive legacy for those who follow.
Saturn honours commitment, perseverance and hard work – the "how"… we are going to get to our goal. But Saturn also requires us to become intimately, authentically acquainted with the "what", the "why", and the "when".
When Saturn is retrograde its significations are more inwardly directed through less tangible reflection, revision and preparation. When it turns direct we are ready to make these plans externally tangible and concrete with whatever big decisions, self-discipline and determination they require.
Saturn is now digging in deep, as it turns its wheel, into early Capricorn, where it was back in January 2018.
What major Saturn in Capricorn project did you begin building (or situation you began working through) at the beginning of the year… which hit some road blocks or speed bumps beginning mid-April and throughout the summer… that now may be picking up steam again in a newly revised, wiser, authentic and more efficient way?
Saturn often appears in our lives with a measure of self-doubt and trepidation/fear (understandably so since it carries such heavy existential life questions and themes), but one thing I am REALLY looking forward to with Saturn stationing direct, is (hopefully) a little less self-doubt and second-guessing, and more capacity to dive into what resonates and do the necessary work to make it happen.
When Mars stationed direct, I mentioned you may have been immediately met with some urgent action you needed to take. When Saturn stations direct, you may be met with an overwhelming amount of work that you have to do in the months to come.
Station points can be disruptive (and sometimes discouraging with Saturn involved), but they can also be quite positive. We may finally experience some clarity and "forward movement" in the area Saturn is transiting in our charts. With Saturn and Mars now direct in Capricorn and Pluto about to turn direct in the sign of the goat at the end of the month, the Capricorn area of our chart is getting a lot of action these days.
A Saturn Direct Example:
Someone in my life has been living in Europe for a year where she wants to put down roots. Saturn just stationed direct in her 4th house of home, roots, family.
Because of some factors in her situation, the visa process and administrative red tape has been a bit of a headache thus far (she had an exact Mercury-Saturn conjunction in the 4th house of home in her solar return chart for the year).
She is now awaiting her appointment mid-September, which will determine whether or not the visa will be renewed.
So in this case there are still heavy, Saturnian, consequential events up ahead that will require patience and appropriate preparation. However, as Saturn turned direct she went out and bought a bed (to replace the floor futon she has been sleeping on for a year), and then Thursday morning her sweet roommate surprised her with a present of a plant and card that invited her "to live here permanently… you've got a plant now, so you have to stay!"
After 12 unsettled months of short sublets and unpredictable living situations, this was a much appreciated gift and offer that made her feel "at home".
She doesn't yet have the visa guarantee, but Saturn direct arrived with a taste of permanency and some 4th house sense of security and stability in the home domain. Without being aware of the astro, she said this symbolically felt like some "forward movement".
Saturn wants investment (like a bed), commitment, and permanency – tangible signs that you're in for the long haul… providing you are aligned with the "what", "why" and "when" (i.e. what is it that you truly want? Why do you want it – what are the motivations behind your desires and are they honourable and authentic? And when is the timing right to go for it?).
If you are not aligned with the what, why and when, you may encounter a closed door, a separation, or a boundary or limit of some sort. If you do, just remember that every Saturnian "no" holds a "yes". A door closes so another may open.
I think she is aligned. The city she's chosen has always felt like home for her since the first day she visited. She'll harness all resources to make sure she can stay.
Someone else in my life is having their Saturn Return (a ~2.5 year period that happens about every 29 years), and Saturn just stationed direct in their 2nd house (finances, assets, ownership) on Uranus, with Capricorn on the cusp of their 3rd house (communication).
They own their own business (a 2nd house asset) and on Thursday they had several major meetings (3rd house). They reconnected with key clients they hadn't talked with since the spring, in order to discuss some really big upcoming events (with a high 2nd house price tag), and to plan for the future (Saturn likes long-term planning and prep). There were a number of misunderstandings or miscommunications that were sorted out.
In particular, they got confirmation that one of their collaborators they had contracted had circumvented them with private emails to the client. They had been suspicious of this all summer, but had been uncertain of to what extent this was occurring and if they should intervene or not.
As serious Saturn (rules, consequences, ethics, authority) stationed direct, this came to light (Saturn conjunct Uranus) and they realized they would need to have a direct conversation (3rd house) about this later on Thursday. It likely was not intentional or malicious, but the individual had undermined their authority and the way their company is set up. Saturn direct may bring us serious stuff to address.
Pause for a moment today. Make a plan. Check in with your what, why, when, and how – and then proceed. With confidence, with determination, with integrity and ethical authority, and with a long-term game plan.
Special Saturn Direct Day to all you Saturn-Returners out there 🙂
---
It is mid-afternoon on Saturday, September 8th, as I write this… and I have no idea where the time went. I woke up early… but I'm not sure what happened in the past 7 hours since I've been up?
We are currently working with a Sun-Neptune opposition and a dark, dying balsamic moon, so that sounds about right. Time is weightless. We are swimming in mystical waters at the end of a lunar cycle that began with a solar eclipse at 18 degrees of Leo on August 11th.
Thus far, my mom has been the most "productive" among the people in my life today because she made headway on the boat she is building with a friend – remember what I said about this weekend's practical earthyness + Neptune vibes? …"Don't drown in the waves or watch them helplessly; work with Neptune and this well-supported New Moon by building a structure that welcomes the water and invites it – like a bridge, a boat, or a moat."
… I didn't mean that literally, but maybe a literal interpretation of that will take you far? Incorporating water/ water themes (one of the more tangible representations of Neptune's symbolism) in a practical way this weekend, could facilitate your endeavors. Staying hydrated could be a good start.
I started drafting this post for the Pisces Full Moon at the end of August, but I encountered some challenges with sharing it with you all so I'm posting it now, in honour of the weekend's Sun-Neptune opposition which highlights some of the same dynamics.
My lunar return chart for August had a 12th house emphasis, which is commonly associated with Piscean themes.
"How would that express itself over the next 27 days?" I wondered, as the lunar return chart activated.
A week or so later some family friends invited me up to their secluded farm property on the ocean for a few days. They were overseeing renovations to the old farm house where one of them spent their childhood.
In the last few years it has been rare for me to spend much time away from my home base and I find it difficult to give myself permission for relaxing escapes, in light of my current circumstances. However, after some consideration and their repeated persistence, I agreed.
What began as a four day visit, became eight days, and then twelve. To be honest, because of the guilt and frustration I have been carrying lately, I probably would not have said yes if I had known it was going to be such a long time away from the responsibilities I felt obligated to attend to. But because I drove up in their car I had limited means of returning earlier and I willingly surrendered to the extended Piscean experience where linear time and practical duties faded into the infinite bliss of the ocean.
It's a place I have visited periodically in the summer with my family, since I was a child. It is a place seeped in memories – not only for myself, but for the couple as well.
The surrounding area is home to many who have long-standing generational ties to the land. Everyone seems to know each other. The familiarity and trust is so stable there that for years now, there has been an unsupervised vegetable stall in town where customers leave money in a jar for the farmers who collect it at the end of the day.
I accumulated a wealth of new stories during my stay; transmitted orally on every drive into town, and through every interaction with an inhabitant of the region. It was like discovering the layers and layers of emotional, relational and energetic connections that weave together the foundations of the place – perhaps even more durable than the old homesteads that still survive.
Being there is like landing like a fly in an intricate multifaceted web of time; every present-day movement causing slight reverberations throughout delicate strands of interlocking memories, and outward into strands of the future.
Time is weightless…eternal, magical, amorphous, infinite. And yet so often it feels so burdensome, so limiting, so cruel.
Time can feel heavier, more linear and tangible when we are moving through the earthy seasons. The Sun and Mercury are now traveling through Virgo, Saturn and Mars have both stationed direct in the sign of Capricorn, and as I write this on Saturday, the Moon in Virgo is currently crafting a grand earth trine with Uranus in Taurus and Saturn in Capricorn, soon to unite with the Sun for Sunday's New Moon.
So many earthy vibes. We may be more aware than ever of the moving hands on the clock; the tick-tock of each second cajoling us into a rapid, regimented march of to-do lists.
But then there's the Sun opposite Neptune in Pisces, and we are simultaneously being enticed into sweet timeless surrender.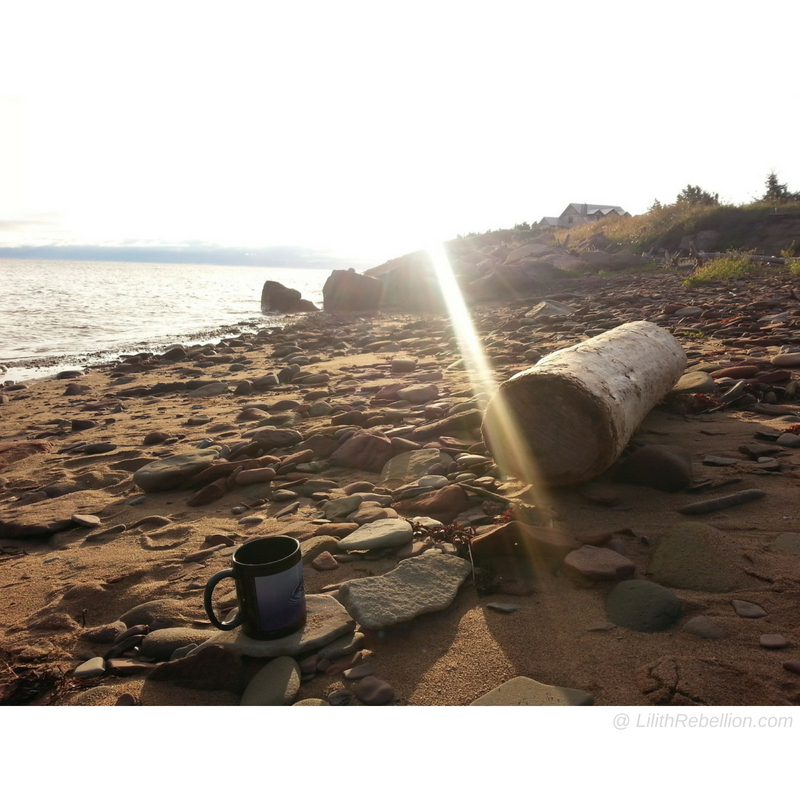 I've collected the best images and videos from my time away to share because together, I think this collage evokes the feelings of Sun opposite Neptune (or a Pisces Full Moon which is what I originally wrote this for) – with aromatic hints of late Leo season (the lunar cycle we are closing) and Virgoian harvest time.
As the renovations continued at the farm house, I retreated to a tiny little wooden shell of a cabin right on the coast.
Every morning I would get up at 6:30 am and walk down to "my office" as we called it, with a cup of coffee in hand, my backpack on my back, and the rising sun to my right. After a leisurely wade in the ocean at low tide, collecting sea glass and playing with hermit crabs, I'd then lay in the cabin's hammock staring out at the rippling sea of wildflowers while listening to the soft murmur of the waves on the beach. Then maybe there would be some journaling, some reading, some dancing…
The weather was sublime – the warmth of the summer still lingering while a fragrant breeze sent any remaining humidity on its way. In the evening I'd walk up to the farmhouse for supper with butterflies and birds announcing my presence as they took flight – flitting off to the left and right of me, shimmering with iridescent colours all the way up the path.
In the evening we'd line our chairs up with the fire pit at our backs to view the full splendor of a theatrical planetary presentation – Venus, Jupiter, Saturn, the Moon and Mars – all arching over the horizon from one end of the sky to the other; from the first house eastern ascendant to the seventh house western descendant.
I've never been able to see them all at once in the city – it was the first time I was able to easily locate Saturn!
Our meals relied heavily on fresh veggies and fruit either handpicked from their garden, or purchased from farmers in the area. One day we were invited out to someone's private wild blueberry field to handpick. So much blue abundance! An ocean of berries up in the mountains, farmed around the foundations of ancient cellars. We spent hours savouring the robust breeze on a steamy day, carefully massaging blueberries off their stems in patchwork fields.
Leo, Pisces, and Gemini I believe to be the most "child-like" signs of the zodiac, meaning that their undiluted essence expresses the innocent wonder, curiosity, playful silliness, enthusiasm and exuberance of youth. This triad is strong in my natal chart (Leo rising, Pisces Sun, Gemini Moon). Therefore, one of the ways I know I'm closest to my innate essence is when I'm acting like an excited, silly, giddy 10 year old.
I've heard that I was impossible to walk with as a child because I was always stopping to examine every flower and rock, and oohing and awing at everything with wonder and curiosity. It was nice to embody that part of me again. It was nice to really feel alive again.
My time touched deep on a persistent soul ache for freedom. It's Neptune's siren call, to be free of all the cumbersome earthly business and evade gravity like 10-year olds, peering blissfully up at the sun through half-closed eyes while floating on their backs in sea, cradled by the ocean like starfish.
To be free like the butterfly that I released with open hands that vibrated with the energy of her escape after I responded to her frantic pleas fluttering against the inside of the cabin window while the flowers swayed carefree on the other side of the glass.
I'm not someone who really expects or depends on sustained happiness or pleasure in life. My 8th house Pisces Sun and Saturn-Moon opposition has learned that this is too fleeting, often fake. If I can continue to sink my teeth into meaning and purpose, with enough fire in my bones to keep moving forward, than I will have accomplished the essentials in life to survive.
And yet… to have moments of such genuine happiness and pleasure again reminded me of the sweet abundance and healing balm that the earth and ocean offers, as well as the capacity of my human form to derive so much sacred pleasure from existing in the midst of such natural beauty. Life will not always offer such opportunities (and I acknowledge it is a privilege to have access to them at all), but the value of these moments should not be dismissed or underestimated.
Can I just live by the ocean forever? Writing, dancing, creating, nightly star-gazing, walking on the beach at low tide for hours? A Pisces dream?
My enormous student debt-load says otherwise – or at least, not yet. But as Mars retrograde slowed to a punctuated halt in my 6th house of daily environment, routine, responsibilities, and health (with Capricorn on the cusp), I thought long and hard about what I need in my day-to-day life to align as closely as possible with the type of freedom and vitality I re-experienced those 12 days – and how I could eventually get there. It seems worth making sacrifices for a deep sense of daily aliveness in this short life.
I thought many things during my time. I reflected a lot about transience and impermanence while I was there.  I thought of the time, the effort, the careful loving attention that had been invested into the historic property I was staying at. I thought about the fires raging in different parts of the world, devouring homes and livelihoods without discrimination – how quickly they were destroyed.
While I wrote a literature review about how we create a sense of belonging through connection to places with spatial, temporal, spiritual, and social dimensions… I thought about whether or not past experiences of embodied belonging can become resources to sustain times of exile when the literal attachment to place has eroded with time or become severed.
I thought about all the people I know who have suffered significant losses in their life where so much money, so many memories, so much physical capacity, so much time, so much emotional investment, lay abandoned or ravaged by some chaotic out-of-left-field event, or the slow deterioration of time.
I thought about how quickly my time by the ocean would disappear, and how precious the stored sensate memories would become.
Although I've never been, I thought about the Temples at the Burning Man Festival,which are so carefully and beautifully constructed, only to be intentionally burned to ash in the desert at the end of every August.
I thought about how perhaps, I will begin crafting an art project of some type each year, permitting myself to invest substantial time and emotion into it… and then burning it at a pre-designated date each year – repeatedly practicing releasing and dying, channeling grief, honouring bittersweet impermanence, strengthening an internal muscle that will be courageous enough and secure enough in the elasticity of its fibers to unclench the grip of attachment when the time comes, again and again.
How do we build, knowing everything solid will eventually dissolve? How do we stay with the noble, necessary work of creating, of crafting, of constructing the structures that will maximize our human capacity to survive and thrive in the future, while recognizing the future we dream of is never guaranteed? How do we make wise short-term compromises for long-term gain without ignoring our soul ache for freedom and without draining vitality and aliveness from our being?
How do we hold space in the present for genuine moments of pleasure, without constricting them with our fear of their all-too-soon demise? Can we find the courage to engage whole-heartedly with pleasure and happiness when it lands in our life? Can we find the courage to fully invest in our practical life-building tasks and responsibilities, honouring our time-anchored processes and routines, while holding desired outcomes with an open hand?
May you navigate these intersections with wisdom and grace this New Moon weekend as aspects to Pluto in Capricorn and Jupiter in Scorpio solemnly deepen our Virgoian rituals, crafting practical earthly vessels with Neptune's holy water.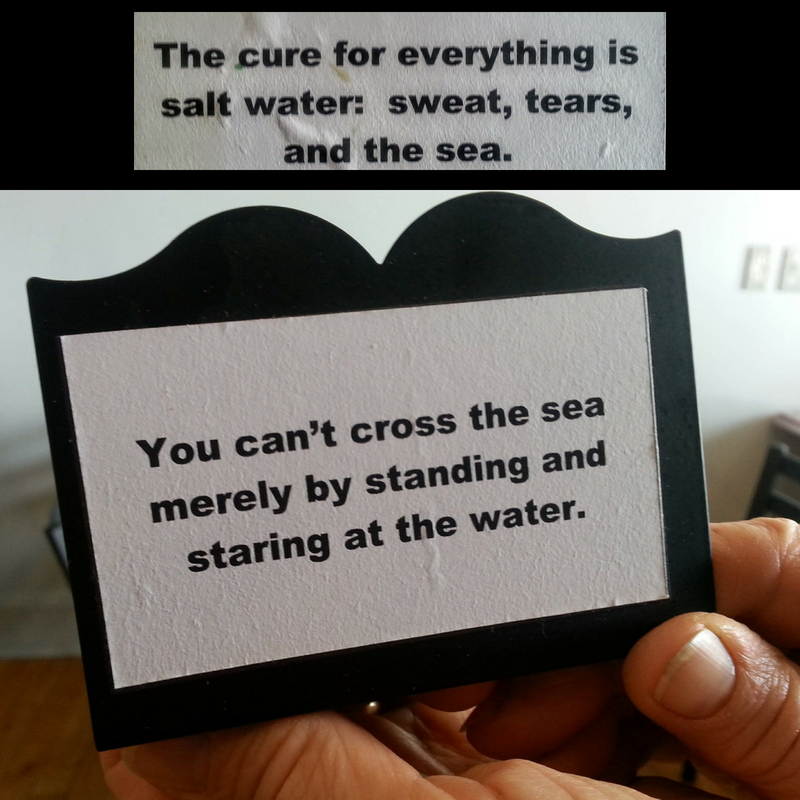 Pssst… for additional and more frequent cosmic weather updates, follow Lilith Rebellion on Instagram and Facebook. To receive a weekly cosmic weather overview by email, subscribe to Lilith Rebellion email updates. The week's cosmic weather forecast will be published on the blog every Monday, with periodic additional posts to mark important cosmic events. To request an astrology consultation with me, check out my list of services.