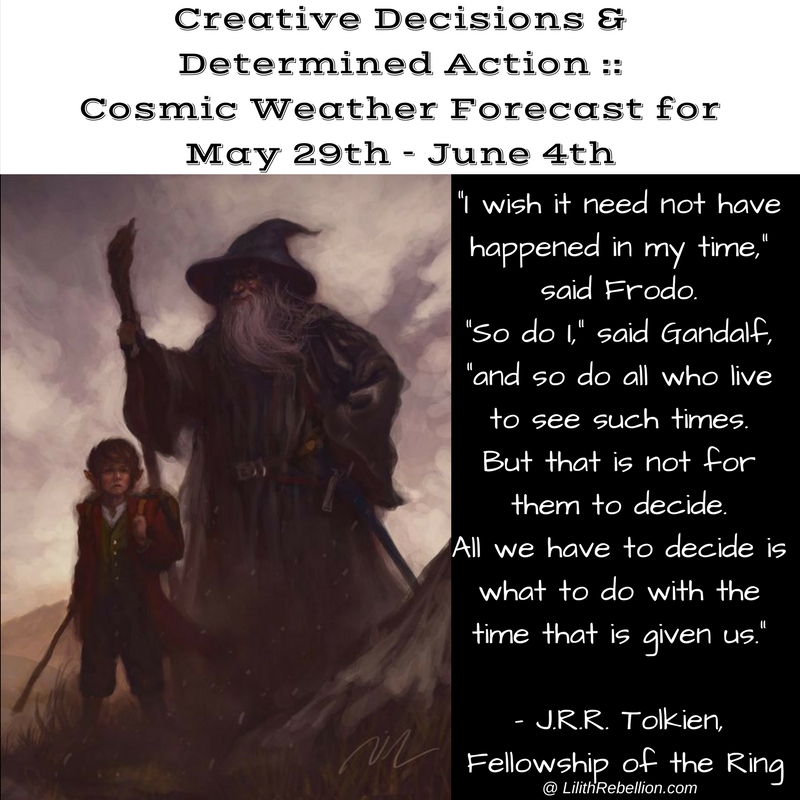 If last week, which cradled the New Moon in Gemini, was about opening up to multiple possibilities, this week's theme is about making (and fully committing to) critical decisions and acting on them.
Like Frodo in The Fellowship of the Rings, we are born into certain narratives, particular time/space circumstances, and are handed a set of predetermined factors. That is not to say that we do not have the free will to make choices and shape our life trajectories. I believe life is a mysterious alchemy between fate and freewill. Clearly there are some events and circumstances in life that we have no control over, and yet conversely in other areas of life we appear to be granted full autonomy over the movements of our life's steering wheel.
As the Saturn-Mars opposition perfects today, we are reminded of the limits on our freewill and our capacity to change our circumstances. Frustration is on high broil and patience is evading our grasp.
And yet as Mars sextiles Uranus tomorrow, we are presented with an opportunity to liberate ourselves from that which chains us to the past, or to our usual way of responding to challenges. On Tuesday we are invited to think (Mars in Gemini) outside the box (Uranus) to come up with creative solutions (Moon in Leo) to seemingly inflexible and oppressive challenges and circumstances – and then to act on these innovative ideas (Uranus in action-oriented Aries).
On Wednesday, Mercury, our thinking mind, forms a supportive trine to Pluto, the planet of transformation. This is a gentle encouragement that yes indeed, we can change tactics, identify new choices, and act on them. Our traditional patterns of behavior always hold the potential for transformation. The Moon moves into Virgo to help us figure out the details and plan ahead for what comes next.
On Thursday the Moon in Virgo squares the Sun in Gemini, presenting us with our First Quarter Moon challenge. Despite the tendency of these two zodiac signs to over-think and over-analyze problems, the square aspect propels us to truly commit to taking action, to following through on our decisions. At the same time Venus in Aries trines Saturn in Sagittarius, lending her kind support to our efforts to move forward in this new direction, and Mars (still in Gemini) sextiles the North Node in Leo asking you to trust that your new commitments and actions are carrying you forward toward your destiny.
On Friday, Mars squares Chiron in Pisces; forming a T-Square with Mars' separating opposition to Saturn. There may be some acute discomfort around this time. Making decisions and acting on these decisions in a world of seemingly linear time is not easy – as one path opens up, another must necessarily close. Today there may be a sense that it is too late to turn back. The jump into the unknown has been made, for better or worse. Ward off the second-guessing and insecurities because the cosmic weather on Saturday is spectacular.
On Saturday, Venus conjuncts Uranus in Aries, and soon afterward trines the North Node. In the realm of love, self-worth, art and money, there is the possibility for a beautiful (unexpected) breakthrough! You may be taken by surprise that the new direction you chose, that brave decision you made, is working out so wonderfully. Meanwhile the Sun in Gemini trines Jupiter in Libra, and Mars finishes up his work in Gemini as he passes through the critical 29° Anaretic degree. Themes of communication and new information are quite strong today. Your pleasant Venus-Uranus surprise may be related to learning something new, receiving significant news or valuable feedback.
Mars' journey through the final degree of Gemini lends an urgency to the day – perhaps something important must be communicated. If this feels stressful, don't overthink it – the Sun's trine to Jupiter grants success outcomes. On Saturday the Moon (our mood influencer) smiles on all these exciting developments. On Saturday the Moon moves through Libra, the sign of balance and harmony, forming a powerful conjunction with Jupiter and a confident trine with the Sun.
Finally on Sunday Mars enters Cancer and the Sun squares Neptune. There may be some emotional aftershocks in the wake of the past week. There may be a nervous urge to retreat and withdraw. Despite the glow of yesterday, the Sun square Neptune aspect may cast doubt on our choices and our newly defined direction in life. Will this fulfill me? Will this quench the yearning in my soul?
Time will tell. The story continues. A glorious Sagittarius Full Moon on June 9th is the next stop in this lunation cycle.
Image credit: Joel Lee/Wikipedia Commons
Pssst… for daily cosmic weather updates follow Lilith Rebellion on Instagram and Facebook. I often get daily posts up on these mediums before the weekly blog post is finalized. To receive a weekly cosmic weather overview by email, subscribe to Lilith Rebellion email updates. 
Click below to check out the Cosmic Forecast for the following days…
Continue reading "Creative Decisions & Determined Action :: Cosmic Weather Forecast for May 29th – June 4th"