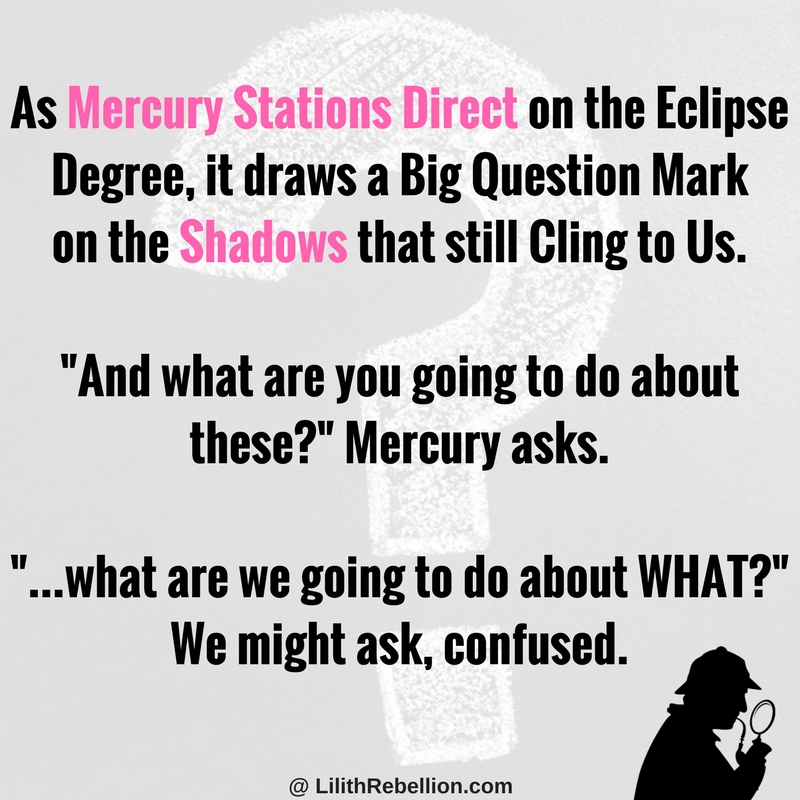 [Hi! Did you know that you could receive these posts conveniently in your inbox? To receive my posts by email, subscribe to Lilith Rebellion email updates]
Early this morning, three successive significant cosmic events occurred. The Sun in Virgo opposed Neptune in Pisces, Mars left Leo to enter Virgo, and Mercury has recently pivoted and turned Direct on the Eclipse Degree at 28 degrees Leo.
How are you feeling?
Take an inventory of what has transpired in your life between late July – the beginning of Eclipse Season and the beginning of Mercury's Pre-Retrograde Shadow period – and today; the end of Mercury's Retrograde and the end of an Eclipse Season which included a very potent Solar New Moon Total Eclipse in Leo on August 21st.
Take a moment to reflect on any changes or new developments that have occurred in the internal or external landscape of your life in the past month. Continue reading "Mercury Stations Direct :: Reflective Prompts for Mercury's Post-Retrograde Shadow Period"