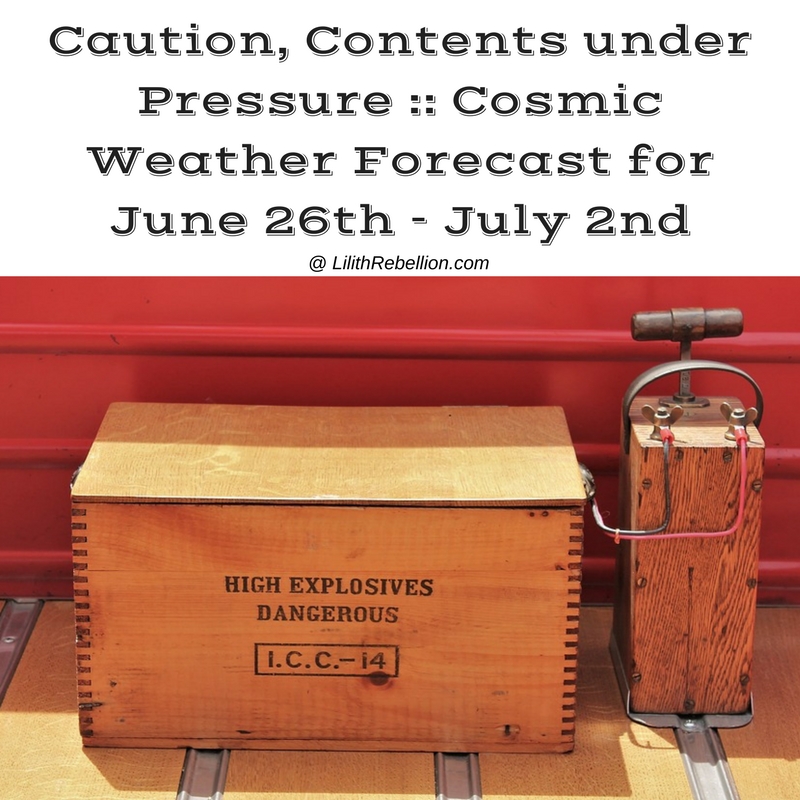 [Apologies to email subscribers for the late post! This week I ended up posting each forecast day-by-day through Instagram & Facebook. Hopefully this is still valuable for reflection on the past week 🙂 Stay posted for some announcements in the next couple days. I will be taking this week off from writing daily forecasts, but I hope to resume beginning in a week's time on July 10th with a more condensed version via email.]
We are fresh into this lunation cycle, only a few days past the New Moon in Cancer (last Friday), clear of the aggressive Mars – Jupiter square exact last Sunday, and yet the cosmic weather is rapidly continuing to heat up. Expect a building intensity leading up to the Full Moon peak on July 9th (ADT). Why? Because we have three very influential personal planets (Sun, Mercury, Mars) journeying the deeply emotional sign of Cancer, making successive oppositions to Pluto, who is across the way, on the other side of the zodiac, chillin' at ~18 degrees Capricorn. Pluto; the modern ruler of Scorpio, god of Hades, death, transformation, rebirth, ETC. All the super intense stuff in life.
180° oppositions can be very challenging aspects in astrology – it's as if the planets involved are having a full on confrontation, a conflict, a tug of war. This creates an enormous amount of tension, which must be wrestled with, integrated, balanced. However, tense aspects in astrology are also stimulants to growth. They are catalysts. They propel us forward. As we head toward the full moon, which will occur as the Sun comes into an exact opposition with Pluto, let's stretch. Out of our comfort zone. Our souls are hitting up the weights this lunation cycle for some strength training.
Family and commitment-related themes are running strong this week since Cancer and Capricorn are the traditional matriarchal and patriarchal figures of the zodiac. Cancer rules all that is related to your childhood, home, family – and your relationship with your mother figure (or nurturing caregiver) in particular. Maybe it's not family related though. Maybe there is something that comes up in relation to your roommates, your landlord, or your close-knit community.
Monday eases us into the deep waters with a Mars-Neptune trine which urges us to surrender to the process. Surrender to the journey. Pluto burns away all that is decaying and holding us back in life. Pluto strips our lives of pretense and brings the deepest truth to the surface. Preparing within ourselves a willingness to surrender, will do us well over the next couple of weeks. Allow yourself to enter fully into the present moment while grounding yourself in a realm that transcends time and space. Release and loosen your tight muscles within Neptune's warm, watery embrace.
Mercury heavily dominates Tuesday, Wednesday, and Thursday's cosmic weather. The planet of thought and communication is BUSY. Anticipate some intense and/or revealing conversations and/or confrontations. Anticipate being the recipient or deliverer of some shocking news, or a long-awaited, difficult message. There could be a conflict. There could be a break-through. There could be both. At any rate, WORDS have an additional CHARGE to them this week. In some way or another, through the vehicle of communication, our close relationships may be on the hot seat this week, or in the frying pan.
As always, these transits have the potential to express themselves all very internally (i.e. you may be primarily struggling with your relationship to yourself), but for many of us, the cosmic weather this week will shine the spotlight on our interactions with others.
On Tuesday, Mercury squares Jupiter and trines Neptune, repeating the aspects that Mars just made. A square to Jupiter prompts exaggeration, obnoxious assertions of opinion, a bubble of "hot air". A trine to Neptune dissolves conflict  and competitive ego battles that strive to out-argue and out-wit – through forgiveness, compassion, creativity, and spirituality.
On Wednesday, Mercury fuses with Mars through conjunction in Cancer, within close range of their opposition to Pluto (3 degrees orb). Whew! Thought and communication meet self-assertion, anger, and desire in a BIG way. Remember, Cancer is a highly emotional sign with a tendency to be indirect, passive aggressive, or shy, with its communications. Mars wants you to be direct. Assertive. Fearless. Without emotionally blowing it out of proportion, say what you need to say. And listen too, because we all live under the same skies.
As Mercury passes Mars to make the first exact opposition to Pluto on Thursday, it becomes even more crucial to effectively channel those super charged thoughts surging through your brain. Get your body involved as well. That's always a good way to handle the intensity of Mars and Pluto. MOVE YER BODY. Jump up and down. Dance. Run. Punch your pillow. Twirl. Have sex.
Pluto rules all that is deeply secret and hidden. As it activates the planet of thought and communication, buried knowledge may rise to the surface – or be blasted explosively up through the ground. It could be a messy thing and full of conflict, but it may also be something you share or bring into the public sphere that liberates you and bestows you with a new confidence – or both. One key warning here – guard against gossip. It will come back to bite you.
TGIF, although… on Friday we have the First Quarter Moon. Relationships are again prominently highlighted here. The First Quarter square between the Sun (in Cancer) and the Moon (in Libra) presents a challenge. Something that must be overcome in order to move forward. With Cancer and Libra involved in the First Quarter as Venus (the planet of relationships) in Taurus simultaneously squares the Moon's Nodes, there could be a struggle between wanting to progress in some area or make a particular decision, while also trying to keep others happy. Strive for a middle ground, a balance, if it is reasonable and healthy to do so, while warding against co-dependence and accepting that you cannot please everyone, and nor can you fix and heal every problem.
ARE WE DONE YET?! Nope. On Saturday, Chiron, our wounded healer figure, goes retrograde. Chiron spends half the year going backward. It's at the turning points that we may be most aware of Chiron's work. When Chiron turns retro, his healing work intensifies. At his pivot point, during the time period that Chiron changes direction, he directs his arrow straight toward at that darn wound, pinpointing its location and thus bringing it to our attention. This may not feel great, but graciously, he also leaves clues as to how we can continue to heal. I had a pretty magical Chiron Rx pivot last year which I will share later. If you are nursing wounds over the weekend, be careful of the drive to defensively overcompensate through inauthentic means as Mars and Pluto activate power struggles.
SUNDAY!!! We've felt it building throughout the week, but today the Mars-Pluto opposition is exact. Take care of yourselves lovelies. Especially if you are vulnerable to mental health concerns. This is a lot of volatile, intense energy. Again, move your bodies. All forms of exercise and physical movement are really important this week. Our bodies are vessels that absorb so much from our surroundings and manifest our thoughts. If intense emotions like anger or grief surges through your system, find an effective outlet. Like kickboxing. Or doing something active in nature.
The Moon is still moving through Libra on Sunday. Channel that Libran peace, that diplomacy, while obeying Pluto's orders to get to the root of whatever it is that has come up for you. If you are vulnerable to certain triggers, make sure you are grounded and pull out a tried and trusted self care plan. Heads up that projecting our issues on to other people is a big liability with oppositions, especially when two intense planets are involved.
It may feel like a crisis, like you're in a major power struggle, but it could also feel like crossing a tipping point into victory, success, breakthrough and freedom. There is a sense of completion that comes with this aspect going exact after so much build up. Maybe you feel like a superhero flying out of a burning building, clearing the danger zone just as it collapses behind you. Just watch out for accidentally burning bridges, especially when it comes to relationships. We still have a Sun-Pluto opposition at the Full Moon waiting for us in a week's time. Yah! More opportunity for growth!
Pssst… for daily cosmic weather updates follow Lilith Rebellion on Instagram and Facebook. I often get daily posts up on these mediums before the weekly blog post is finalized. To receive a weekly cosmic weather overview by email, subscribe to Lilith Rebellion email updates. 
Click below to check out the detailed Cosmic Forecast for the following days…
Continue reading "Caution, Contents under Pressure :: Cosmic Weather Forecast for June 26th – July 2nd"